Peninsula Mitre is located in southeastern Tierra del Fuego (Argentina) to 210 kilometers from Ushuaia.
Peninsula Mitre is a geography lonely desolate, located in a region of Tierra del Fuego, because the lack of roads remained isolated from the rest of the province.
The area is on track to become one of those protected by the government, have a high biological value and geological paleontology. The fauna is composed mainly of seabirds, such as penguins and cormorants. In recent years the region is threatened by oil, who put in place environmental risk.
So many environmental organizations are taking action on the matter. Will also sea lions, sea otters and cetaceans (whales and dolphins).When you visit the Peninsula Mitre will find an incredible cliff surrounded by woods and a coastline that you can enjoy from Cape San Diego.
This type has no beach coast, appears from almost vertical cliffs and tiny bays with sand.
The only places in the region are the Estancia Policarpo, Aguirre Bay Estancia, Estancia Bahía Sloggett.
In Peninsula Mitre, you can see many beaches that are deserted at times alter with large peat bogs and rivers of clear water. You will notice old boats, abandoned factories and more than a wild horse running by the sea in total freedom. All accompanied with the knowledge that we are really in the in the world.
For the region also are remains haush Aboriginal ethnicity and facilities abandoned and dismantled Polycarp's stay along with a wildlife formed by sea lions, foxes, condors, and cormorants, geese, and other species.
To access the Mitre Peninsula it can do for complementary route,A from the northwest, on the north coast to Estancia Maria Luisa and continuing down the path to the Estancia Policarpo.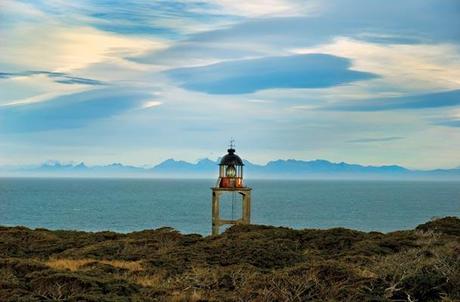 Another alternative is complementary route J, along the coast to Estancia Harberton. Additional Route J is directed towards Ushuaia and complementary to Rio Grande.To reach the Peninsula Mitre the best option is a horse, but you can also arrive on foot if the physical condition permits. In all cases it is advisable to go with a guide and carrying supplies. Bear in mind before venturing just no marked trail and that would lead you astray easily.
The best time of year to visit the Peninsula Mitre is from November to March.
We organize tours that feature a cruise 10-day horse camp, 9 night in a tent and 1 inn.
The price of it includes guide, full board, tent and everything you need to have available during the cruise.
Each day has 6 hours riding of medium difficulty. To do it you need to have a basic knowledge of horsemanship and fitness.

Rating: 5.0/
5
(1 vote cast)