Winged Scarab Pectoral of Psusennes I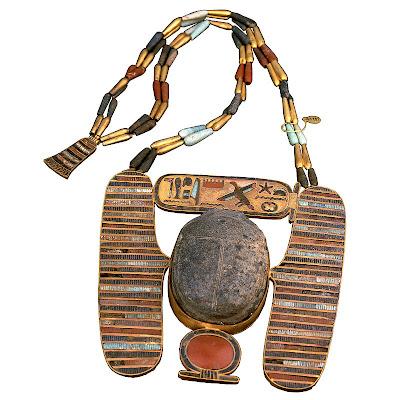 A winged scarab pectoral of King Psusennes the First is engraved with Spell 30 of the Book of the Dead. It wished that the heart of the deceased would not be taken away from his owner, nor oppose him in the judgment of the afterlife. Four such pendants were found on the mommy of Psusennes the First.
The main element of the composition is a large scarab of dark stone, built in a golden frame. It has two large narrow wings encrusted with multicolored glass. The scarab lies upon the Shen sign of universal power inlaid with brown jasper.
The name of Psusennes Pa-spa-kha-en-niut-mry Amun, which means: "the shining star in the city, beloved of Amun," is written within the cartouche.
The necklace chain and counterpoise are composed of beads of gold, green, brown jasper, and felspar.