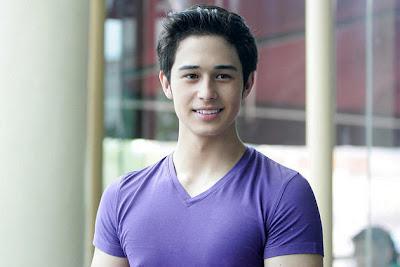 From Nickie Wang: Former Pinoy Big Brother Housemate and Star Magic talent Ivan Dorschner participates in the 35th Gantimpala Theater Summer Workshop--Musical Theater for Teen and Young Adults.
Dorschner first set foot on the Gantimpala stage as Prince Oswald, opposite singer and actress Rita Iringan, in last season's touring production of "Si Snow White at ang Pitong Dwarfs."
"My theater experience with Gantimpala was so enjoyable. All the actors and staff I worked with were very professional. They were very patient and made it very easy for me," says Dorschner. "When I found out they have a workshop in musical theater, I immediately told my manager that I want to join it, I know it will help me a lot as an actor."
The young actor made headlines quite recently when he became the "lucky guy" who kissed international pop singer Katy Perry during her one-night only Manila concert.
He also plays lead in a popular "romantic" commercial for a whitening lotion.
Dorschner looks forward to the musical theater training he'll get from Roeder Camañag, who is the workshop facilitator. Camañag is considered as one of the country's most respected theater and character actors.
Dorschner, together with the rest of the workshop participants will be taught creative drama, music, voice and dance exercises, and script writing. A culminating recital commences on May 18, (Friday) at the Open Air-Auditorium in Luneta, Manila.
Gantimpala Theater was one of the original artistic companies of the Cultural Center of the Philippines. During its more than two-decade residency at the CCP, it produced winners of the play writing contest.
The dramatic arts company embarked on a more ambitious undertaking, after the EDSA revolution, producing and bringing the Filipinos literary cultural heritage to life, the Four Classics--"Kanser" and "El Filibusterismo", "Ibong Adarna", which originated from a "corrido", and "Florante at Laura", the Tagalog literary masterpiece of Francisco Balagtas, presented as a "komedya", a Filipino theater form.
It has made the most number of plays based on the works and life of our National Hero, Dr. Jose Rizal. It also produces, bi-annually, the National Artists Production Series--plays and short stories written by National Artists for Literature and Theater.
The 35-year-old-dramatic arts company is headed by its Artistic Director Tony Espejo, PHILSTAGE Natatanging Gawad Buhay Awardee for Theater.
Gantimpala Theater is located at the 2nd Floor, Open Air Auditorium Building, located inside the Rizal Park. For more information, call 528-0603, 536-5860 or send an SMS to 0921-5286308 or visit:www.gantimpalatheater.multiply.com or www.facebook.com/gantimpala.