So I've decided once a month I'm going to try and do a post on "Payday Treats" which will be a collective haul of stuff – not always beauty – that I've treated myself each payday.
Paying the bills, utilities, rent and groceries can get a little redundant, so every payday I promise to treat myself with someone like one beauty item or something for the house (other than my weekly bunch of flowers), just so I feel like I work full-time just to pay the bills. Small rewards make each and every fortnight worth it.
Here are some things I bought this month…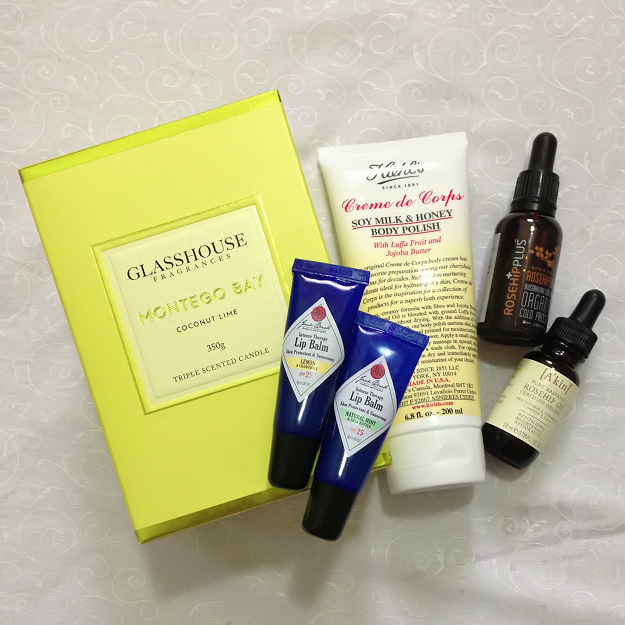 Jack Black Lip Balm in Lemon & Chamomile and Natural Mint & Shea Butter, $10.95 each (7g)
FINALLY these are available in Australia at a reasonable price. I've made it no secret that these are my favorite lip balms ever but they're just so hard to come by before now.
My favorite is the natural mint and I usually apply it before I do my makeup in the morning, so when it comes to doing my lips the product has completely absorbed into my lips.
I've been using the lemon & chamomile before I go to bed at night because it's not as intense as the mint on the lips.
Available from GetJackBlack.com.au
Kiehl's Creme De Corps Soy Milk & Honey Body Polish, $38.00 (200mL)
This is a repurchase because I absolutely love this product so much. It's been great for my arms where I have Keratosis Pilaris (KP) and just overall exfoliant. Beautifully thick and smells amazing! Best teamed up the Kiehl's Creme de Corps Soy Milk & Honey Body Butter ($48.00) but any body moisturiser works fine.
Available from Kiehl's counters in David Jones and Myer.
Glasshouse Triple Scented candle in 'Montego Bay', $39.95
Once a month I buy my house a scented candle so AtomicHQ can smell nice. Believe it or not, an 80 hour candle can actually last a month if you burn it properly.
This month I decided to go with this scent – Coconut Lime – which, I know, isn't a Autumn/Winter scent but I just like this scent this month.
Available from David Jones and anywhere that stock Glasshouse.
Rosehip oil
I bought two different rosehip oils to see how they work out for skin. Besides, you can never have enough rosehip oil laying around, right? I've heard great reviews on these so I thought I'd give it go.


What treats have you bought on payday?