"A whole new world, a dazzling face I never knew…". Palm to cheek, I'm not exaggerating, Paula's Choice Skin Perfecting AHA Gel brought out the best in my skin after one night so far, a result even more obvious than the Clarins Gentle Exfoliating toner (in my case).  Paula's Choice is a cosmetic range birthed by American skincare queen, Paula Begoun, who began in the skin biz as someone who suffered from acne then became a celebrated product blogger/reviewer and professional esthetician.  It would be nearly but not quite precise to describe her as America's version of UK facialist & skin consultant Caroline Hirons (but add in 3 million copies of books sold and being dubbed Oprah's Cosmetic Cop).  I'd still cautiously take the comparison to Caroline with a grain of salt.  Caroline is more low-key, less jazzed up, and focuses more on testing and helping a variety of brands improve whilst Paula is advocating her own brand now.  They're both talented "skinspirations" who speak their mind about formulations and ingredients for everyone's benefit and if a brand like Paula's Choice has helped girls with troubled skin find a safe solution that's a good thing.  Now, Paula's Choice has landed in the Philippines and for now are available for purchase only online, but eventually will expand into retail.  If you've got normal to dry sensitive skin (do not use AHA  if you've got acne.  BHA is for you), are in your late twenties or beyond and have been unsure about which chemical exfoliant to try here's where you can Begoun, er…begin that is.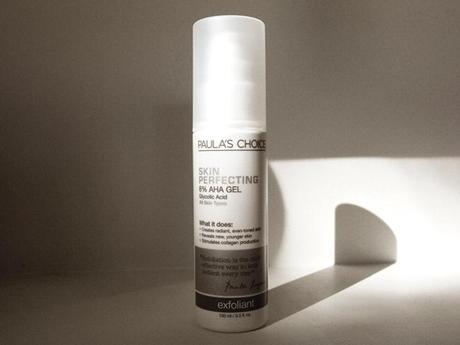 Paula's Choice Skin Perfecting AHA Gel (8% Glycolic Acid) PRICE: Php1120.00 for 100ml Alcohol-free, fragrance-free, no animal testing


INGREDIENTS: Water, Glycolic Acid (alpha hydroxy acid/exfoliant), Sodium Hydroxide (pH adjuster), Chamomilla Recutita (Matricaria) Flower Extract (chamomile/soothing agent), Aloe Barbadensis Leaf Juice (water-binding agent), Camellia Oleifera (Green Tea) Leaf Extract (antioxidant), Sodium Hyaluronate, Panthenol, Sodium PCA (water-binding agents), Propylene Glycol, Butylene Glycol (slip agents/penetration enhancers), Hydroxyethylcellulose, Polyquaternium-10 (thickeners), Phenoxyethanol, Methylparaben, Ethylparaben, Propylparaben, Butylparaben, Isobutylparaben (all preservatives).

The Paula's Choice Skin Perfecting AHA Gel has a higher percentage of glycolic acid (8%) than UK's cult Alpha H Liquid Gold (which contains 5%) BUT the gentle difference is unlike Alpha H (or even the Clarins Gentle Exfoliant) this is alcohol-free, contains moisture grabbing hyaluronic acid, calming chamomile + aloe, and is also at the correct lower Ph level for overnight exfoliation, plus it's way more affordable at Php1120 instead of Php1700++ for Alpha H.  Remember Johnson's Ph 5.5?  That's a higher Ph approved for gentle cleansing so you will not react, but for something to be able to actively exfoliate the skin the Ph has to drop temporarily triggering the skin to rebalance itself quickly, so this has the correct Ph level for exfoliation between 3.5-4.5.  Read on and click "more" to get the full review and watch pro makeup artist Wayne Goss' concise video review on this product.
Note that a lower Ph does not mean it's more gentle, in fact it means it's more potent or active which is why water, aloe and chamomile is in the base formula of this to counteract any irritation, and they do the job well.  By the way, the local price for the amount of 100ml is Php1120.00 that is sooooooo not bad at all considering that Alpha H Liquid Gold is around Php1700++  for 100ml.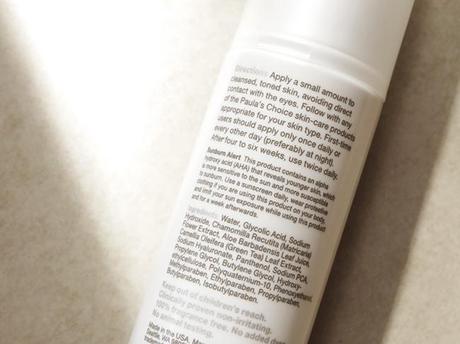 APPLICATION: "After cleansing your face, squeeze a dime-sized amount of Paula's Choice 8% Alpha Hydroxy Acid Gel onto your fingertips and apply a thin layer over the entire face, avoiding direct contact with the eyes (but it can be used around the eyes). First-time users may notice a slight stinging sensation, which is normal. To avoid irritation, some first-time users should use the AHA solution once a day or once every other day (preferably at night) for the first few weeks. After prolonged use (4-6 weeks), you can apply the AHA more frequently, and eventually it can be used twice a day. However, for some people it may only be necessary to use the AHA once a day or once every other day. The frequency you should use Paula's Choice 8% Alpha Hydroxy Acid Gel completely depends on how your skin reacts so you may have to experiment with this product. If redness, dryness, or irritation occurs, cut back the frequency of application or discontinue use."  – PAULASCHOICE.COM.PH
To be clear AHA  is suitable for normal to dry skin, and for oily or acne troubled skin BHA (Beta Hydroxy Acid/Salicylic, aspirin derived) is better because it penetrates and clears the pores where infections can begin.  Paula's Choice have a BHA 2% version of this product which is suited for oily/acne prone skin.  I have sensitive skin and the AHA Gel did not sting anywhere except the eensy small part of my forehead which had a mosquito bite last night.  So common sense would be not to use this on broken, wounded, or burned skin.  It's got the same clear, runny gel consistency as Hydraluron.  It's not paraben-free but I think in this case with some natural ingredients comprising most of the upper-middle base (aloe and chamomile) there was a preservative requirement for a longer shelf life.  I'm not strictly a paraben-free person,  I appreciate if something is paraben-free (don't jump on me I'm not a purist) but I'd much rather a skin product be alcohol-free than completely paraben-free, because I know the instantly drying effects of alchol denat on my skin, unless the alcohol has a counter ingredient like glycerin.  Professional Makeup Artist and YouTuber Wayne Goss is a friend of Ruth aka A Model Recommends and has his own thoughts about this product in this short but informative video in which he also briefly mentions the difference between AHA and BHA.
This AHA gel is meant to be used every two days or 3x a week, preferably in the evening and you only need like a dime size, actually even less for it to spread across the whole face.  A little goes a very long way, so you can work with a little if you're feeling cautious, you'll still get results.  Be sure to use sunscreen if you're heading out the morning after using this.  It's got a very minimal sour scent, proving the acidity, but it goes away immediately upon application.  They say it's not a toner but I wouldn't use a toner on nights when I use this, the less I put on my face the better, so one in, one out.  You can choose to follow with moisturizer or not, but moisturizer would still work brilliantly over the hyaluronic acid this contains.  It's an exfoliating and hydrating product in one go, think of this sort of like the Clarins Gentle Exfoliating Toner and Hydraluron gel having a baby, without alcohol, fragrance or added dyes.  For those of you with acne-prone or oily skin check out the BHA 2% Gel Exfoliant which is also their bestseller and safe enough to use daily.  For those of you who prefer more organic formulations the range also has their sub brand "Earth Sourced" which contain more natural ingredients.  If you're a work from home business sort of person there's also the option of becoming a  Paula's Choice reseller!  You just have to contact them.  You can view Paula's Choice products for local online purchasing here at their Philippine website.   They are also on Facebook here at Paula's Choice Philippines FB.