Hi everyone,
I hope you enjoyed reading my last post. I love talking about budget products on my blog because I believe there is always a cheaper alternative to everything which may work as good as the original one whether it is make up, clothes, shoes etc. Over the years I have learnt the value of money so my whole ideology is to always look out for new and inexpensive products from the market. Speaking of inexpensive the soap I shall review today is one such product. I have reviewed a couple of soaps from Patanjali before and trust me I have more coming up in my future reviews. Today I shall be reviewing the Patanjali Neem Kanti Body Cleanser which is nothing but a Neem soap used for bathing purposes. If you wish to know more about this product.. Read on...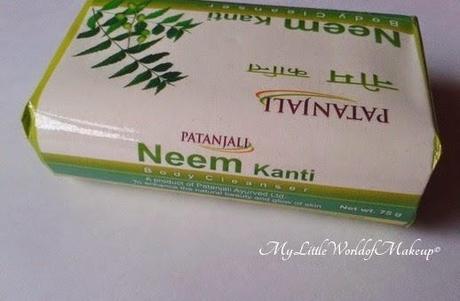 Ingredients: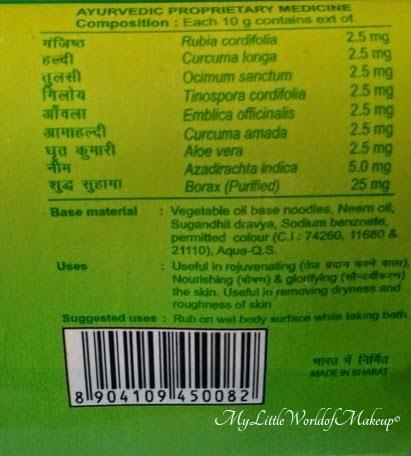 Price: Rs.13/- for 75g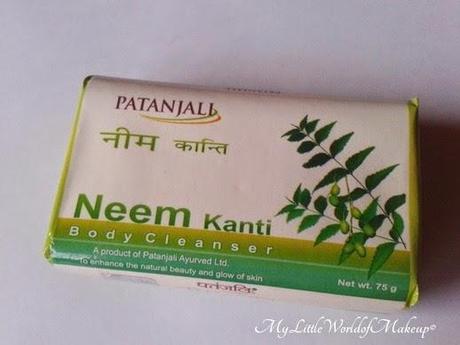 The soap comes in a glossy yet simple paper packaging which is white and green in color very reminiscent of a herbal soap. There is a picture of a neem leaf on the packaging which makes you aware that it is a Neem soap.All the details about the product and the ingredients are mentioned at the back of the soap which is good or else now a days some companies do not even mention the ingredients. Overall simple packaging for the price.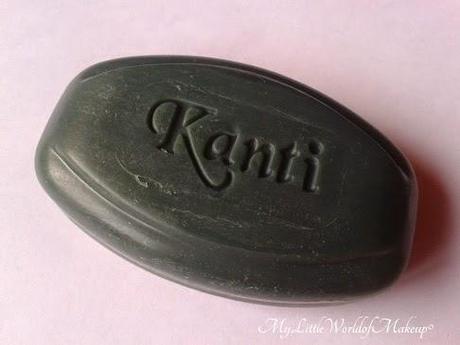 The smell of the soap reminded me of the Medimix herbal soap which I have used in my childhood and which many of you may have to. The color of the soap is a deep dark forest green color which looks almost black. It has a nice strong smell but not that strong that you may get a headache.  I love soaps with a stronger scent especially in summers as they help in keeping body odour at bay. The soap has some granular kind of feeling which makes it like a mild scrubbing soap. I do not know if it is the case with every soap though. The soap lathers well and has a mild green color while it lathers. This soap does not dry the skin and left my skin feeling soft and refreshed. The key ingredients in the soap are Neem which has so many benefits for the skin particularly good for acne. Turmeric and Tulsi/Basil  which is also known as 'the queen of herbs' is  an antiseptic agent which again has numerous benefits and again good for acne and maintaining problem free skin. India is known for its herbal products made of numerous herbs which is great for the skin,100% natural with no side effects  and cruelty free. This soap is a must try for everyone.
The Good:
Easily available across all Patanjali stores in India.
Contains goodness of turmeric, neem and tulsi/basil.
Herbal and 100% vegetarian.
Very inexpensive.
Smells good.
Helps in curbing body odour.
Makes skin soft and supple.
The not so Good:
Cannot think of any except that some may have trouble finding these.
Rating: 5/5
This soap is a sure winner and a must try for all. Something that contains the goodness of Neem, Turmeric and Tulsi/ Basil for this price is a must buy and try for all. It will suit all skin types and won't disappoint you.
I hope you found this review helpful. Do leave a comment below stating if you have tried any herbal soaps and what you think of this one. If you are visiting my blog for the first time do leave your blog links for me to check out.
See you all in my next review. Until then Buhh byee ♥♥