Hi everyone,
My today's review is another soap from the house of Patanjali - the famous brand now popular in the beauty blogging world endorsed by the yoga guru Ramdev Baba. Since I went to the shop to check out almond oil there has been no looking back. Each time I pass that shop I do have to get something or the else.So much so I can say that  I have become a fan of their products as they natural and affordable too. The soap I shall review today is called Patanjali Lemon Honey Kanti Body Cleanser. This soap claims to have the goodness of lemon and honey. Let us find out more about this soap in my review.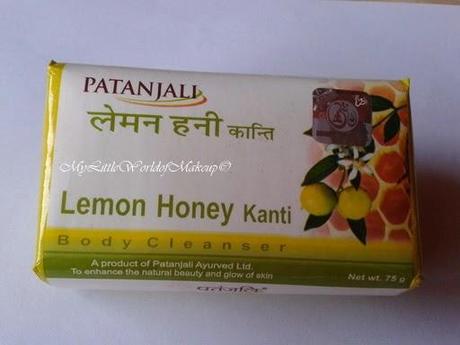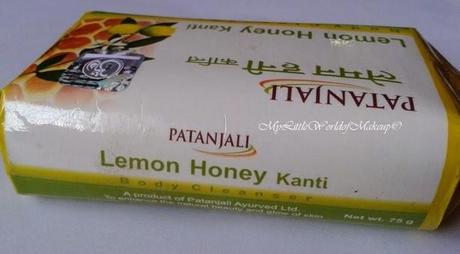 Ingredients and instructions: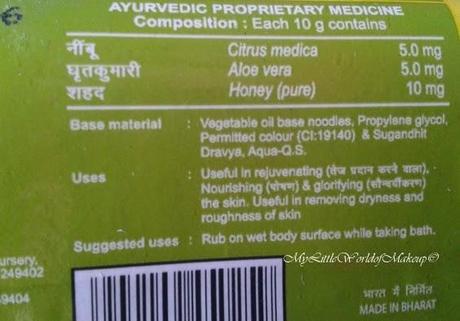 Price: Rs. 19/- for 75g
The soap comes in a yellow and green paper packaging. There is a picture of a lemon and a honey comb very indicative that it is a lemon and honey soap. The ingredients, price and other information is printed at the back of the packaging. Nothing much to talk about. I do think that they believe  in simple packaging but a good product inside.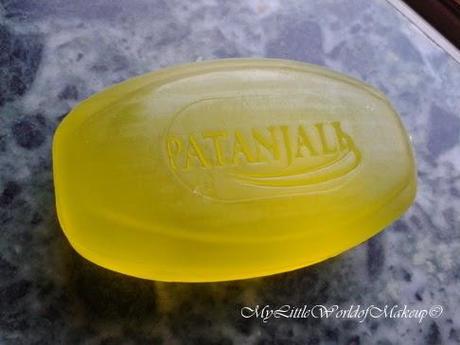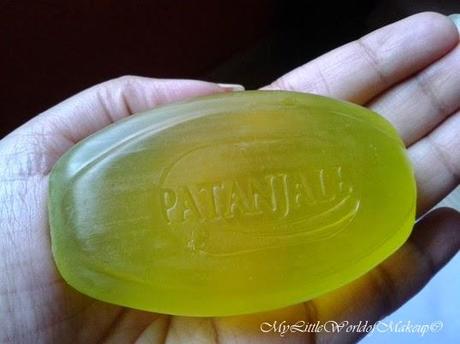 The soap is very similar to the rose one I reviewed sometime back. It does look like a gel bar which is a rage in the toiletries and soap world where companies claim to have the goodness of a shower gel in a soap. The color of the soap is bright yellowish green very reminiscent of lemon and honey.If it was only lemon then its smell would be strong and citrusy enough but the presence of honey  and aloe vera makes the smell of the soap very mild smell wise. Aloe Vera is awesome for the skin as a moisturizer and for treatment of pigmented spots. Lemon and Honey contain anti inflammatory and anti bacterial properties and are a key ingredient in many soaps available in the market. The soap does glide smoothly and lathers well. The smell makes you feel refreshed after a bath but not for that long as it is on the mild side. I wish it was as good as the Haldi and Chandan soap which controls body odour as well. Nevertheless it is a lovely soap to try atleast for the price and the key ingredients which are excellent for the skin. 
The Good:
Easily available in all Patanjali stores across India.
Very inexpensive.
Gel like goodness in a soap.
Ingredients list is mentioned.
Lemon and Honey are excellent ingredients in skin care.
The not so Good:
Availability may still be an issue in many places.
Wish it was more deodorising considering it is summer now and we all suffer from body odour.
Rating :4.2/5
This soap is mild and gentle soap with the goodness of Honey and Lemon but the smell is not strong enough to keep body odour away as it is summers now and I am looking for a soap which combats that. The soap is good but personally I would opt for another variant. This soap is still excellent in terms of the pricing and definitely worth a try.
I hope this review was helpful to all those reading. Have you tried a lemon and honey soap before? Do let me know. Also if you are visiting my blog for the first time do leave your blog links so that I can visit your blog too.See you all in my next review.. Take care ♥