Hi girls,
I hope you all had a great Valentine's Day and weekend and loved Tejinder's Valentine's Day celebration post.Coming to todays review I have recently  been trying many soaps other than the normal ones I use for bathing blame it on my beauty blogging keeda.. Lol .So I have kind of become a fan of Patanjali products lately wanting to give a shot to many of their products as I am all in when it comes to natural beauty products or skin care.  For those who don't know Patanjali is a famous line of products endorsed by yoga guru Baba Ramdev in India. The soap I shall be reviewing today is called Patanjali Aloe Vera Kanti Soap. When the topic of skin care comes in my mind Aloe Vera is one such miracle product. Read on to know more about this product....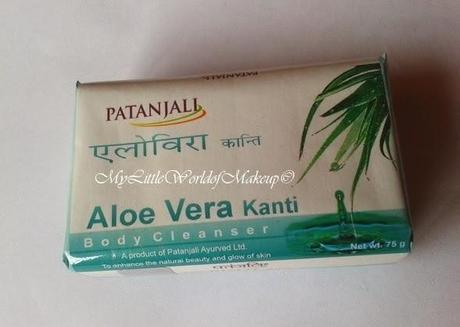 Ingredients: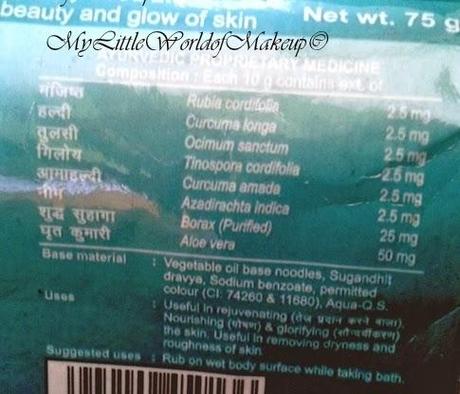 Price: Rs.13/- for 75g
The soap comes in a normal glossy green and white paper packaging just like any normal soap you would buy from the market. Nothing fancy.All the ingredients, instructions and other information is printed on the back. I think for the price you cannot expect much but the product is really good in my opinion and worth it.
The color of the soap is green in color very reminiscent of the aloe vera leaf. Aloe vera does enhance the natural beauty of the skin if used regularly. Now living in a city it may not be possible to keep an aloe vera plant at home so we always look for products which say containing aloe vera in it. Whether it is in a gel form or in the form of gel bar and soaps. Aloe vera is very soothing to the skin and really good for oily to combination skin people who cannot use a moisturizer over the face as it may get greasy and itchy on the face. It is hydrating and therefore very good for the skin. When I got this soap and I sniffed it, it did remind me of Rexona soap a bit which we would use in childhood and I liked it.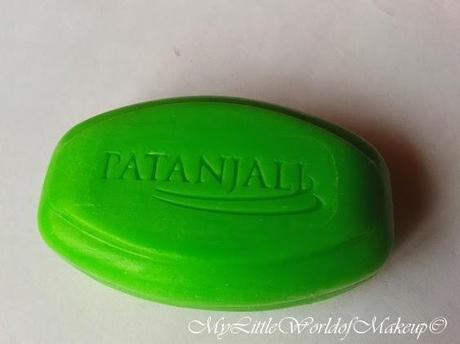 The soap is moisturizing and goes on smooth on the body. It lathers well and cleanses the body nicely. There is no stickiness on the body or any residue left behind and comes off easily. My skin felt very smooth, soft and refreshed after using this soap. The smell lasts only for an hour or so and then fades away but the smoothness and softness on the skin does last. Unlike the last soap I reviewed of Haldi Chandan this can be used in any season. A totally worth it product I must say.
The Good:
Easily available across all Patanjali stores in India.
Very inexpensive.
Decent packaging.
Cleanses the body well/Lathers well.
Makes skin soft and smooth.
Smells nice.
Ingredients list mentioned.
The not so Good:
Nothing I can think of really!!
Rating: 5/5
I think for this price you cannot get a better soap than this one which is really good in quality and has the goodness of Aloe Vera .It makes the skin soft and supple. Do grab this soap whenever possible  and try it once it is really good. Hence I recommend it totally!
I hope my review was helpful to all those reading. Please leave a comment below I would love to know your inputs.
Love,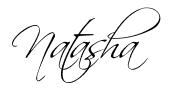 P.S: I apologize for the pictures not being upto the mark. The camera was acting funny on me.