Whether you're looking for a break from the mainstream, or seeking to add a little international flavour to your stock of film faves, the oft-shyed world of foreign film is definitely one worth exploring.
Each month, we'll help you navigate the map with our picks of some of the best from across the globe.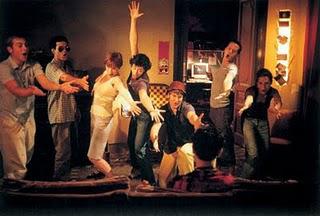 Photo: stardusttrailers.com
L'AUBERGE ESPAGNOLE
Translation:
 The Spanish Inn (though the English release was titled
The Spanish Apartment
... or in some cases
Pot Luck
... or bizarrely 
Euro Pudding
)

English equivalent:
Reality TV's
Big Brother
 meets
Closer
, and
Waking Life
 at times.

Wordly charm:
While it didn't do as well in terms of awards overseas as it did at home (nominated for six Césars), it wowed the critics. From the
Wall Street Journal
's Joe Morgenstern describing it as, "Blissfully funny, terrifically intelligent and tender when you least expect it to be," to the
Washington Post
's Michael O'Sullivan saying that it "In almost every way that I can think of,
L'Auberge Espagnole
is a perfect movie... It is a film that feels alive," to our own
Toronto Star
's Peter Howell: "Yet another example of writer/director Klapisch's way of finding fresh new insights within the most mundane of circumstances." 

Guided tour:
Xavier (Romain Duris) is a economics students who leaves his home, France, and girlfriend (Audrey Tautou) for an exchange placement in Barcelona, where he ends up bunking with a slew of students like himself, hailing from England, Denmark, Belgium, Spain, Italy and Germany. For some, the group becomes a makeshift family, while others take lovers and stir up drama both at home and abroad.

Why you need to see it now!
Characteristically French humour. If you aren't familiar with it, it may need a bit of warming up to. But once you've caught onto all the silly awkwardness, it's great.
It's so escapist. On a bad day, imagine leaving home and all it's drama for a summer of total autonomy and re-writing. Of course, not without consequences. But luckily for us, we return to real life when it's over.
It's one for the language lovers. Have you ever heard that the best way to learn a language is to live in the country? Imagine a house embodying seven languages. Oh, how I wish.
Drama and affairs. Oh come on, don't pretend you never watch soaps!
Some very intellectual, philosophical dialogue. Take for example a conversation on identities: What is identity? How many do we have? And how do we differentiate between them? ...Pretty deep, right?