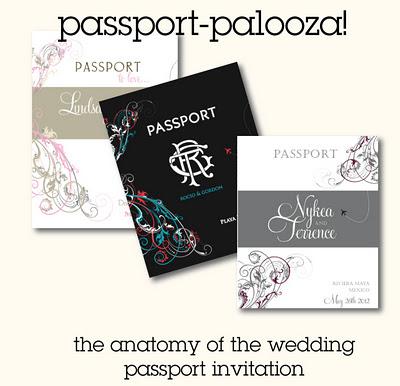 As we head into "invitation season" I thought I'd start it out with a bang. You love 'em, I love 'em, guests love to receive them, its the:
The Destination Passport Themed Invitation.

Cover
The cover of your passport can be as formal or as fun as you would like it. I've seen invitations that have attempted to stick very closely with the traditional passport cover and then others have just broken all the rules. "Passport to Love", "Destination Bliss", "United in Love"... All of these titles are frequently seen on the cover. Additionally, list the couple's names, date and location of wedding.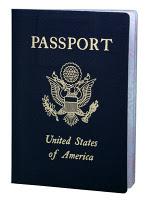 The more elements you pick up from the actual passport, the more effective your invitation will be
Travel Arrangements
Sometimes you can drive your guests to your wedding website for information concerning travel arrangements, you can simply suggest places to go to book travel or you can actually point them to a travel agent. If going the travel agent route, its nice to have a page that details all of that information so guests will have everything they need to get started booking travel.
Couple Page
Everyone loves the couples page... This page can be as detailed as you want it to be. I've seen these pages stick pretty closely to the picture page formats in passports, but I've also seen them display very different info. Some very personal, some not so personal... Its up to you as a couple what you want to share about yourselves.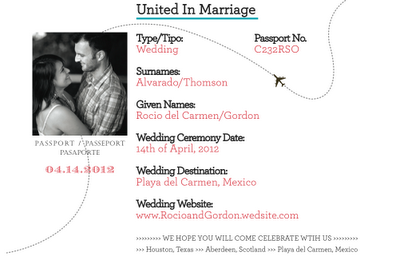 Sharing the most basic information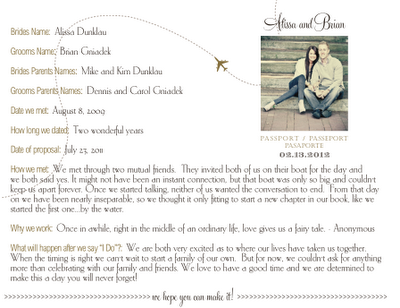 Expanded information can also be accommodated

Resort Info
This is a great spot to whet your guests appetite about the resort. You can use photos, indicate any special dress codes, number of restaurants, etc.
Schedule of Events
Maybe you have a welcome bonfire, rehearsal dinner, cocktail party... List everything that is going on here since typically these destination affairs span 3-4 days. Nice way to organize your activities.
These are just a few things that you can do... If you still need filler pages, think about having a page full of stamps or a page for your guests to take notes! Have fun with this, as it will become a keepsake you cherish for years to come.