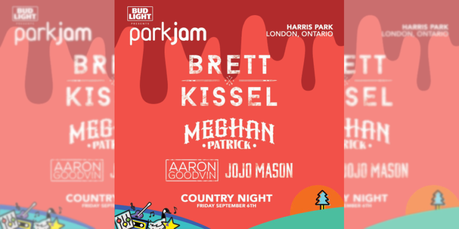 The newly announced Parkjam Music Festival in London, ON has shared the main stage lineup for Country Night on Friday, September 6, 2019.
Alberta native, and nationwide star Brett Kissel will headline the Parkjam stage at Harris Park, with support from an all-Canadian opening lineup featuring chart-topper Meghan Patrick.
In speaking to Whitney South for londontourism.ca, festival director Demetri Manuel said, "We've been doing shows with Brett for a while now, and he's a tremendous entertainer, one of the biggest country requests is, when is Brett Kissel coming back?". And now, he'll be back and headlining for country music lovers in London.
Related: Parkjam Announced As Newest London Music Festival
CCMA Songwriter of the Year winner Aaron Goodvin and Rising Star Award nominee Jojo Mason will also play the main stage at Parkjam's Country Night, bringing great talent to warm up the crowd and the stage.
This slideshow requires JavaScript.
With more names to be added to the festival lineup on a second stage, we know that the Friday entertainment schedule will only get more exciting for country fans. And while we don't know who will hit that stage in support of Kissel, Patrick and the rest of the assembled talent, we do know that there's some great talent form the Forest City and surrounding area that would be more than welcome. And that we'd be excited to see.
Tickets will go on sale starting Friday, June 7 at 10 am for a special pre-sale price of $30, before raising to a $40 regular price. VIP tickets will also be available for $55, with all tickets subject to additional applicable charges.
All of those prices offer a hell of a value to see the four acts announced so far!
Parkjam Music Festival Country Night Lineup
* Brett Kissel
* Meghan Patrick
* Aaron Goodvin
* Jojo Mason
* and more!
Stay tuned for the second stage talent that will be added, and for the lineup announcements for the rest of the 2019 Parkjam Music Festival at Harris Park in London, ON.