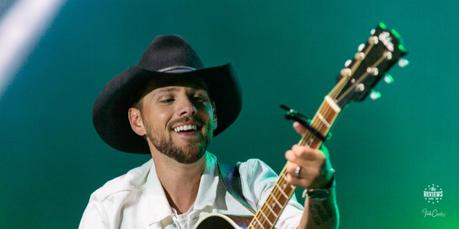 Parkjam Day 2 brought us some of the best talent Canadian country music has to offer.
The main stage lineup included headliner Juno award winner, Brett Kissel, Juno award winner Meghan Patrick, CCMA award winner, Aaron Goodvin, and CCMA nominated Jojo Mason. To round out the day, the Forest City London Music Awards Spotlight Stage offered up local London artists, rising star, Patrick James Clark, Honey Jam award winner, Melissa Megan, and Forest City London Music award winner, Genevieve Fisher.
Jojo Mason kicked off the afternoon with a rousing set. He won the crowd over with his smile, his energy, his lyrics, and his sass. Jojo's set included some of our favourites including Red Dress, Something to Wrap My Heart Around, a sweet cover of Florida Georgia Line's Cruise, and the song I hoped he'd play, Blackstreet's No Diggity. If you haven't heard Jojo beatbox, you're missing out.
This slideshow requires JavaScript.
Patrick James Clark hit the Spotlight Stage first at 6:00 pm. The London native has been everywhere of late including the North of Nashville Showcase, In The Country with Dave Woods' writers round, and lots of gigs in the area. Patrick recently released #PJCmixtape. He was charming, energetic and delivered a mix of originals and covers. This was my first time seeing the singer, and I hope it won't be the last. He's one to watch.
This slideshow requires JavaScript.
I headed back to the main stage for Aaron Goodvin. This was also my first time seeing Aaron live, and he didn't disappoint. The Alberta-born singer was funny and charming. He had a long list of originals that everybody knew, but I think my favourite moment in the set was his cover of Walking in Memphis. Aaron told a cute story about playing "this song" in a small club and then broke into the Marc Cohn classic.
This slideshow requires JavaScript.
Parkjam has the timing between bands thing just right. There's no having to choose between stages. The main stage finished, and Spotlight Stage begins. Melissa Megan's set was quick but powerful. The singer not only looked amazing, but she also sounded amazing. She's got a bunch of shows coming up, and you can find out the details here.
This slideshow requires JavaScript.
thereviewsarein.com loves Meghan Patrick. This isn't news. On Friday we published a review of her new EP, Wild As Me, hint we love it. The last time I saw Meghan perform was at the 2018 CCMA Awards show. For the record, that's too long for me.
Before her set, I headed to the merch tent and picked up a Wild As Me CD, and a tank top. Merch alert, the merch is awesome!
Meghan let us know at the beginning of the set that she'd be playing all of the new songs, and they fit into the setlist beautifully. The biggest new song moment for me came when she sent the band off stage and played a solo version of Praying Right. It was beautiful, heartfelt, and I can say, we all had a moment.
Considering she started the day in the early hours, flew here from the CCMA week festivities, after much celebrating, and she "puked and rallied at the airport", she was on fire.
"Would you guys judge me if I said I puked and rallied at the airport?" - Meghan on stage
I have to add that later in the evening, I saw Meghan backstage chatting with a fan. She was engaged, patient, and genuinely appreciative while she signed his EP. And then she was gone, headed back to Calgary. Good luck, Meghan!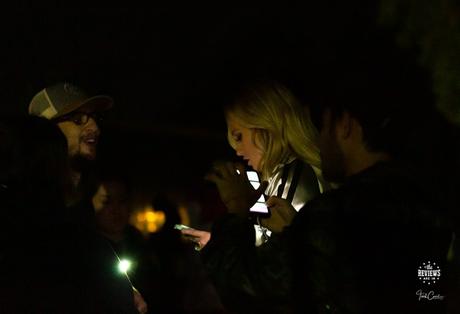 This slideshow requires JavaScript.
Closing out the night on the Forest City London Music Awards Spotlight Stage at Parkjam was Genevieve Fisher. The singer-songwriter, was enthusiastic and well received by the London crowd. We expect Genevieve to keep racking up award nominations.
This slideshow requires JavaScript.
At 9:30 on the dot, Brett Kissel emerged on the main stage with a giant smile on his face.
Brett Kissel loves London. Donning a white jean jacket with his signature Canadian flags, it's classic Brett. He loves Canada.
Highlights of Brett's set included the first live play of his new single, Drink About Me, his cover of Lonestar's Amazed, and his performance of my all-time favourite, 3-2-1.
Did he ever stop moving? I don't think so. He was a sweaty mess by the end of the set, and everyone loved it.
Brett is also headed back to the CCMA Awards where he's nominated for Entertainer of the Year, Apple Music Fans' Choice, Interactive Artist or Group, MNP Male Artist, and Anthem Entertainment Songwriter. Good luck, Brett!
This slideshow requires JavaScript.