MEN
❤ ❤ ❤ ❤ ❤ ❤ ❤ ❤ ❤ ❤ ❤ ❤ ❤ ❤ ❤ ❤ ❤ ❤ ❤ ❤ ❤ ❤ ❤ ❤ ❤ ❤ ❤ ❤ ❤ ❤ ❤ ❤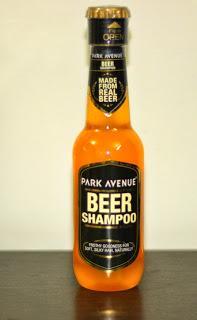 When Park Avenue Beer Shampoo was launched back in 2013 , its packaging caught my eye and I decided that I HAD to buy it for V. But what a girl does when it comes to certain* men products? Sneaks the product and uses it on herself. I also did the same. I used it and thought it wasn't meant for me and I instantly understood that it wasn't meant for V's
sensitive scalp and dry hair
as well.
Buyers, do you believe that #beershampoo gives healthy, shiny hair?
I have stayed in Lajpat Nagar IV from 2004 to 2010 and have lot of interactions with many gils from North East. NE girls have beautiful, shiny, pin-straight hair and I remember some of them admitted that they washed their hair with beer. But still wondering if beer in shampoo will do anything like this and maintain the quality of a healthy or improve the quality of dull hair...
It is more hype than anything. There isn't much scientific data to prove that beer is really beneficial for hair. 

Since it has silica, minerals, amino acids and vitamin B, it can be used as a conditioner as all these ingredients help in forming the basic hair structure.
by Dr. Jaishree Singh, A Leading cosmetic dermatologist for
Yahoo Lifetyle
Good points of this shampoo are - lathers really well, and a dollop is sufficient to wash a medium length hair, you might need more depending on how dirty your hair is.
But after-effects of this shampoo after 2nd or 3rd wash is something that cannot be ignored. It makes hair very light, easily creates static in hair and ultimately dry. First use made me feel that it is going to be on my must-have list but 2nd and 3rd wash started making my hair dry. My hair is oily so any shampoo that keeps stickiness in hair at bay are better, but anything that begins to make it straw like it a no-no.
Sulfates are detergents that give shampoos their foamy lather. They go by many names -- sodium lauryl sulfate, sodium laureth sulfate, ammonium laureth sulfate and ammonium lauryl sulfate. Sometimes these compounds are identified only by their initials -- SLS for sodium lauryl sulfate and SLES for sodium laureth sulfate. Sulfates may help your shampoo produce suds, but they can also strip your hair of its natural oils, leaving it overly dry and prone to damage. Sulfates can also irritate the skin.
by
Livestrong
A few snippets from the review of India's best beauty bloggers
product reviews in India
Wellness and Vanity
The shampoo does clean your hair well and leaves them squeaky clean, but not something where you don't need a conditioner. However, it does add loads of shine and bounce in the hair. But those with dry hair may need  to use a heavy duty conditioner to go with this. Also, for those who color their hair, this may be a skip as it makes the hair a little dry and dull too.
- Panchtatva-The-Essence-of-Life
So, what do you guys think of this beer shampoo in the end? Every got a chance to use it? Do you use beer to wash your hair anyway? We would love to know!