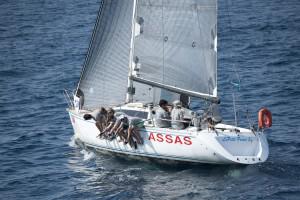 Photo Credit: Défi Assas
This is part of a series of articles on the different student associations affiliated with the public Parisian universities. Since most American programs have agreements with several schools, you may be able to join these groups even if you don't take classes with them. Défi Assas is a sailing group affiliated with Paris 2.
This week, Paris Unraveled spoke to Paul Meffre, the president of Défi Assas.
Allson: What do you do in life, and why?
Paul: I'm a law student, in my 3rd year at the Université Paris 2 Panthéon-Assas. I want to become a lawyer.
Allison: How did you join Défi Assas?
Paul: I've always been drawn to the sea. I liked sailing a lot and I wanted to improve my skills with a group of students from my university.
Allison: What are your goals for Défi Assas?
Paul: Beyond our results in competition, we try to create a united group within the university and introduce sailing to as many students as we can.
Allison: What is the most interesting event you've participated in as part of Défi Assas?
Paul: We participate in Challenge Spi Dauphine ever year, which is a 30-boat sail on the Mediterranean for 10 days.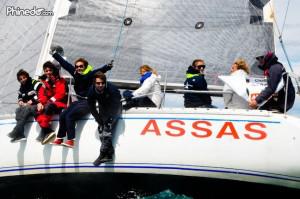 Photo Credit: Défi Assas
Allison: What events are you planning for next year?
Paul: We're planning two group weekend retreats to get to know each other better, and four training weekends. We're also participating in 3 competitions: La Spi Daupine, la Juris"Cup, and Student Sailing in Le Havre.
Allison: When and where do you train?
Paul: We meet throughout the year. Most of our sailing is on the Mediterranean, and the rest is in Normandy.
Allison: Would you accept students who are in Paris for one semester?
Paul: Unfortunately, our activity requires a long-term investment. But we're open to occasional support.
Allison: Who can students contact if they're interested in joining this year?
Paul: They can contact Mr Louis Bujon de l'Estang, this year's President, at [email protected].
Allison: What would you say to study abroad students to encourage them to join Défi Assas?
Paul: Our association is one of the biggest groups at Paris 2 Panthéon-Assas, and ever year, we welcome several exchange students, which allows them to integrate more easily into university culture and to share our passion for sailing, which knows no borders.
Allison: What advice would you give to students arriving in Paris?
Paul:  They shouldn't hesitate to go towards people. The French, and especially Parisians, can be cold at first, but once you get to know them in a group setting, they'll help you experience Paris like you'd never see it otherwise.

Vote for my article on WorldTravelist.com, sharing the best travel content on the web.
<A HREF="http://ws.amazon.com/widgets/q?rt=ss_ssw&ServiceVersion=20070822&MarketPlace=US&ID=V20070822%2FUS%2Fparisunrav-20%2F8003%2F14fa5be8-8d00-4252-a539-240dc4a85a1a&Operation=NoScript">Amazon.com Widgets</A>