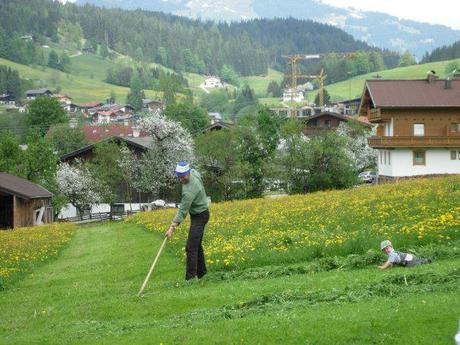 The Tyrol region of Austria is known for its beautiful scenery high in the Alps.  Picturesque villages are plenty and each make you feel like you are a part of the Sound of Music.  As much as running over the hills singing at the top of my lungs was appealing, I was in this corner of Austria during my European sightseeing tours for another reason - adventure sports.
When I am put in a beautiful mountain town, my mind goes to one of two activities.  The first is ascending the nearest accessible mountain and the second is the many adventure sports that this type of geography provides.   With only a few days in the region, I made my mark by mountain biking, paragliding, and white water rafting in the pristine waters nearby.
Mountain Biking Works the Legs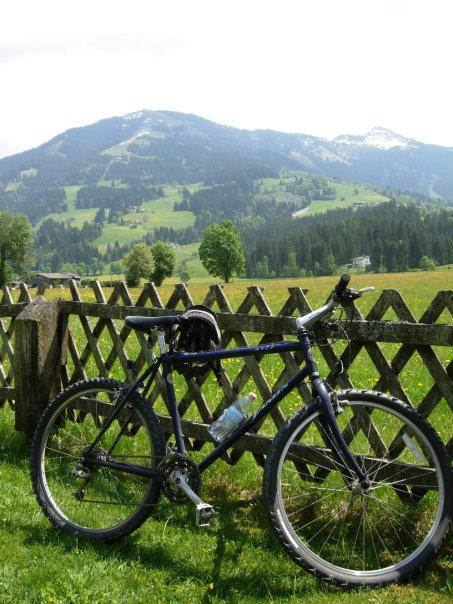 The biking trails found throughout Tyrol are one of the most well developed I've seen.  It should be no surprise because most of the residents that live in this region are avid fans of all things outdoors.  Our two guides for the day looked like they came right off an Olympics team, and told us that their summer jobs are as biking/white water rafting guides and winter jobs are as ski instructors.  Where do I sign up?
The main trails on our multi-kilometer bike trip were not as strenuous as the phrase 'biking in the mountains of Austria' would suggest.  I am sure they exist, but we just chose an easier one.  Watching the little villages, beautiful chalets, and mountains pass us by on our cycling trail is possibly one of the best ways to get to see a lot of scenery without taking another more expensive bus tour.  Stopping partway at a small restaurant and getting amazing local food is just the added bonus.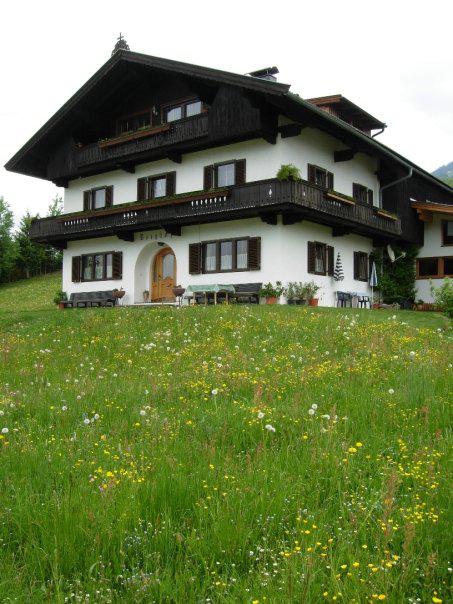 Since there are so many trails; however, we recommend grabbing a map before you head off and mark where you came from!
White Water Rafting Works the Arms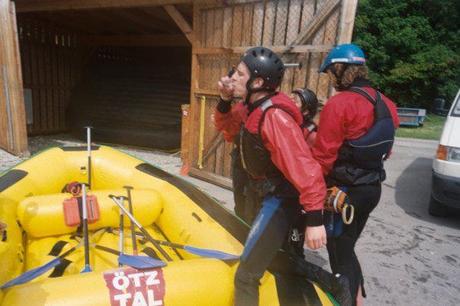 Glacial water, check.  Wet suit, check.  Water proof camera, check.  Shot of victory Schnapps, check.   Wait, what?
Any activity that ends with a shot of Schnapps is an activity I want to be apart of, and white water rafting the class III/IV rapids in Tyrol offers this wondrous perk.   For my first time whitewater rafting, the rapids offered enough challenge that I was interested but were not too difficult enough for me to be scared.  It could have been the freezing water splashing on my exposed skin, but I had more important things to think about at the time.
The rush of hitting a rapid is something you have to feel to understand.  A much bigger boat could easily glide over these minor disturbances with barely a bump, but the inflatable rafts are built to feel every minor movement, and you do.  As the rapids get larger, the bumps get stronger and a coordinated team can make the difference between a good time and you being hurdled from your raft into the freezing waters of the river.  Luckily I made it through without falling in, and there was no way I was going to jump in willingly like my fellow rafters.  The shot at the end seemed to warm everyone up quite wonderfully. 
Paragliding Works the Lungs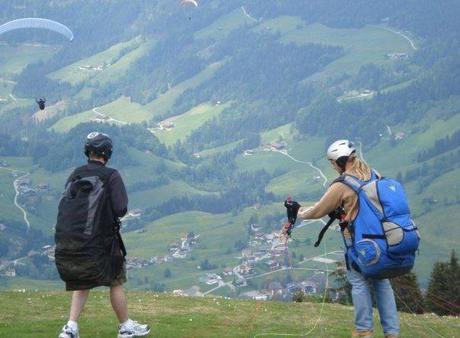 My time in Tyrol culminated with an activity I have been dreaming of for a long, long time - paragliding.  Having an immense fear of heights would make this seem like an unlikely activity for me to try, but is just the sort of thing I crave when trying new adventures. 
With a few fellow travelers and a short ride up the hills of Austria, we reached the bottom of a gondola lift leading to the top of the nearby mountain.  The instructor asked who would be first, and I raised my hand to the surprise of everyone there, who all knew I do not like heights.  Along with two instructors and fliers, we ascended the mountain.   The instructors unfolded their equipment, and within a matter of moments I was strapped in and the first one to run off the side of the mountain.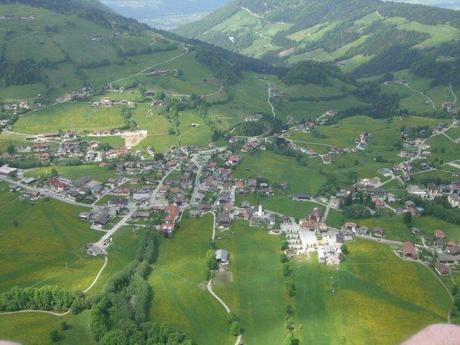 As the parachute starts out from a flat position on the ground, you may be wondering how paragliding works.  You simply run off the mountain.  As you run towards the edge of the mountain, the parachute begins to rise.  Wind resistance in the fabric causes it to expand before ultimately being pulled upward with you completely airborne.  The feeling of being pulled back from an open chute is surreal, as is the balance of that and the fear that you will begin tumbling into the nearby trees below.
Once airborne, the experience is incredibly peaceful.  It is just you, your instructor, and smooth circles around the beautiful countryside.  That is, until they ask you if you want to do tricks.   The brave who say yes are treated to fast spins and moving at incredible speeds for a few brief minutes.  You can imagine what option I went for.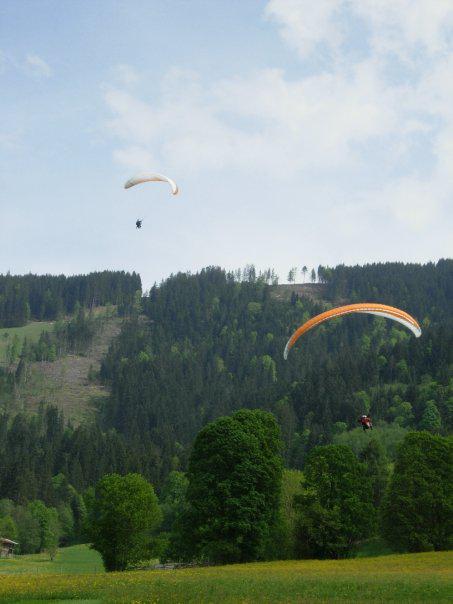 Several times during these spins I could have sworn that the parachute was either horizontal to my body, or even below, but I try to avoid thinking about that if possible.   The only downside to doing these tricks is that they cause you to descend at a faster rate, and we were safely on the ground before I knew it.   For the next 45 minutes we waited and watched as our fellow travelers each went up and gracefully came back to safety.   Skydiving, you're next!
If you are ever traveling in Eastern Europe, make some time for the adventure sports of Tyrol, Austria.  The beautiful mountain scenery is astounding, and the numerous sports available are nothing short of impressive.   Those who visit in the winter time also have a lot to look forward too, as the gondola lifts we rode up in the summer months are the very same lifts used on the dozens of ski slopes the region offers.  There is truly something for everyone in this mountain paradise, and I cannot wait to go back.