Hey all,
Well look, another post!  Two posts in two days must be a record for me.   I just finished the sculpting today.   It has taken a month to make this project.  More about that later.  I have to say that I'm really pleased with how this is turning out.   Of course I could ruin it with paint.  (But I won't.)  I've always said that paint can't fix a bad piece of sculpture.  But a bad paint job can ruin a good piece of sculpture.   Still, if I like it in the "white stage", I know it can be something I will really like with a good paint job.   I've got the colors I want.  Nevertheless, I'll probably fuss around for two days equivocating before I put a paint brush to the piece. These aren't the best photos.   And there is a lot of glue stuck to the horns, teeth and eyes.   I really like the way the hood turned out, with the bones (or horns) running through it.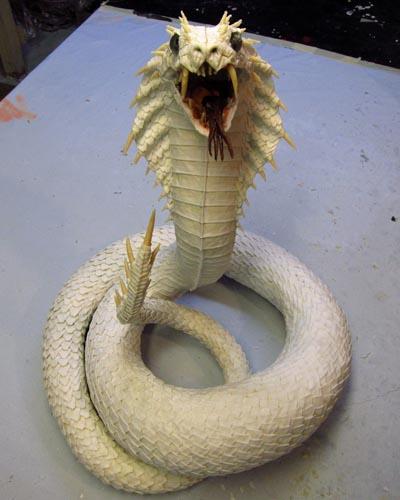 Here she is from the back.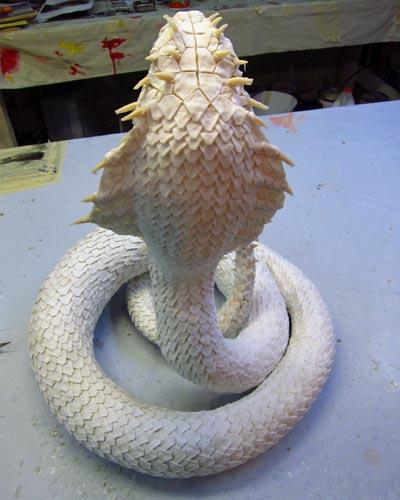 I wanted to give you a close up of the scales on the head.  Actually they are more like plates.  You see this on most snakes.  Of course I can't do justice to what nature does for real snakes.   My plates are far from perfect.   I got as much symmetry as I could.  This was painstaking, even more than the scales covering the body.  It doesn't look like it would be that challenging, but it was.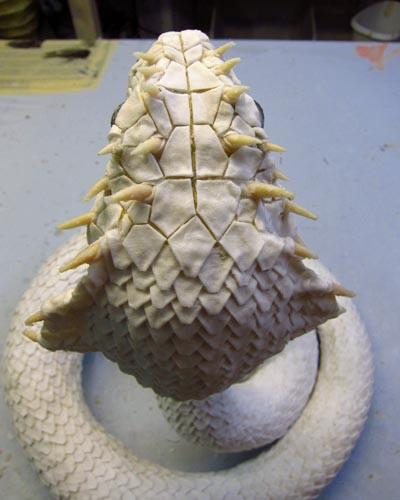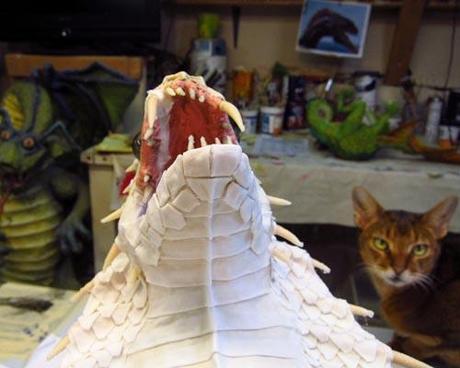 Here's a view from under the chin.  You'll notice someone in the background.   He's not very happy.  He wanted food.  I told him he would have to wait a few minutes.   I had glue on my hands.   He's not real patient.  Like his dad (me).  The most maddening thing was that after I shot this photo I cleaned the glue off of my hands and gave him some food.   He just sniffed it and walked away.   I'm sure he was pouting.   I'm sure he waited till I was back at work before sneaking back to eat it.  Little pill Eddie.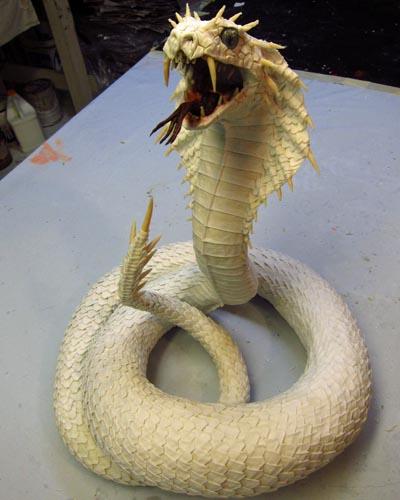 It's a shame that most people won't even see the underside of this snake.  I just thought I'd show you the "breast plates" along the entire length of the snake.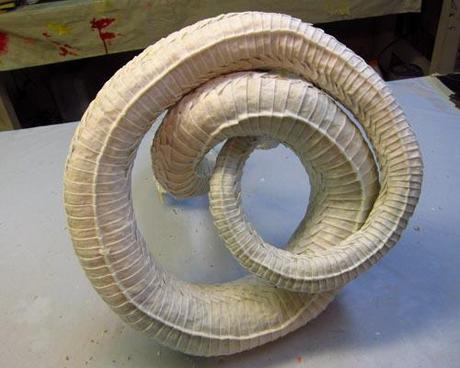 For no particular reason I thought I'd show you a couple of my tools.  The glue from my hands gets everywhere.  This is typical of everything in my studio, my phone, my TV remote control, the handles on the sink, everything.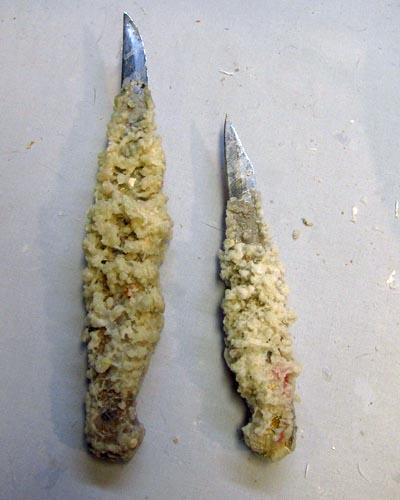 While I'm on this side track I want to come back to the labor intensive aspect of these pieces.  I can't tell you how many people decide that anything called "paper mache" should not cost more than a hundred bucks.  They are shocked when I give them a quote for a commission.  After working an entire day to put scales on a foot or so of this snake, it becomes clear that I've probably put more time into the piece than I can recoup when I finally decide to sell it (if I want minimum wage).   It just happens.   The real bottom line is, I make this art for myself.   I don't do it with money in mind even when I take commissions.  I won't accept a commission unless it's a piece that I'd happily keep if the deal fell through.   It's really about doing the work.  Doing the work feeds me the right way.   All you artists out there know what I mean.