Yes, it's another jewelry extravaganza... Part 2 turned out to be as much fun to put together as Part 1. In fact, I'm sure there will be a Part 3 before long because I continually come across creatives who are turning paper into eye-catching art. Although most people think paper isn't strong enough to be worn as jewelry, it is the rare piece that can't handle the task of simply swinging from an earlobe or hanging around one's neck.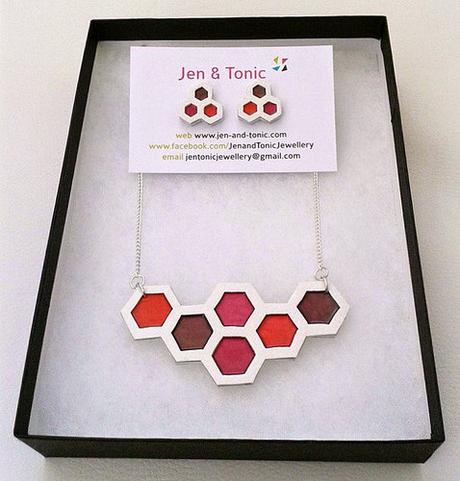 First up is Jen & Tonic - a name as clever as the colorful jewelry made by British artist Jen Gosling. She prefers to use recycled and responsibly sourced paper to create her pieces along with recycled leather to adds durability and softness against the skin.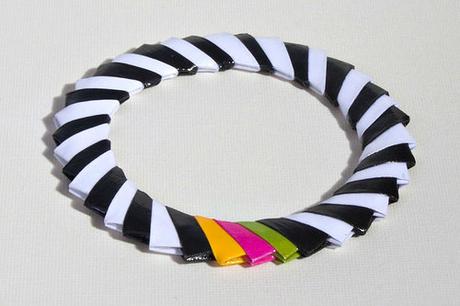 This geometric candy stripe bangle, part of Jen's GrownUp Allsorts Collection - a concept that makes me smile - is coated with a water resistant glaze, as is the pretty origami necklace below.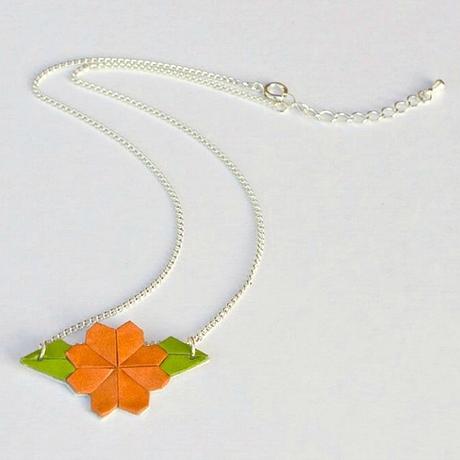 Jen makes each item to order and accepts commissions for bespoke pieces via her website and the Jen & Tonic Facebook page. Enter code JenTonic at checkout for a 10% discount through May 31, 2016.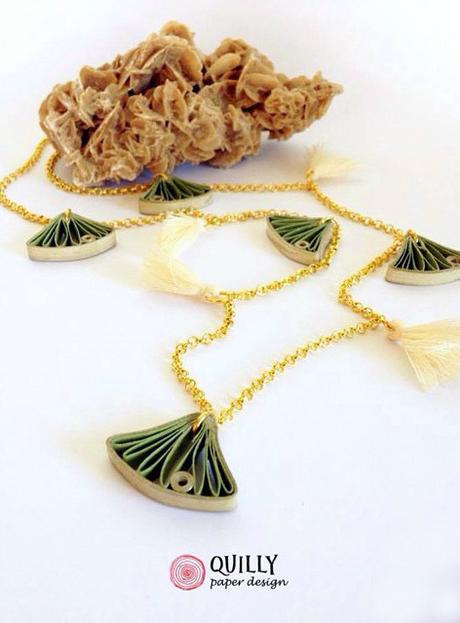 Quilly Paper Design in Palermo, Sicily is owned by architect and teacher, Daniela Bonurelli, who became interested in quilling after giving her young daughter a how-to book. Just like Jen Gosling, Daniela appreciates the re-use of paper that would normally be discarded.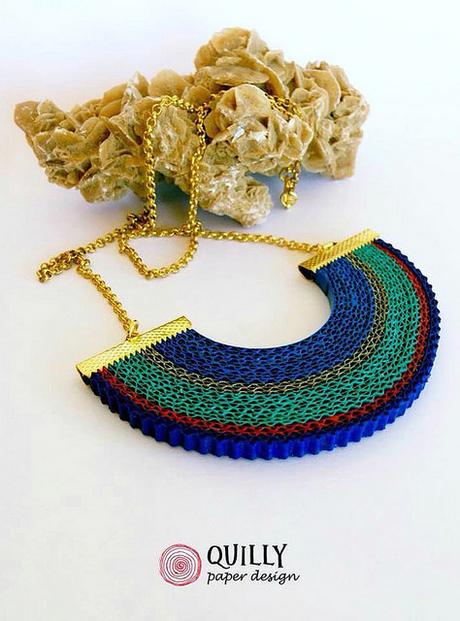 Coming up with unique pieces that capitalize on paper's ability to be flexible, yet strong is her passion.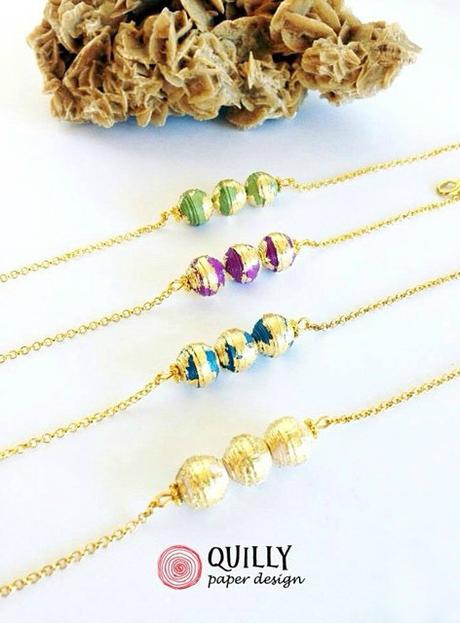 Quilly Paper Design is on Facebook and Instagram.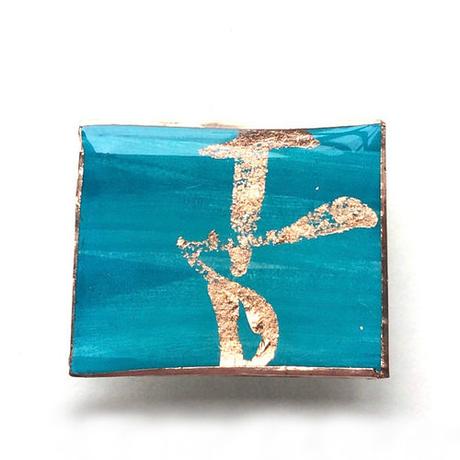 You'll rarely meet a person with a greater zest for life than Hilary Bravo, who resides in the small English town of Topsham. Her papier mache vessels and jewelry were first featured here, and in the intervening time she has continued to create treasures from found and simple materials. Contemporary earrings, brooches and necklaces that look enameled are actually paintings by Hilary that she cuts up, sets on papier mache and trims with copper tape and aluminum. A resin dome magnifies and intensifies the colors.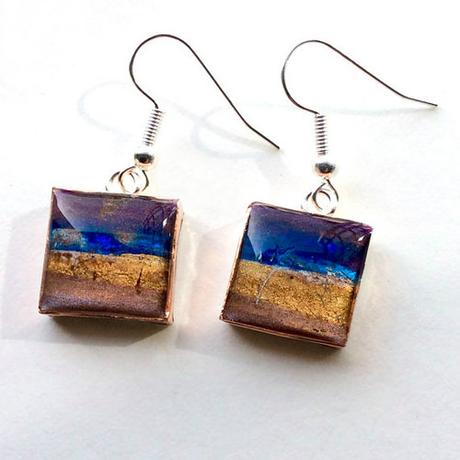 Hilary delights in sharing papier mache techniques she has developed over the past twenty years via one-day workshops in her South Devon home studio. She shows how to make it resemble other mediums... for example, glass-like beads that look remarkably like ancient Roman brooches.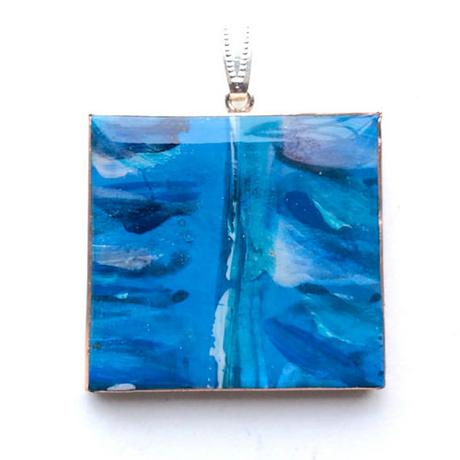 Rest assured that even though her Etsy shop, HilaryBravo, is stocked with so-called seconds, the definition is more about older stock than anything substandard about them. Reasonably priced,

there is a bonus in that for every four pieces ordered, Hilary sends along an extra pendant, brooch or pair of earrings as a gift.


She blogs, has a You Tube channel, is on Etsy, Facebook and Pinterest, and sells her work via craft and art galleries in England.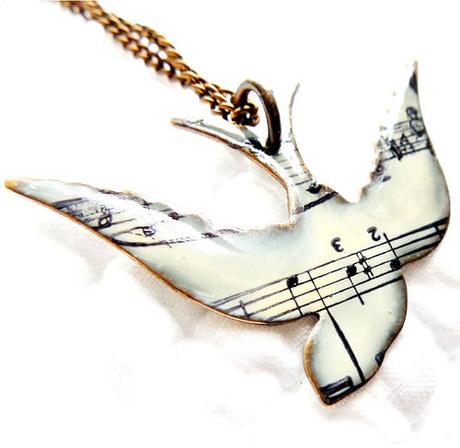 Besides paper, something all of these artisans have in common is a knack for sourcing unique findings that enhance their designs. Pretty chains, beads, wire and clasps make all the difference. Susan Alvarez Johnson of SusanAnna in

North Carolina is a great example of this.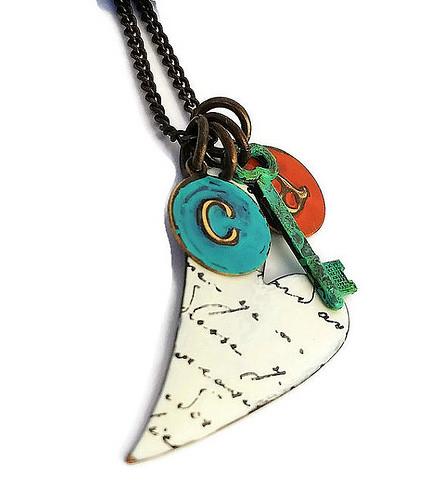 Susie began making jewelry as a hobby about seven years ago and stocks her Etsy shop with a variety of pieces that include hand painted songbird and musical note pendants that begin with sheet music placed on a nickel and lead-free brass base.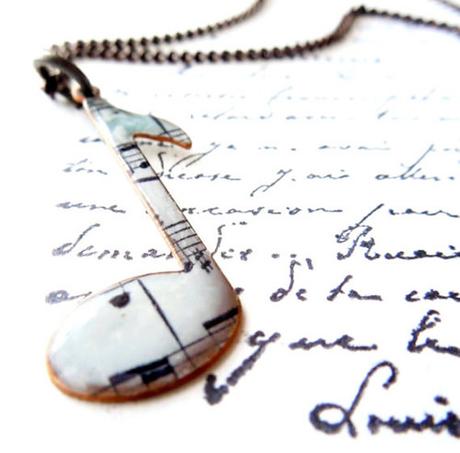 The heart necklace features love letter paper, initial charms that are pressed and painted to create a distressed look, as well as an altered key. SusanAnnaJewelry is on Instagram.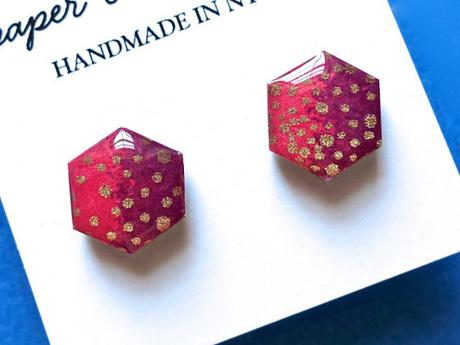 Jewel Suzuki of *Paper*Crane*Heart* in New York City makes stylish chiyogami paper jewelry and writes fun captions for her Instagram photos that drew me in right away. She spent a portion of this past winter in Japan sourcing papers and making stock for her Etsy shop and the many craft shows she attends each year.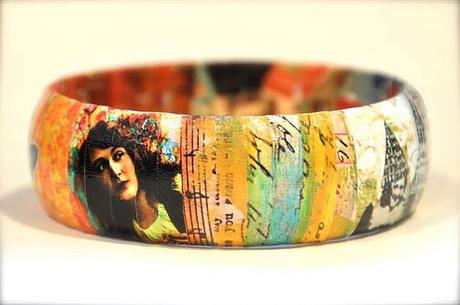 Jewel's resin-coated earrings and necklaces are handmade from wood and Japanese paper. Nicely finished on the reverse side with gold paint, they are water-resistant, super-lightweight and feature hypoallergenic surgical steel earring hooks. She also decoupages wooden bangles with strips cut from magazines.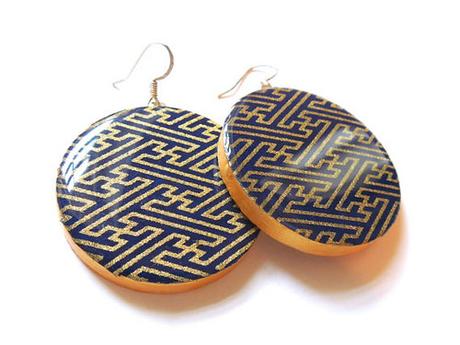 Jewel will be at the Bedford, Barrow, and Commerce Fine Arts & Crafts Fair on

Saturday, May 21st

in the West Village, NYC. She sells every weekend at street fairs too - the location differs each time... follow *Paper*Crane*Heart* on Facebook for updates. Etsy shop purchases are 15% off with the coupon code ALLTHINGSPAPER, valid through May 31, 2016.