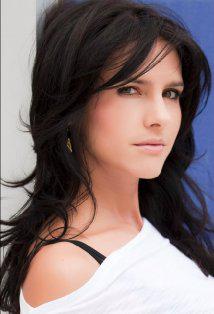 Paola Turbay is sure starting some trouble on Season 4 of True Blood", in the role of Antonia, a 17th century witch who possesses the character of Marnie, played by Fiona Shaw.
On the show, Turbay plays "a role very different from me, although sometimes at home they call me a witch", she laughingly remarked during a telephone interview with EFE from Los Angeles. However, she added that the role is "a challenge because of its complexity and depth". Antonia is a victim of the Inquisition, a spirit who is not at peace and who now arrives to complicate the lives of the protagonists, a telepath played by Anna Paquin and a vampire portrayed by Stephen Moyer.
Turbay, who was born in Houston to Colombian parents, was crowned Miss Colombia in 1991 and the next year was a Miss Universe finalist. After finishing her studies in psychology, she focused on her modeling and show business television news anchor careers. Her work as an actress began in 2002 with a role in the soap opera "Las noches de Luciana", while her official entry into the English-language market came in 2007 with the acclaimed TV series "Cane". Although it only ran for a year, it made a very good impression on critics and producers. That is why at this time the 41-year-old Turbay's agenda is packed with recurring roles in two other series: "Royal Pains" and "The Secret Life of an American Teenager".
source: timesofindia.indiatimes.com