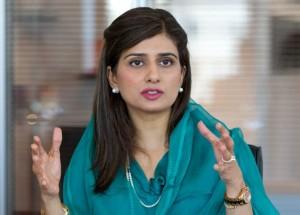 The outgoing Federal Foreign Minister Hina Rabbani Khar has reiterated that the Pakistan-Iran relations are not against any country.
While interviewing to a private TV channel on Saturday, Khar said that the Pak-Iran gas pipeline agreement is in large interest of Pakistan and it should be widely hailed.
She said Afghanistan, China and India are the neighbors of Pakistan and we want good relations with them, adding just good relations with neighbors guarantee peace in the region.
The outgoing minister said Pakistan has given a clear message to India to forget the acridities of past, adding we want relation of equality and respect between the two countries.
She further said Pakistan is keen to see Afghanistan peaceful as the stability of Afghanistan is in large interest of Pakistan.
 Khar also lashed out her political rival Jamshed Dasti, who has quit Pakistan Peoples Party (PPP) and announced to contest elections against her, saying over the past two years he left no stone unturned to sling mud over her.