Dosti Channel a collective project of Radio Pakistan and China Radio International FM-98 has been established on 17th October 2012.
Launching ceremony of the channel was held at Aiwan e Sadr in which member of the Standing Committee of the Politburo of the Communist Party of China Central Committee' Li Changchun also took part.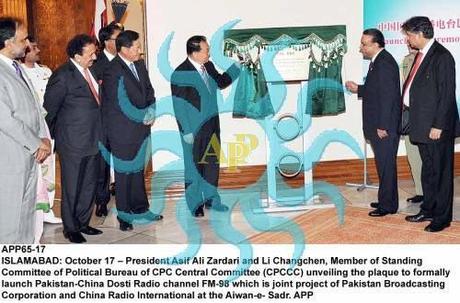 Pak China Dosti Channel FM-98 Inaugurated on 17th October 2012
The new Dosti channel will help gain people-to-people contact and forge ethnic bonds at a democratic level. This will contribute a new attribute to the active cultural relations between Pakistan and China.
Under an understanding with Radio Pakistan' CRI will broadcast Urdu and English programmes from this channel in Islamabad and Karachi for 36 hours daily. English programmes will be broadcast for 12 hours each from Karachi and Islamabad and Urdu programmes for six hours from both the stations.
Urdu programmes will be aired from 12 noon to 3.00 pm and from 5.00 pm to 8.00 pm. English programmes will be broadcast from 6 a.m. to 12 noon' from 3.00 pm to 5.00 pm and from 8.00 pm to 12.00 midnight.
The aim of the Dosti Channel is to inform the people of Pakistan about the development in China and culture of the country in addition to raising people to people link. The move will go a long way in additional fortifying the unexampled friendship between the two countries.