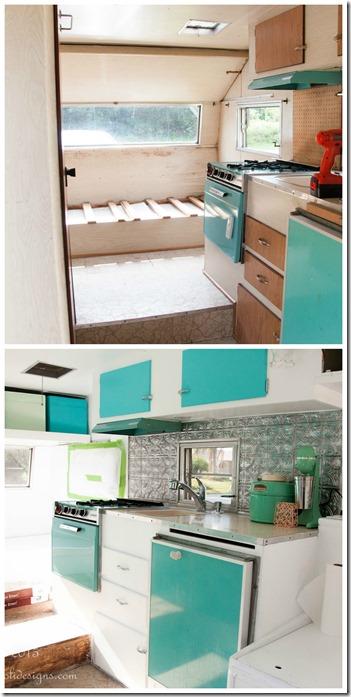 I'm still not ready for the big reveal.  I think I'll do a video when it is all finished.  I wish I would have made a video at the beginning, but I was so anxious and excited to get to work on Glinda, that I just dove right in.  The inside is almost complete, but I realized even though I keep posting updates on my Cheryl Boglioli Designs Facebook Page and my Instagram page, I have not updated my blog with the latest photos.  After cleaning the heck out of our camper, we rebuilt the back wall as you can see from my previous post on Glinda Gets a New Vintage Trailer Interior Wall.  We then filled in any holes with wood filler and sanded that down.  Added new lighting as you can see in my previous post for Update Lighting and Electric Outlets in Vintage Trailer.   In all honesty, we were working on a few things all at one time.
You can also see that we lowered the rear bunk and I'm leaving that down for storage.  I'm not crawling up there to sleep and don't know any one in my crew that would, so it will stay down for storage.  You can still sit on the couch, but maybe not someone tall.
When I chose the paints, I knew I wanted to really brighten the inside and white was the best way to accomplish that.  I painted all the walls and ceiling an ultra white. I also wanted to play off the colors from the oven and icebox.  These two appliances are not the exact same color, so I chose a color that was somewhere in between.  The icebox is more green turquoise and the stove is a little more blue. We chose Valspar Bayside – a great turquoise color that complimented both appliances.  We decided to keep the lower cabinet doors and drawers white between the stove and icebox to minimize the color difference.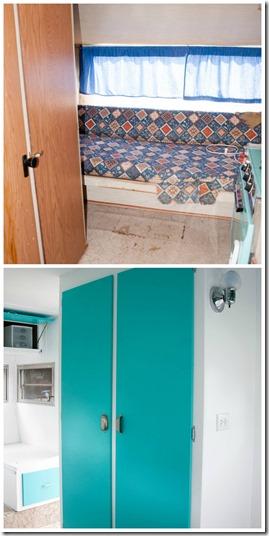 We painted the large closet doors as you can see above.  Different angles for the photo shot, but you get the idea.  These doors took two coats of primer because the doors were originally stained.  Notice the door handles now match.  They did not when I got her.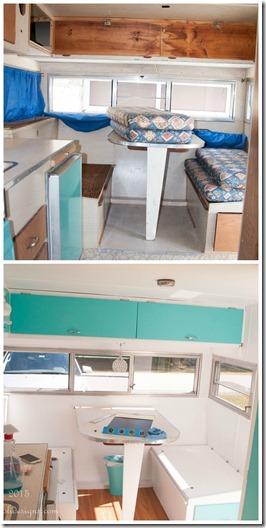 These upper cabinet doors took 2 coats of primer also.  The orange stained wood kept seeping through.  You can also see in the upper left hand corner of the old photo there was not a door installed.  We found the door under the bench seats.  You may also notice that the doors above the dinette opened from the top down.  Well, as a buxom girl, this did not work for me.  I was not able to reach across the open door to really get inside the cabinets.  Yes, some of you may laugh, but I know many of you will so relate.  So, I decided to swap the hinges to the top.  This would not leave me room for the original closing locks and I wanted pretty handles on the cabinets, but this took some research.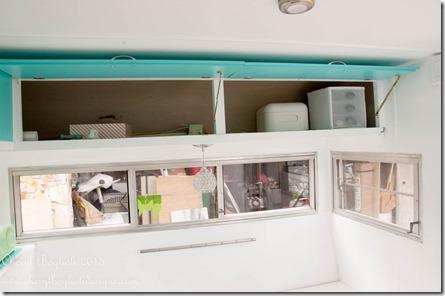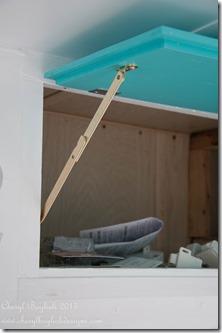 From my experience when Renovating a Vintage Suitcase, I found the hinges that lock in place when open.  Now the issue was making sure they stayed closed when traveling.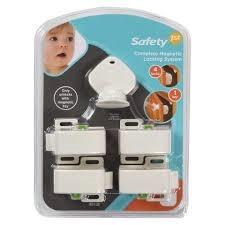 I was so excited when I found these magnetic locks that are intended for baby locks.  I was more excited when I brought them home and they fit and worked!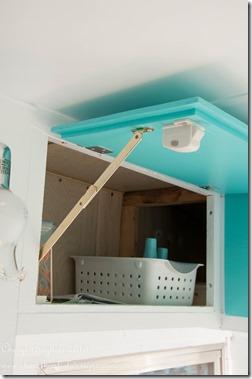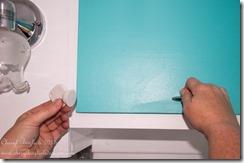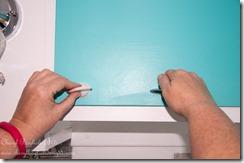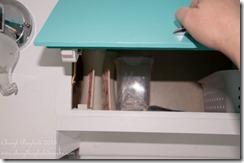 The latches can be unlocked when I am stationary, but when traveling, I can lock them.  It then requires this handy magnet to touch front of door over lock location to trigger the release.  When the thing is locked, it cannot be opened at all.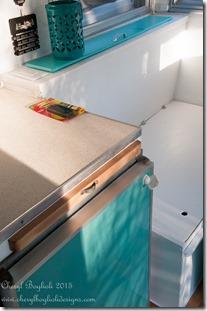 Thankfully, the magnet gets to sit on my icebox so I won't lose it and it's right up front near the cabinets that lock.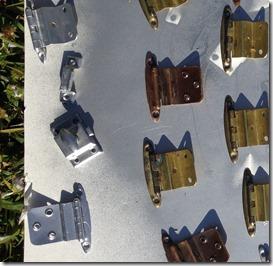 I was fortunate that I was able to salvage most of the hardware.  After removing them from all cabinetry, I cleaned them with a wire brush and spray painted with
Krylon
silver spray paint.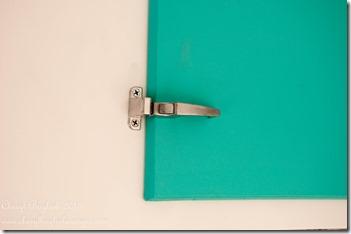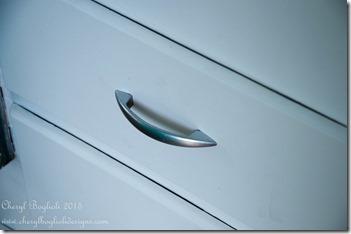 These pics above are the refinished original hardware over the sink and cabinets under sink.  All hinges were salvaged. I did have to buy handles for the closets and handles for the upper three cabinets.
Stay tuned, I'm getting caught up on blog posts and updates.  But don't forget you can follow me on Cheryl Boglioli Designs Facebook Page and my Instagram page for up-to-the minute updates.