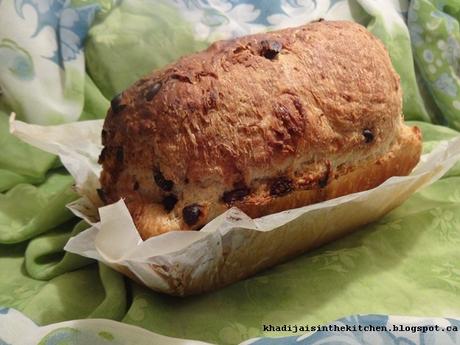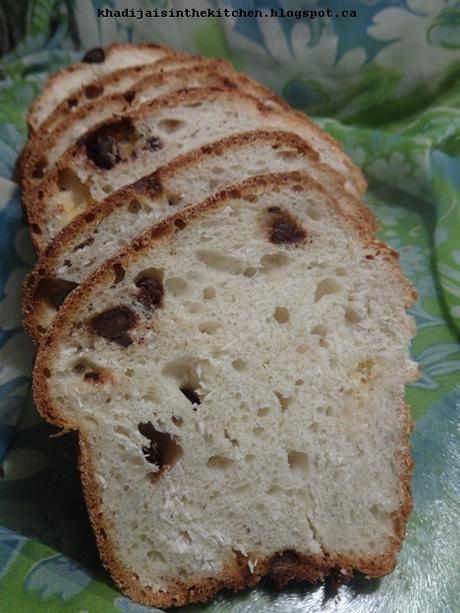 RECETTE / RECIPE / RECETA / الوصفة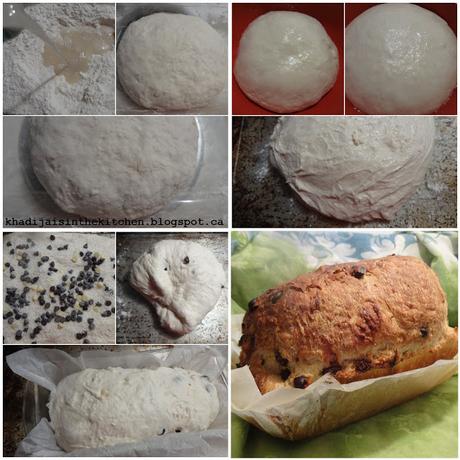 PAIN BLANC AUX PÉPITES DE CHOCOLAT ET À LA NOIX DE COCO
INGRÉDIENTS :
1 cuillère à café de sel
500 g de farine tout usage
375 g d'eau tiède
1½ cuillère à soupe de sirop d'érable
½ cuillère à soupe de levure sèche
100 g de pépites de chocolat
60 g de noix de coco non sucrée
 
MÉTHODE DE PRÉPARATION :
1. Dans un bol, mélanger la farine et le sel. Laisser de côté. Dans un autre bol, mélanger l'eau tiède avec le sirop d'érable et la levure. Ajouter le mélange aux ingrédients secs.  Pétrir la pâte jusqu'à ce qu'elle devienne lisse et homogène.  Laisser reposer pendant 20 minutes.
2. Mettre la pâte dans un bol enduit avec un peu d'huile d'olive, la couvrir et la laisser lever dans un endroit chaud pendant 1 heure ou jusqu'à ce qu'elle double de volume.
3. Étaler la pâte sur un plan de travail fariné. Parsemer les pépites de chocolat et la noix de coco sur toute la surface de la pâte. Pétrir la pâte jusqu'à ce que les pépites de chocolat et noix de coco y soient bien intégrées. Donner à la pâte la forme désirée. La déposer dans un moule ou sur une plaque à pâtisserie. La laisser doubler de volume.
4. 30 minutes avant la cuisson, préchauffer le four à 400 degrés Fahrenheit. Une fois que la pâte a doublé de volume, la laisser cuire pendant 10 minutes puis réduire la température à 350 degrés Fahrenheit et la laisser encore cuire pendant 30-40 minutes.
-------------------
CHOCOLATE CHIPS COCONUT WHITE BREAD
 
INGREDIENTS:
1 teaspoon of salt
500 g all-purpose flour
375 g warm lukewarm water
1½ tablespoons maple syrup
½ tablespoon dry yeast
100 g of chocolate chips
60 g unsweetened desiccated coconut
 
HOW TO:
1.
In a bowl, combine the flour and salt. Set aside. In another bowl, mix lukewarm water with maple syrup and yeast. Add the mixture to the dry ingredients. Knead the dough until it becomes smooth and homogeneous. Let it stand for 20 minutes.
2.
Put the dough in a bowl coated with a little olive oil, cover it and let it rise in a warm place for 1 hour or until it doubles in volume.
3.
Spread the dough on a floured work surface. Sprinkle chocolate chips and coconut over the entire surface of the dough. Knead the dough until the chocolate and coconut chips are well combined. Shape the dough as desired. Put it in a pan or on a baking sheet. Let it double in size.
4.
30 minutes before baking, preheat the oven to 400 degrees Fahrenheit. Once the dough has doubled in volume, Bake it for 10 minutes then reduce the temperature to 350 degrees Fahrenheit and let it bake for another 30-40 minutes.

------------------------
PAN BLANCO CON CHISPAS DE CHOCOLATE Y COCO RALLADO
 
INGREDIENTES:
1 cucharadita de sal
500 g de harina para todo uso
375 g de agua tibia
1½ cucharadas de jarabe de arce
½ cucharada de levadura seca
100 g de chispas de chocolate
60 g de coco rallado sin azúcar
 
ELABORACIÓN:
1. En un bol, mezclar la harina y la sal. Dejar de lado. En otro tazón, mezclar el agua tibia con el jarabe de arce y la levadura. Añadir esta mezcla a los ingredientes secos. Amasar la masa hasta que quede suave y homogénea. Dejar reposar durante 20 minutos.
2. Colocar la masa en un recipiente pincelado con un poco de aceite de oliva, la cubrir y la dejar crecer en un lugar cálido durante 1 hora o hasta que doble su volumen.
3. Extender la masa sobre una superficie de trabajo enharinada. Espolvorear las chispas de chocolate y el coco sobre toda la superficie de la masa. Amasar la masa hasta que las chispas de chocolate y el coco estén bien integrados. Dar a la masa la forma deseada y la colocar en un molde o en una bandeja para hornear. La dejar hasta que doble de volumen.
4. 30 minutos antes de hornear, precalentar el horno a 400 grados Fahrenheit. Una vez que la masa haya duplicado de volumen, la hornear por 10 minutos, luego reducir la temperatura a 350 grados Fahrenheit y dejar hornear el pan durante otros 30-40 minutos.
-------------------------
خبز ابيض بحبيبات الشوكولاتة و جوز الهند
المكونات:
ملعقة صغيرة من الملح
500 غرام دقيق ابيض
375 غرام ماء فاتر
نصف ملعقة كبيرة شراب القيقب
نصف ملعقة كبيرة من الخميرة الجافة
100 غرام من رقائق الشوكولاته
60 غرام جوز الهند غير المحلى
طريقة التحضير:
1

.

 في وعاء ، يمزج الدقيق والملح. يترك جانبا. في وعاء آخر ، 
يمزج الماء الفاتر مع شراب القيقب والخميرة. يضاف الخليط إلى 
المكونات الجافة. يعجن العجين حتى يصبح سلس ومتجانس. 
يترك يرتاح لمدة 20 دقيقة.
2

. 

يوضع العجين في وعاء مدهون بقليل من الزيت. يغطى العجين 
ويترك في مكان دافئ يختمر لمدة ساعة 

أو حتى يتضاعف حجمه
3

. 

يسرح العجين فوق سطح مرشوش بقليل من الدقيق. تنثر 
حبيبات الشوكولاتة وجوز الهند فوق سطح العجين. يعجن العجين الى 
ان تندمج حبيباتالشوكولاته وجوز الهند بشكل جيد. يعطى للعجين 
الشكل المرغوب فيه. يوضع في قالب أو فوق صفيحة البيسكوي. 
يترك حتى يتضاعف حجمه.
4

. 

30 دقيقة قبل ادخال الخبز الى الفرن ، يسخن هذا الاخير على 
درجة حرارة 400 فهرنهايت. عندما يتضاعف حجم العجين ، يطهى
لمدة 10 دقائق ثم تخفض درجة الحرارة إلى 350 درجة فهرنهايت و 
يواصل طهي الخبز لمدة 30-40 دقيقة أخرى.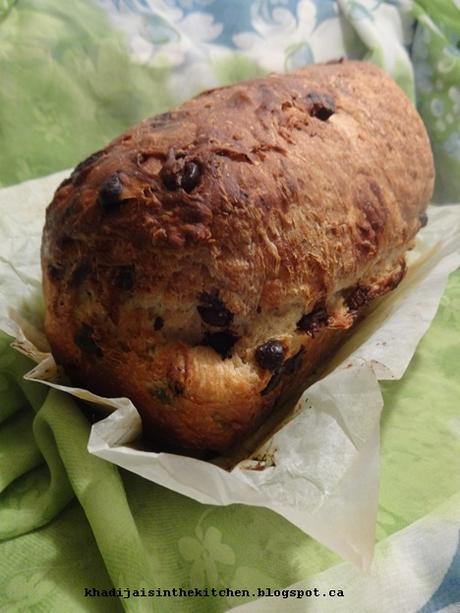 *********************
Hope you'll enjoy!!
*********************
Merci de votre visite / Thank you for your visit /Gracias por su visita/
شكرا على زيارتكم
Pour d'autres idées de cuisine / For other cooking ideas / Para otras ideas de cocina /
من اجل افكار اخرى للطبخ
:
Facebook
,
Instagram
,
Pinterest