Skip to content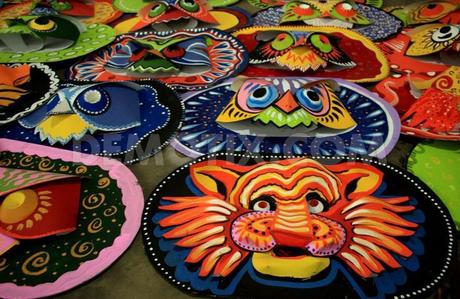 The first day of Bangla year is called Pahela Baishakh. Although Poila Baisakh is very much a part of the Hindu calendar, 'Naba Barsho' is a national festival for the Islamic State of Bangladesh, and a distinctly greater exuberance marks the festivities in this part of Bengal. While it's Poila Boishakh in West Bengal, it's 'Pahela Baisakh' in Bangladesh.The day is celebrated all over the country. But the main attraction of the day is at Ramna Batamul in Dhaka. On this day, rural people prepare special foods. They also arrange fairs at important places. On this day, shopkeepers decorate their shops and open "halkhata" and offer sweetest o their customers and clients. Urban people celebrate the day with much delight and interest. They eat Panta Bhat and hislha fish in the morning. They wear special clothes. Young boys wear Panjabis and Pajamas, and your girls put on yellow Sarees. The students of the Institute of Fien Arts of Dhaka University bring out colorful procession on Pahela Baishakh. Different organization such as Bangla Academy, Shilpakala Academy, Chhayanat etc organize cultural function in their respective premises. Actually Pahelea Baishakh is a day of great joy and significance. It reminds Bangla culture and tradition.
महान चरित्र का निर्माण महान और उज्ज्वल विचारो से होता है
© Vikas Acharya Founder of Journal edge, 2013 - 2016. Copy prohibited. But you're welcome to "reblog" with full credit given to Vikas Acharya at Journal Edge.
I have no © on some of these images. If you find your image which is copyrighted mail me to [email protected] we'll remove them within the next 48hrs. All Image credit goes only to their Original Photographers and website owners.
My name is Vikas Acharya and I am a freelance writer, ghostwriter, and Blog-writer. Contact me to find out how I can help you create high-quality blog content, lead magnets, ebooks, and web copy for your business. I have worked with a wide range of organizations including Internet startups, advertising agencies, and various websites. From widely distributed press releases and blog posts, to targeted letters , I ensure customer satisfaction in everything that I do. well-known brands and publications including Tata Capital, Realtycompass, CondomBazaar, You Tube, Myntra, Asus Mobile, Delmonte Foods, Airtel, Dabur, The Dance Bible, UB Group and many more.

MTWTFSS
*Information on the traditional uses and properties of herbs/ animals/ yoga/ places are provided on this site is for educational use only, and is not intended as medical advice. all image credit goes to their Photographers. The events, characters and objects depicted in the Blog are ficticious. Any similarity to actual persons, living or dead, or to actual firms, is purely coincidental. I'm not a guru, nor do I have any kind of a black lore or accomplishment. Were all written in my article entitled have been expressed only through education purpose.
" Apr
1
2
3
4
5
6
7
8
9
10
11
12
13
14
15
16
17
18
19
20
21
22
23
24
25
26
27
28
29
30
31