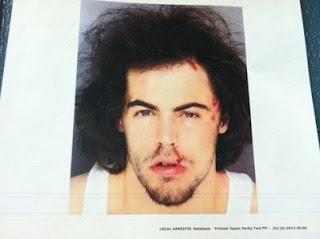 Philly.com reports
on a young man who came into the police station with a gun to try and break his girlfriend out. She'd been arrested earlier in the evening for drunk and disorderly.
Stewart was asked to leave and did so, but returned seconds later and fought with two officers as they tried to take him in custody, police said. During the struggle, Stewart pulled a fully-loaded gun out and although officers were able to wrestle it away from him before any shots were fired, a bullet was ejected from the gun somehow during the struggle.
One of the big false arguments of the gun fanatics is that gun free zones attract miscreants because they know there'll be no resistance.  Well, it just so happens that the Upper Darby Police Station has more incidents than your average gun-free college campus.
This is not the first time the Upper Darby police station has been a "battleground," according to Chitwood. In August 2004, there was a man who was shot and killed in the lobby by police and one of the officers involved was himself injured by friendly fire during the incident.
What's your opinion? Don't you think there are enough incidents like this one in which the crazy shooter actually engages the police to debunk that claim of gun-free zones attracting problems?
Please leave a comment.