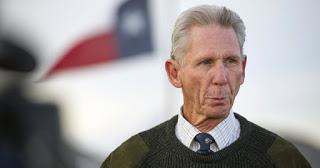 Antonin Scalia's wealthy hunting buddy,
John B. Poindexter
(From nytimes.com)
A Texas businessman who owned the remote ranch where
U.S. Supreme Court Justice Antonin Scalia died last month
, received a favorable ruling last year in an unpublished opinion before a federal appellate court.
Multiple news outlets have reported that John B. Poindexter, owner of Cibolo Creek Ranch and the Houston-based manufacturing firm J.B. Poindexter and Co.,
received a favorable outcome
when the U.S. Supreme Court refused to hear an appeal on an employment-discrimination case involving one of his subsidiaries. According to news reports,
Scalia's expenses-paid hunting trip to Poindexter's ranch was a "gift."
Was it a possible kickback for court-related favors the justice had provided? The answer to that question is not clear, but it is clear that Poindexter's favorable treatment in the discrimination case (
James Hinga v. MIC Group
) started long before SCOTUS refused to hear the case.
How? The U.S. Fifth Circuit Court of Appeals (covering Texas, Louisiana, and Mississippi) upheld a trial court's dismissal of Hinga's discrimination claim on summary judgment. Here is the alarming part: The Fifth Circuit issued an unpublished opinion in
Hinga.
Based on our experience and research, that can be a sign a ruling is suspect.
We aren't the only ones who hold that opinion of unpublished opinions. A scholar who was considered the "father of modern legal ethics" also had a low opinion of unpublished opinions. (More on that in upcoming posts.)
How do we know the
Hinga
opinion was unpublished? Well, different courts do it different ways. In the Eleventh Circuit (covering Alabama, Georgia, and Florida) such opinions usually are stamped near the top "Do Not Publish." It's hard to miss. The Fifth Circuit apparently is a bit more subtle about it.
The
Hinga
opinion includes an asterisk near the name of the justice who authored it,
with the following explanation at the bottom of the first page
:
* Pursuant to 5TH CIR. R. 47.5, the court has determined that this opinion should not be published and is not precedent except under the limited circumstances set forth in 5TH CIR. R. 47.5.4
A SCOTUS docket chart for August 2015 also shows that the opinion was unpublished.
Why might an unpublished opinion emit a foul odor? In so many words, the "unpublished" designation suggests issues in the case were so clear-cut that the outcome was obvious and the case deserves to be buried because it has no precedential value.
That might actually hold true in some unpublished cases. But we've seen signs that "Do Not Publish" on an opinion can be a way to cover up judicial skulduggery.
In the
Hinga
case, it almost surely meant that his appeal was dead on arrival at SCOTUS. Did Scalia do Poindexter a favor, not by making sure the nation's highest court did not hear the case, but by making sure the Fifth Circuit ruled in his hunting friend's favor--and did so in an unpublished fashion that the public was unlikely to notice or question?
How can that happen? We will explain in an upcoming post--and we also will show why a leading legal scholar was not high on unpublished opinions.
(To be continued)