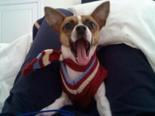 Meg Hall was skeptical when she received a call on her cell phone Sunday afternoon from a family saying they thought they had found her dog, Skeeter. Hall had been told that exact thing at least 20 times since someone stole her car, along with Skeeter, at gunpoint the night of Oct. 30, and it had never checked out.
But Sunday was different. The family had contacted Hall, 27, on her personal phone number, which was only on Skeeter's collar and not in "missing" posters of the dog that were plastered across town and in social media. They also described Skeeter's collar and harness perfectly: a purple and gold vest which went around his little body.
When Hall headed over to the family's home and saw the Chihuahua-Jack Russell Terrier mix, she immediately knew it was her 11-year-old rescued pup that had been missing for a dozen days. "We've both been through a lot," said Hall, who recalled crying as Skeeter was handed to her. "It's a happy ending for Skeeter, and I'm hoping for a happy ending for all lost pets."
Skeeter's ordeal began when a man holding a gun approached Hall in the 2300 block of Burdette Street as she was about to climb into her Lincoln Navigator, leaving the house of a person she was visiting. The gunman punched Hall in the face, pushed her away from the vehicle and drove off.
Meanwhile, Skeeter, the dog Hall adopted following Hurricane Rita, was sitting on the center console. Hall pleaded for the gunman to give her the dog before driving off, but the robber ignored her.
Authorities recovered Hall's Navigator in Jefferson Parish on Nov. 2. There was no sign of Skeeter, however.
$4,000 Reward For Safe Return
Hall, her friends and her family gathered $500 and distributed posters online and on the streets offering the money to anyone finding Skeeter. The Humane Society of Louisiana subsequently joined Hall's cause and contributed another $500 to the reward.
The story of Skeeter's plight and the reward being offered for his safe return garnered significant news and social media attention. That moved Pam Fortner and Earl Bernhardt, co-owners of the Tropical Isle bar in the French Quarter, to donate an additional $2,500 to the reward for Skeeter.
"It's really tough when you (lose) your best friend," Fortner and Bernhardt said in a statement announcing their donation. "When your best friend is abducted along with your car in a carjacking, it's even more traumatic!"
The reward ultimately grew by another $500 to $4,000. Hall and her supporters ran down dozens of tips of possible Skeeter sightings and recoveries. None of them turned up Skeeter — until Sunday.
'It's Really You!'
According to Hall, members of a family, who do not want publicity, were walking their dog in the vicinity of Monroe Street — not too far from where the carjacking occurred — when Skeeter ran up to them. He still had his leash on. They called the number on his collar and reached Hall.
"I have your dog," one of the family members said to Hall. Hall, excited but reserved, replied, "What kind of dog is it?"
"A Taco Bell dog," the caller said, making Hall laugh. The caller provided a description of Skeeter's collar and promised the dog was the same one from the news. Hall was convinced Skeeter may have at last reappeared.
She drove over to the family's house with her boyfriend, Matt Dempsey, 38, and knocked on the door. They greeted the family, and soon, a boy holding Skeeter emerged.
Skeeter rested his head against Hall when he was given to her. "It's really you!" Hall said. She hugged her pup tightly, noting that he was a little skinnier but otherwise seemed fine.
Humane Society Director Jeff Dorson on Monday said the family is going to collect the $4,000 reward. Skeeter, for his part, has been to the vet and declared healthy. He has been eating tablespoons of easily-digestible food to fill back out. He is having a welcome home party on Wednesday at 7 p.m. at the Bridge Lounge (1201 Magazine St.), an opportunity for him to meet all the people who helped look for him, Hall noted.
Hall still wants her carjacker caught so he can't do to anyone else what he did to her. "Criminals need to pay for their crimes," she said.
But if justice on the carjacking eludes her, Hall is just satisfied that Skeeter returned to her life. She remarked, "That's all I wanted out of this."
~ Courtesy of The Times-Picayune
Tags: carjacked dog, New Orleans dog