Overview of Turkey
 Turkey is located astride two continents Asia and Europe. It is a country where a perfect integration of East and West cultures prevails. It was the political center of Christian empires. It has a rich history and has credited with many historic site and archeologically valuable structures.
It is amazing with picturesque landscapes and eye catching attractions. Present turkey is a perfect mix of modernization and immaculate ancient tradition. It has a contemporary outlook and offers many facilities for the enthusiastic travelers. The populaces are very hospitable and its capital Istanbul is one of the most advanced cities in the world.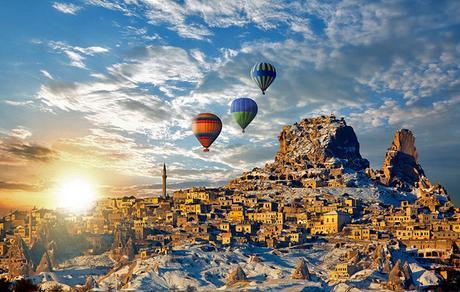 Turkey Language
The Turkish language now being spoken all through the country is the descendant of age old Ottoman Turkish. The traces of its predecessor of 11th century, the well known Old Anatolian Turkish, can be seen in the present day Turkish language. It is different in accents and dialects from the other forms of Turkic origin languages. The origin of the Turkish language can be traced back to 11th century AD.
Turkish language has 29 alphabets including 8 vowels and 21 consonants. The Turkish alphabets are formed for the phonetic description in an easy way. The Turkish words are written phonetically, that is every letter is pronounced while reading.
Turkey Currency
The Turkish lira (TL) is the official currency of Turkey. In Ottoman Turkey, the currency was known as the Turkish pound. The smallest denomination is Kurush. 100 Kurush makes a unit of Turkish currency Lira. But due to high inflation and less absolute value, Turkey Kurush is used very rarely.
Coins (metal currency) are available in denominations of 500, 1000, 2500 and 5000 Turkish lira. Paper currencies in Turkey come in various denominations like 1000, 5000, 20,000, 50,000 and 100,000 lira. Old 2005 Lira notes are in withdrawal and new 2009 Lira notes are in the process of being introduced. 
Turkey Food
One can find rich and diverse Cuisine everywhere in Turkey. The dough made out of wheat flour is the fundamental ingredient of all types of food in Turkey. Ordinary white bread known as "ekmek", the flat bread "pide", sesame seed rings "simit", dumplings known as "manti" and the whole group of cuisines made up of light and thin portions of pastry known as "börek" are all famous delicious food items available in Turkey.
Rice pilav and grilled meats are also common items in Turkish cuisine. The grilled meats known as Kebab, Izgara and Kofte or Sis are delicious meat items. Vegetables cooked in Olive oil are also available in plenty in Turkey.