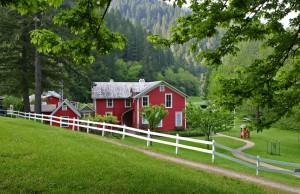 Where The Grass Is Greener
On many days I leaned on the fence admiring the grass on the other side.
I gazed wide-eyed at the wedding rings and bridal gowns. Brides-to-be were planning their registries. Newlyweds were skipping through the meadow and sharing kisses under a starlit sky.
I looked at my yard, frowned, and turned again to the other side of the fence. I compared my neighbor's wedded bliss to my single life and resolved that the grass is greener on the other side. I wanted nothing more than to cross over and not be single anymore.
After years of unsuccessful dates and nonexistent courtships, I questioned God in my heart. Why couldn't my grass be as green as my neighbors? Then God answered me with His Word.
And my God will supply every need of yours according to his riches in glory in Christ Jesus. (Philippians 4:19 ESV)
After much prayer and meditation on His Word, I understood better that God supplies every thing I need for the time I need it. All I needed to cultivate a yard of flourishing green grass, was already provided.
The days when my grass "appeared" less green, where the days I neglected to acknowledge how good God had been to me. They were the days when I secretly longed to live the same life as my neighbor.
I ignored that my yard flourished with good health, family,and above all things, the love and grace of God. How could I not be grateful? 
God gives us what we need when we need it. Not all of us are in need of the same thing at the same time. There will be days when you need sunshine and days when you need a little rain. Whatever is necessary to keep your life flourishing with greenness, God will supply.
The place where the grass was greener is the place where God's hand is upon it.  
Take the time to count your blessings today. What special things has God done just for you? God provides for all of His children and in Him we all flourish and grow.
Companion Scriptures
2 Corinthians 2:9
Psalm 37:25-26