Don't miss out on the #1 Inspirational Family Film of 2019! Overcomer movie is available on digital now and DVD on December 17th.  Go OvercomerMovie.com/buy for more information!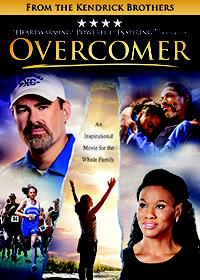 OVERCOMER – this movie is the #1 Inspirational Family Film of 2019.  I don't have to say this, but I've seen the movie – it's awesome.  Rotten Tomatoes has given the OVERCOMER movie a 98% audience score!
The release of the OVERCOMER DVD is PERFECT timing for gifting for Christmas or the new year, or even for a new believer! If you pick up the DVD, it's packed with tons of features and extras that you don't want to miss!
Life changes overnight for coach John Harrison when his high school basketball team's state championship dreams are crushed under the weight of unexpected news. When the largest manufacturing plant in town suddenly shuts down and hundreds of families begin moving away, John must come to grips with the challenges facing his family and his team. Urged by the school's principal to fill-in and coach a sport he doesn't know or like, John is frustrated and questioning his worth… until he crosses paths with a student struggling with her own journey.
Filled with a powerful mix of faith, a twist of humor, and a ton of heart, the Kendrick Brothers return to theaters with OVERCOMER, their newest feature following FACING THE GIANTS, FIREPROOF, COURAGEOUS, and the #1 box-office hit, WAR ROOM. The inspiring family film stars Alex Kendrick, Priscilla Shirer, Shari Rigby, Cameron Arnett, and introduces Aryn Wright-Thompson.
OVERCOMER dares to leave you filled with hope, inspired to dream, and asks the question: what do you allow to define you?
You can find out more about this movie on social media:
~ ~ ~ ~ ~ ~ ~ ~ ~ ~ ~ ~ ~ ~ ~ ~ ~ ~

It would be great if you would stay connected with me!! You can follow me on Twitter @DebiL1611, like me on Facebook at 2014 and Beyond, circle me on Google+, follow me on Tumblr, Instagram and Bloglovin', subscribe on YouTube, or connect with me on LinkedIn and Pinterest.

Please make sure to visit my homepage and subscribe to my blog for more great posts on running, fitness and lifestyle topics as well as food, product, music and book reviews, and more!