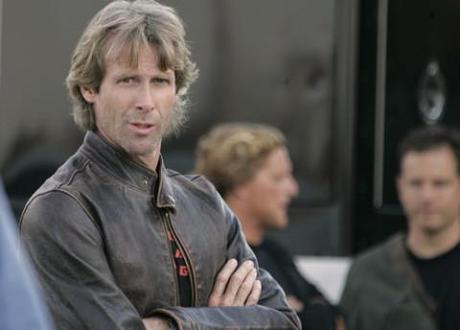 This man wants to turn the Turtles into aliens! Michael Bay on the set of Transformers in 2006. Photo credit: Simon Davison http://www.flickr.com/photos/suzanneandsimon/265308435/
Film producer Michael Bay outraged fans when he announced at a Nickelodeon presentation at the weekend that the pizza-loving sewer-dwelling mutant green heroes Leonardo, Raphael, Michelangelo and Donatello were going to be "from an alien race" in his live-action film adaptation of the Teenage Mutant Ninja Turtles (known as "Teenage Mutant Hero Turtles" in Europe).
As any child of the '80s could tell you, the Turtles, who first appeared in a 1984 comic book, became mutant fighters after encountering some radioactive ooze as babies. This may also have affected their speech patterns, causing them to frequently utter the word: "Cowabunga!" The Turtles were raised in the sewers by a mutant rat called Splinter, their sensei in the ways of martial arts and morality, and made frequent forays into the above-ground world to fight crime.
"When you see this movie, kids are  going to believe, one day, that these turtles actually do exist, when we're done with this movie," explained Bay, wearing his salesman hat. "These turtles are from an alien race and they are going to be tough, edgy, funny and completely lovable."
But fans claim that the Turtles are already loveable, just the way they are – so why is Bay changing the story?
A mutation too far? Oliver Lyttleton reported on Indiewire that after the news broke, "the internet exploded, with several petitions appearing from outraged fans who are horrified at the change in the origins for the new film." This tweet from @Lizzs_Lockeroom was typical of the online reaction: "You can take a rat out of the sewer… but you can't make him train aliens Michael Bay! #TMNT". And although it pained Lyttleton "to pass up an opportunity to make fun of grown men who get this angry about a group of pizza-eating humanoid turtles", he expressed his sympathy: "Messing with an origin story this heavily is a little like having Batman becoming a crime-fighter after being bitten by a radioactive bat, and doesn't bode well when it comes to an understanding of the material."
This would ruin everything. "Making the turtles aliens would ruin everything – their desire to be accepted, their bizarre late-1980s street lingo, their fondness for pizza. Everything. Are we really meant to believe that there's an alien race of giant turtles who just happen to all be named after renowned Renaissance artists from this planet, and speak English, and who came to Earth with a giant elderly rat who's presumably from the same race, just to live in sewers and loudly eschew anchovies at every opportunity? Hardly, Michael Bay. Hardly," opined Stuart Heritage, in the Guardian.
That said, the Turtles weren't much cop in the first place and now, "The thought of anyone – least of all a six-foot kung-fu tortoise – saying the word 'cowabunga' out loud in 2012 is sphincter-obliteratingly awful."
"The rape of our childhood memories continues," moaned Robbie Rist, voice of Michaelangelo.
Michaelangelo speaks out against 'the rape of our childhood memories'. The most extreme protest came from actor Robbie Rist, the voice of Michaelangelo in the 1990 to 1993 series of live action films, who posted an open letter to Michael Bay on Monday on his Facebook wall: "You probably don't know me but I did some voice work on the first set of movies that you are starting to talk about sodomizing… I know believing in mutated talking turtles is kinda silly to begin with but am I supposed to be led to believe there are ninjas from another planet?… The rape of our childhood memories continues."
Take a chill pill, dude! Bay responded the same day on his messageboard, Shoot For the Edit: "Fans need to take a breath, and chill. They have not read the script," he wrote. "Our team is working closely with one of the original creators of Ninja Turtles to help expand and give a more complex back story. Relax, we are including everything that made you become fans in the first place. We are just building a richer world." The film does have some solid, cheesy action film cred – Jonathan Liebesman of Battle: Los Angeles and Wrath Of The Titans fame, is directing the script, which is being written by Mission Impossible: Ghost Protocol's Josh Applebaum and Andre Nemec.
More on film and childhood favourites:

New bi-racial Spider-Man divides fans and non-fans, engenders flock of 'I'm not racist, but' comments
John Carter reviews: Martian madness or sci-fi epic?
Steven Spielberg's CGI rendition of The Adventures of Tintin: 'Partying with ghosts?'
Transformers 3: Dark of the Moon
The return of Dirty Dancing: 'Hands off our movie!' cry fans
Real life costumed superheroes patrol city streets in America