I have a profile on local review site Yelp and I regularly log in to review the places
I've
visited around Glasgow and beyond. If
I'm
ever looking for a new restaurant to try or a recommendation for a hairdressers, Yelp is always my first port of call. I think of it as a very localised Trip Advisor!
One of the perks of being a 'Yelper' is that you get invited to totally awesome FREE events around once a month. I attended one such event, with Mr Juicy in toe, over the weekend.
This event was held at the gorgeous SocietyM business club which is part of the CitizenM hotel. The event was aptly called Less Business, More Pleasure and there was a loose Mad Men style dress code in place.
The interior of SocietyM is achingly cool, and it is basically my dream living room but on a bigger scale! You'll find collections of old typewriters hung upon the walls alongside model airplanes, vintage posters and high tech projector screens for business meetings.
There were a number of local businesses at the event, providing food, drink and entertainment for the evening. Food wise we had burritos from Pinto, pizza from Vespa, tapas from La Tasca, cupcakes from The Flamingo Bakery and chocolate from Nucoco. Drinks were provided by Brewdog, Heineken, Luscious Liquids, The Good Spirits Co and Pincer.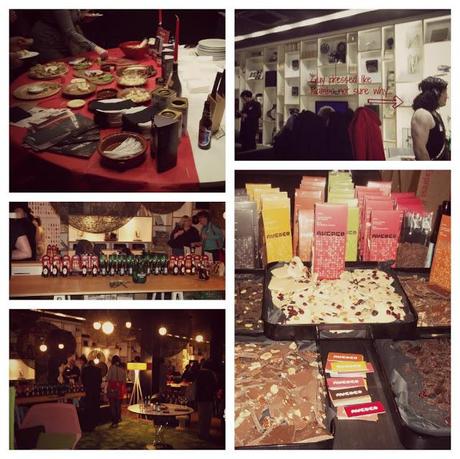 Tapas from La Tasca | Guy dressed like Rambo | Free booze | SocietyM | Nucoco chocolate samples
Entertainment came in the form of mens hair stylists MoHair. Seriously, these guys are AMAZING! They must be the best mens hairdressers in Scotland. They are experts in vintage inspired hair styling and a lot of the guys in attendance opted for Cary Grant or Boardwalk Empire-esque looks from the wonderful stylists, Grant and Tony. Tony recently won Mens Stylist of the Year 2012 by the way. I convinced Mr Juicy to let Grant style his hair and he loved it. He's ditched his old 5-quid-for-a-short-back-and-sides hairdresser and has booked in for a proper consultation with Grant in two weeks time.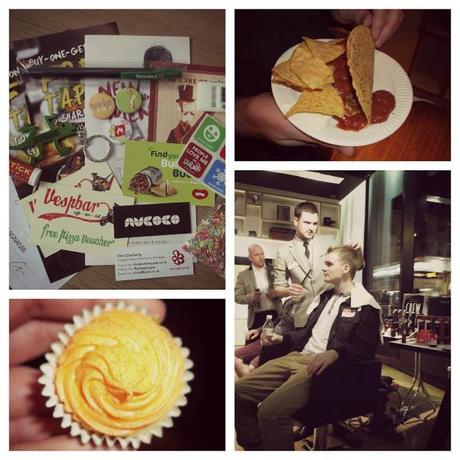 Free SWAG | Burrito from Pinto | Spiced Pumpkin Cupcakes from Flamingo Bakery | Mr Juicy getting a MoHair re-style
The wonderful Black Hearted Press were also in attendance. BHP are comic book publishers who promote new, exciting and diverse comic books. They had copies of their 4 new comic book offerings for 2012 available for all to flick through, adding a wonderfully quirky element to the evening!
In light of the loose Mad Men theme I thought a pencil skirt was in order for this event. I opted for this £25 sequinned number from Zara but kept it casual with a denim shirt,
woolly
gray tights and suede ankle boots.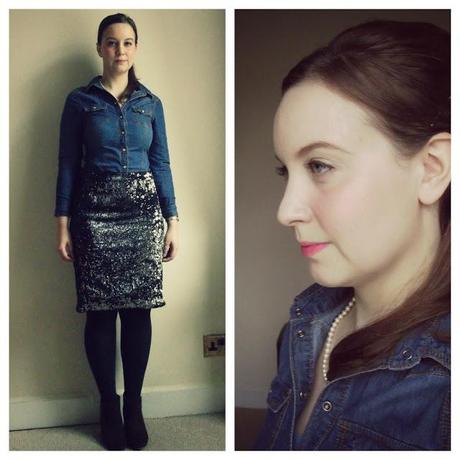 Shirt H&M | Skirt Zara | Tights Peacocks | Boots Zara | Pearl Necklace Gift
I had a great time at this Yelp event. It is the best I've been too, and I've been to around 10 or so now. I really recommend getting yourself over to Yelp and signing up. I am obviously part of the Glasgow group but there are groups in most major cities throughout the UK and abroad. It costs you absolutely nothing, except that you must pass on your knowledge of your local city. If you're a blogger and enjoy writing then this will be a great outlet for you. I love using Yelp to post my thoughts on a newly discovered vintage shop or to warning people off that bar I went to where everyone was dressed like Katie Price.
Get Yelping people!
Lisa x