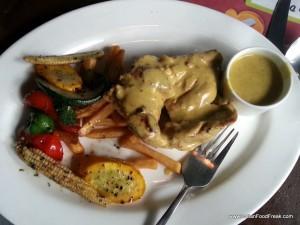 A big fan of Out of the Blue at Khar, one that has hosted many memorable get togethers with friends over the years, it was a natural stopover while hunting for lunch spots in Powai last weekend. While the Khar joint may not be fine dining by any stretch of the imagination, it surely does offer a fun casual dining experience.
Located on the first floor of the Haiko Mall, the restaurant is quite spacious with 90 seats and is split into two sections. The main section has chair settings and a lower couch setting, a great option if you have young kids. The separate glass enclosure provides a more intimate setting, away from live acts and high energy one which I find is popular to host birthdays and events.
I was drawn to try its set menu, which offers a choice of one starter, a main course and a dessert for 375 (Veg) and 425 (Non-Veg) along with a choice of wine/beer. I for one was quite surprised at the pricing, for Mumbai, where a glass of wine in itself usually costs as much in a decent restaurant. Nevertheless, we could not stay away from a bargain.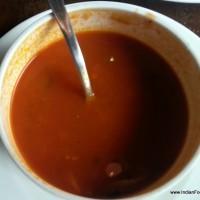 I selected the Minestrone soup while Radhika selected the Mushroom Crostini. With drinks, I selected a Fosters beer while Radhika opted for Reveilo Chenin Blanc. For main course, we ordered the Chicken Lemon Stock (barbeque chicken with vegetables) and Radhika ordered the Penne in Pesto sauce with vegetables. For dessert, we went with one Sizzling Brownie with Ice cream.

Despite a moderate turnout, with about 60% occupancy, the restaurant was noisy and uncomfortable. The air conditioning could not keep up with the numerous sizzlers and brownies emitting steam and aromas being churned by the kitchen. With the thick smell and humid air, my appetite went south faster than Kingfisher airlines stocks. Luckily, a chilled beer kept my spirits up while I waited for my soup. The white wine was surprisingly served cool and not chilled, negating any pleasure one could derive from an already average wine. I guess for the price of the meal, I should not have judged.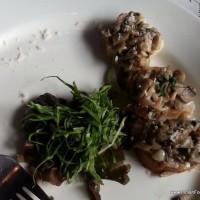 The soup and crostini arrived separately, like we were grateful to be served at all. The soup was nothing more than a tomato soup with vegetables – bland and boring. The mushroom crostini was uninspiring to say the least, the mushroom were cooked well but over salted and lacking the punch of pepper or chili. Nevertheless, I still went for the crostini and left my soup aside.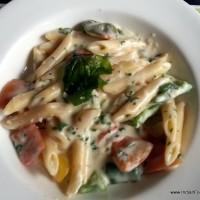 The appetizers did not do their job, and the terrible service was not doing anything to help. I felt like I was in a poorly managed hospital, with people running all around me and not one giving us a second look. Everyone was waiting for one thing or another, with one person even having to shout to get attention. Ten minutes post finishinng our appetizers, the Pasta arrive. By the looks of it, the pasta belonged at a food court more than it belonged at the OOTB. The sauce was heavy with large pieces of vegetables overpowering the pasta. Upon tasting, I found the pasta was surprisingly cooked al dente, thus providing a nice feel to the dish. The taste was well balanced but low on basil and garlic.

The chicken dish arrived 5 minutes later, smothered in mustard sauce (with more on the side). My first impression was to run from the table – it looked more like road kill dressed with vegetables than tastefully grilled poultry. After waiting for over an hour, and with an already traumatic parking experience behind me, I decided to rough it out and bite the bullet.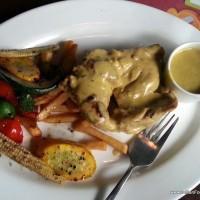 The first chicken breast piece was a moderate sized, well cooked meat. The mustard dressing was predictably strong in taste and runny in texture. The dish was quite unidimensional with no coherent taste in the chicken. The bird was more likely baked as it lacked any character of grilled meat. The vegetables helped in bringing some character to the dish, but were overcooked though packed a punch in flavor. But the dish should have been the chicken and not the vegetables. The second breast piece was unfortunately undercooked and that killed my experience. I sent the dish back, and was brought a fresh dish in a surprisingly quick time, which turned out much better made.

With not much appetite left, I tried a few bites and went for the dessert. The sizzling brownie is a surefire hit and did not disappoint.

Overall, I strongly believe the Powai branch of Out of the Blue needs to catch up to its big brother in terms of service (not that Khar has amazing service) and quality of food. For value for money, it does get 3 thumbs up for quite average food and a free beer/wine – kind of makes up for it.

Will I go again??? Not with my money… But you will definitely see me at Khar!

Ratings (Out of 5)

Food: 2.0 | Drinks: 3.0 | Ambience: 3.0 | Service: 2.5 | Overall: 2.5

Meal for two: Rs. 1200 (3 course set meal)| Alcohol: Yes | Credit Card: Yes | Timings: 11:30 AM to 12:00 AM

Address: Out of the blue, 1st Floor Haiko Place Central Avenue, Hiranandani Gardens, Powai | Phone: 022 25717344 / 8879366202