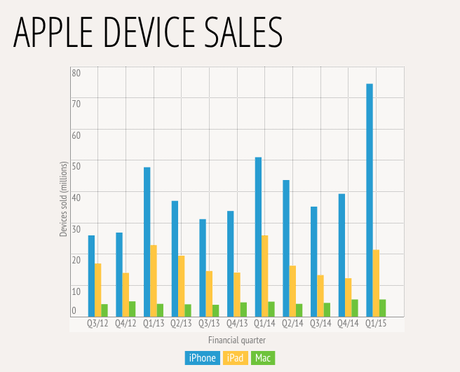 Apple knocked it out of the park! 
Last night, AAPL reported the most profitable quarter of any company in history – EVER!!! – making $18.04Bn in the last 3 months of 2014.  That's $8.3M per hour in PROFIT with almost $1Bn/day in revenues ($74.6Bn for the quarter).  The company made $3.06 for each $109 share and that was already up 10% since last Q.  
I'm sure NOW it is obvious why AAPL was our Trade of the Year in 2012 ($52 when we made that pick) as well as 2013 ($72) and again this December, even though it was alread hitting $110 after the split. Of course, we didn't just play the stock at PSW, we played the options and our Top Trade Idea for Dec 17th was:
20 2017 $90/120 bull call spreads at $13.50 ($27,000)
20 short 2017 $85 puts at $9.50 ($19,000)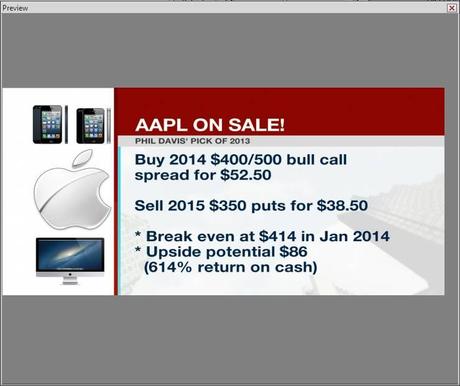 Our 2013 Trade of the Year is pictured on the left and made the full 614% expected and our 2014 Trade of the Year parlayed that money into the following:
10 2016 $450/600 bull call spreads at $65 ($65,000)

10 short 2016 $450 puts for $41 ($41,000)
That trade is already 100% in the money and will make the full $126,000 (525%) if AAPL holds $85.72 (post split), which is why we were able to be be nice and aggressive with our 2015 Trade of the Year, going for another 650% if AAPL is over $120 in Jan 2017.  I know it sounds boring to keep picking AAPL for our top trade 3 years in a row but I don't know a better, safer way that we could have made 614%, 525% and now 650% on our money 3 years in a row than betting on the fact that AAPL was severely undervalued by the market (here's me on TV on 12/19 discussing the Apple trade).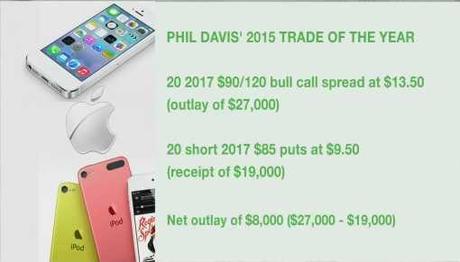 We don't ALWAYS pick AAPL – our 2012 Trade of the Year was BAC, which turned out to be the best-performing stock in the S&P for 2012 and that option combination (all picked live on TV and, of course, in our Member Chat Room at www.Philstockworld.com) returned 350% so, had you taken an initial $5,000 and put it into our 4 consecutive trade ideas, it would look like this:
$5,000 on BAC in 2012 becomes $22,500 with a 350% gain.
$22,500 on AAPL in 2013 becomes $160,640 with a 614% gain.  
$160,640 on AAPL in 2014 becomes $1,004,062.50 with a 525% gain 
$1,004,062.50 on AAPL in 2015 becomes $7,530,468.75 with a 650% gain.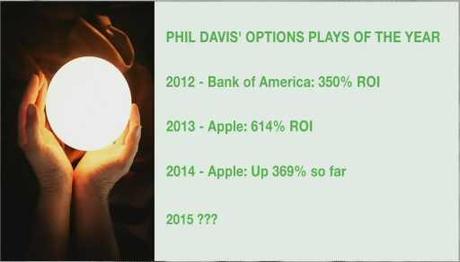 Of course, we do not recommend taking 100% of your winnings and re-gambling every year but, as you can see, it doesn't take a lot to make a lot following our Top Trade Ideas.  I hope you were able to participate in some or all of those gains and, if not – don't worry, we have trade ideas like these every day.  These just happened to be our Trades of the Year and we picked them live on TV, so they got more attention than the work we do for our Members every single day at PSW. 
Meanwhile, for those who did miss getting long on AAPL with us earlier in the year, in our Live Member Chat Room yesterday we played Apple's earnings by going long on /NQ (Nasdaq Futures) as they bottomed out at 4,150 at 11:15.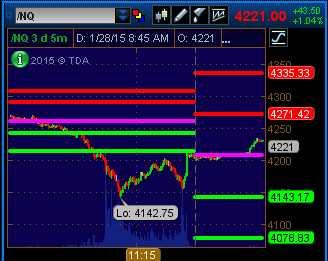 I reiterated the call ahead of APPL's announcement at 4:08 pm because it crossed the 4,171 line predicted by our 5% Rule™ at 11:15.  This morning, /NQ is back at 4,220 up $1,400 per contract in less than 24 hours.  With a margin requirement of $3,960 per contract, the same $8,000 investment made $2,800 in a single day playing the Futures – not a bad consolation prize!  
There are so many ways to make money using options and futures and we're happy to teach them to you but, be warned, these are not "tricks", it takes hard work and lots of PRACTICE to be ready to take advantage of these opportunities.  Even now, I will tell the cheapskate free readers that the following trade can turn $2,300 cash into $12,000 (up 421%) in 12 months and they won't follow it because they don't understand it and won't believe it:
40 CLF Jan 2016 $5/8 bull call spread at $1.20 ($4,800)
Selling 20 Jan 2016 $5 puts for $1.25 ($2,500)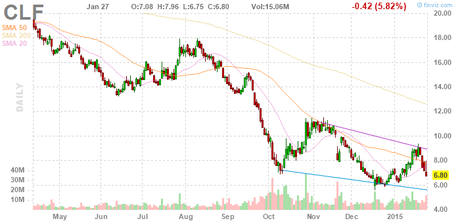 The risk is owning 2,000 shares of CLF for net $6.15 (10% off the current price) so $12,300 is the max commitment, even in an IRA vs the potential reward of $9,700 in profits at $8.  Anything above $6.15 is a winner and that is an example of how we use options both as a hedge AND a way to leverage our upside potential on a stock.  
Yes the chart looks very ugly but we are VALUE investors and we don't care what the squiggly lines look like – we care about the prospects of the stocks we invest in and CLF has earnings on 2/15, so it won't take very long to see if this one is working out.  
Meanwhile, we'll see if AAPL alone is going to be enough to save the markets from yesterday's dive.  BA had nice numbers too and that's good for the Dow and we already had a nice gain on those Futures (/YM at 17,369 at 7:33) but now stopped out and back to our generally bearish stance until those bounce lines show us something. 
Those squiggly lines we DO care about!  
Do you know someone who would benefit from this information? We can send your friend a strictly confidential, one-time email telling them about this information. Your privacy and your friend's privacy is your business... no spam! Click here and tell a friend!