Wine at noon!?! Yes, please!

Kenin and I spent a morning walking around downtown Albuquerque, NM enjoying the sights and doing a little shopping. We then went looking for a brewery to visit when we came across a flyer for the St. Clair Winery and Bistro. It was surprising to find a winery in New Mexico, but we were intrigued. We decided to make a quick change of plans and visit the winery before hitting the Marble Brewery and we were glad we did. Here's our review of the St. Clair Winery and Bistro.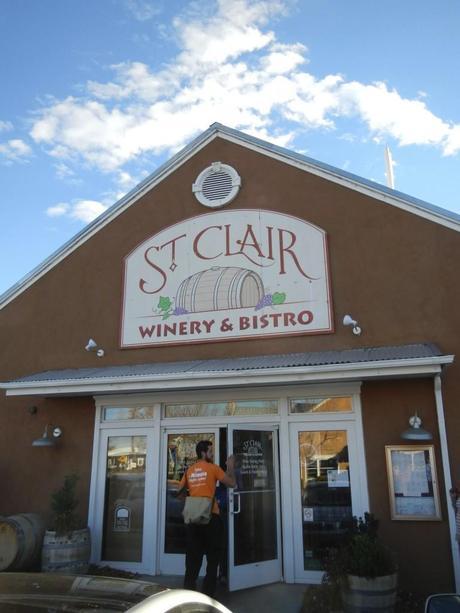 St Clair Winery and Bistro, Albuquerque, NM
The St Clair Winery has been a local New Mexico landmark since 1984. During the summer of 2005, they opened the Albuquerque Bistro near Albuquerque's historic Old Town. The atmosphere is warm and cozy. There are casks everywhere in their decor and bottles of wine are displayed around every corner.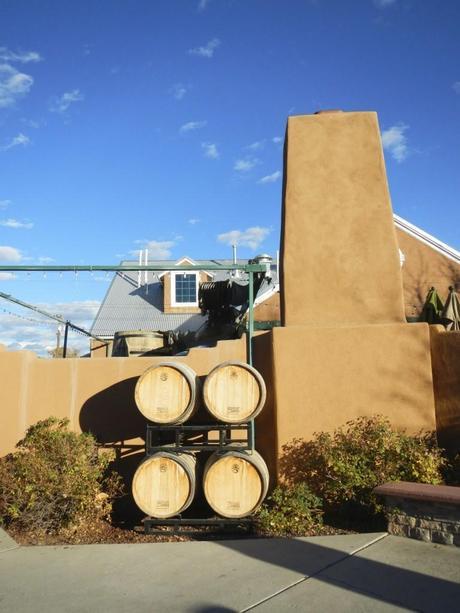 Wine casks
When most people think of good wine, New Mexico is not exactly the first place that comes to mind. St. Clair Winery however, has been making a big name for itself by sourcing its grapes locally. The actual winery is located outside of Albuquerque in the Mimbres Valley near Deming.  The valley has ideal grape growing conditions with a 4500-foot elevation and a wide temperature variation of warm days and cool nights. Enough history about New Mexico Wine making, let's get to the tasting!
We planned on doing a wine flight when we arrived, but the nice bartender in his fancy orange shirt changed our minds immediately.  His shirt advertised something unique and fancy… Mimosa flights!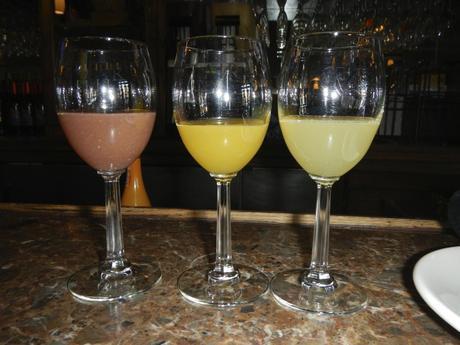 Mimosa flights!
Where have these delicious drinks been hiding during every breakfast I have ever had? The mimosas came pre-mixed in three flavors: Soleil Mango, Soleil Pineapple, and Soleil Pomegranate. They were all very refreshing after spending the morning walking around downtown. I must say the mango was by far my favorite but they could all have used a bit more juice flavor.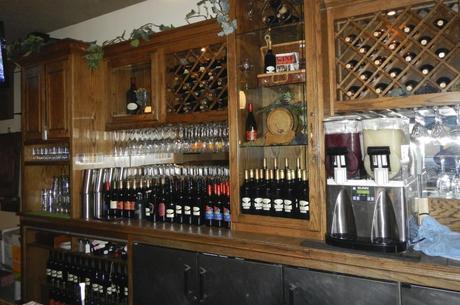 Wine everywhere

The St Clair winery had a wine for every palette. We decided that since we did come here for a wine tasting in the first place, it would be wrong to leave without doing one.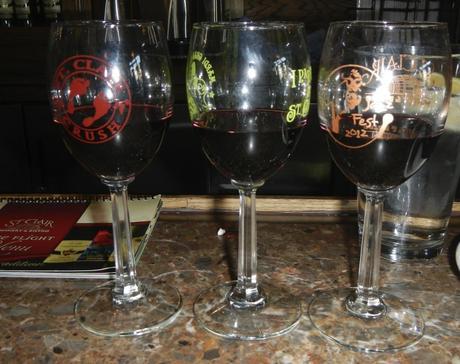 Red wine flight