The wait is finally over! Bring home a pair of these beautiful and functional shoes, guaranteed to make children and parents so very "merry" :)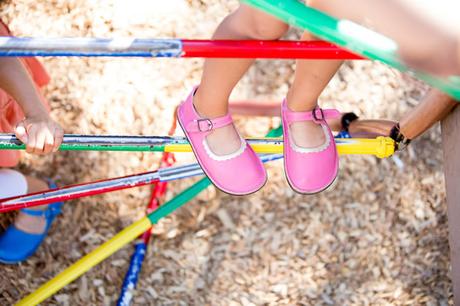 Our shoe designers have been hard at work on the perfect design for a mary jane style shoe for little feet. After much R&D with the toughest playground test subjects we could find, our new Child Merry Jane is ready and raring to outfit your little ones for fall in comfort and style!
This lightweight, flexible, and natural leather shoe has a classic look and fantastic fit loved by parents and kids alike. With a roomy toebox that won't restrict growth and movement, and an adjustable buckle strap with hidden elastic for easy on and off, this scallop-trimmed darling will quickly become your child's go-to shoe.
Celia's best early birthday present were these wonderful @softstarshoes Mary Janes. We spend most of the summer barefoot, and it can be a tough sell to get this girl into shoes when necessary. But not since these lovely little kicks came along. They're soft as can be, oh-so-comfortable, and easy for her to put on and take off by herself. Plus, they're sparkly! And as if that weren't enough, they are sustainably made by hand in Oregon. Can you tell I'm a fan?

A photo posted by Meg Chittenden (@megchittenden) on Aug 10, 2016 at 5:23pm PDT
-Meg Chittenden: Waldorf Teacher, Nature Loving Mother of Two, and Proud Maine-lander
A video posted by RC Liley (@going_dad) on Aug 3, 2016 at 5:05pm PDT
"...Mary Janes are often considered a formal/semi-formal shoe. In kid terms, this means uncomfortable and not meant for the playground...
Durability is essential for an active kid, as well as flexibility, qualities the Soft Star Merry Jane, like all of their shoes, has. [When we] took them outside for a walk/run around the neighborhood to break them in...Avery had no issues with the shoes slipping off or weighing her down. She had zero complaints on our walk and said she loved her new "Yellow Soft Star rocket shoes!" ...Avery [then] quickly confirmed they perform well in a kids' natural territory by running all over a local playground. 
...The new Soft Star Shoes Merry Janes have quickly become a new favorite for our little girl. Having a buckle instead of just elastic or Velcro takes a little longer, but it's easier than I first expected. Avery is able to get the shoes on herself and then have Mommy or Daddy secure the buckle. That elastic band attaching the buckle makes the process much easier!
Parents will love seeing their kids in stylish shoes they'll wear without putting up a fight, and kids will love cheerfully playing in their new shoes. Although they are geared mostly towards girls, Soft Star's Custom Child Merry Jane gives you the option to make a good looking, functional shoe for any boy or girl.
-R.C. Liley: Natural eating and movement motivator, full-time father, and master-mind behind the healthy family product-review blog "Going-Dad" (check out his blog for the full review!):
Ready to write your own Child Merry Jane story? Let's get shopping!
Related Links:
Name That Shoe! Luxurious Sheepskin Slippers Coming to Soft Star