This past Friday, we took the girls and headed to Buffalo, NY with my parents and my brother's family for some Family Day weekend fun!
We stayed at the
Marriott Residence Inn Buffalo Cheektowaga
, and it was fantastic! We had a suite just for the four of us, with fireplace, kitchenette/living room and two separate bedrooms with ensuites and televisions. Considering that a hot buffet breakfast was included every day, as was wireless Internet and parking, the rate of $188 per night was amazing. My one (huge) disappointment was that the hot tub was closed for renovations, which meant that I wasted a lot of time on personal grooming for nothing, but I got over it. The kids loved the frigid pool though!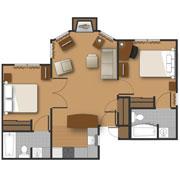 Floor Plan of Suite
During the trip, we ate at some great places which were new to me:
Famous Dave's BBQ
(more food than you have ever seen in your life, and the bill for 10 people - including a few alcoholic drinks and a couple of desserts - came to $130), and
Bravo! Cucina Italiana
(where the bill was quite a bit more - maybe because 6 adults ordered 7 desserts - and I had my new favorite food: filet mignon). I had my heart set on checking out The Cheesecake Factory, but when we were told that the wait for a party of 4 was 3 hours, we figured we had better take our party of 10 and move along!
While the men of our family were most looking forward to the NHL game (Buffalo vs Pittsburgh) it was the shopping that appealed most to the women...and I certainly took advantage of it!
Saturday began with an hour at Target, and we moved on to the
Walden Galleria
, which is certainly one of the best malls I've been to. Sunday my mom and I backtracked a bit to Niagara Falls, NY and the
Fashion Outlets of Niagara Falls
...another great mall, with lots of upper-end stores mixed in with good old favourites (I made minutes-apart purchases from both Kate Spade and Old Navy. And if there hadn't been a lineup at Coach I would probably have taken advantage of their 50% off handbags sale!)
In terms of our haul, the girls raided their piggybanks to purchase pajamas for their Build-a-Bears, and I picked up a bathing suit and dress for Frannie, who I think is destined to be even taller than her mother. Hubby picked up some staple items at Target, but was there more for the hockey and relaxation than the retail therapy. As for me...well, why don't I just show you?
Hoping that if I look like a good Catholic teacher you will forgive me for my later splurges, I will begin with my Dollar Tree score: DVDs of Bible Stories and Songs. Each one is half an hour with several stories on it, and my students have really enjoyed them. They're also something I can justify popping into the DVD player at home when we've had a little too much Treehouse TV!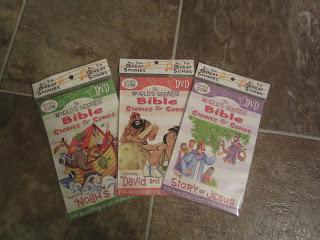 At Old Navy,
everything
was 40% off, so I grabbed a couple of t-shirts and yoga pants. Did I tell you I am a new yoga enthusiast? Still working on the "clear your mind" part...but love the stretching and especially the lying down at the end! (That's not the technical name for it.)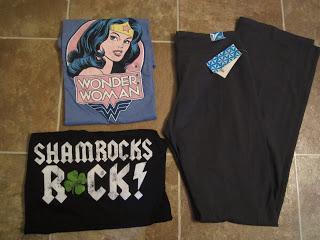 Also from Old Navy...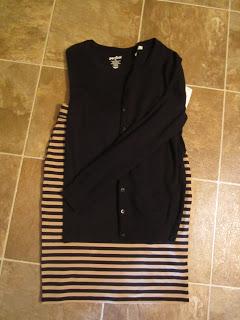 And to follow my Personal Stylist's advice to add more color to my wardrobe (and to incorporate the on-trend floral look):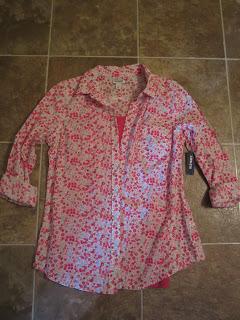 And something that was actually on my list: a classic trench. Mine was 20 some bucks at Old Navy, while the Burberry ones I checked out were about six hundred dollars more. Seriously?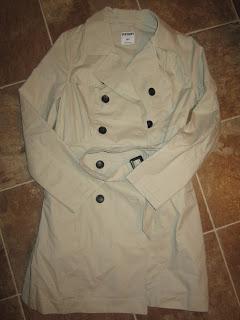 I got really inspired to ramp up the color while at Target (shoes from Nine West). My mother told me that I could not wear the yellow dress to work this week, as it is only February, no matter how hard I tried to argue that I could tone it down with a dark jacket and accessories!
(Note: the day this post was programmed to go live, I wore my new orange dress to school. I arrived at my classroom, removed my coat and saw that the dress was ripped on the side seam from waist to bottom of skirt. I'm thinking either a ring or zipper snag. My sister-in-law suggested that perhaps it was a lesson for me to shop local! Thank goodness I have Grandma to do my mending for me.)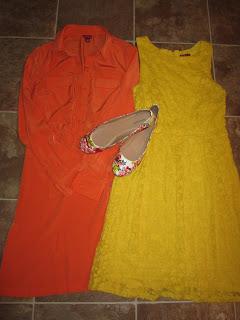 And because the shoes deserve a close-up: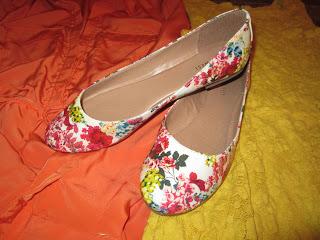 The next shoes are to solve the dress-down Friday problem of me wearing jeans and a top with heavy footwear that looks like I'm about to bolt out the door and run Cross Country. I tried these light shoes on with skinny jeans, and my husband informed me that I should probably only wear them with a wider leg, as "it's an awful lot of white". Translation: the look was 'skinny ankles on huge white skis'. I will take his advice.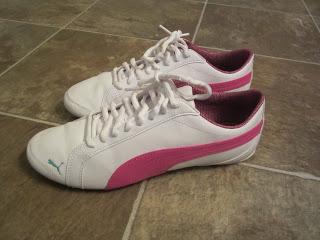 Which means I won't be wearing them with my nice new pink skinny jeans. I will go out on a limb here (no pun intended) and share that these were a Walmart purchase!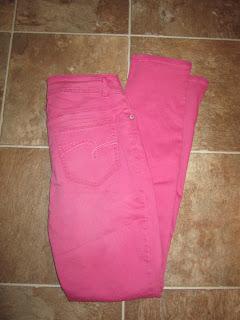 As much as I adore my Louis Vuitton purse, the interior is huge, and things end up getting lost at the bottom. I bought this Kate Spade makeup bag to keep inside the larger handbag as an organizer for smaller items. I also wanted to try some new makeup styles and colours, and picked up:
 Revlon Photoready Primer + Shadow in "Metropolitan". This case comes with primer, 3 colours, and a sparkle top coat, laid out in order for cosmetic dummies like me, with step by step instructions on the back of the case. (I'm really happy with this purchase.)
Cover Girl lip Colour: While it does last well, I don't care for the separate containers for color and gloss/seal. I prefer the brands that have one at each end of the same container.
Revlon Colorstay Liquid Eye Pen: I've been wanting to switch to a liquid eyeliner, and this pen is perfect. Also amping it up from brown to black has definitely made my eyes stand out more, and it's a more "polished" look, for those who don't mind looking like they're made up.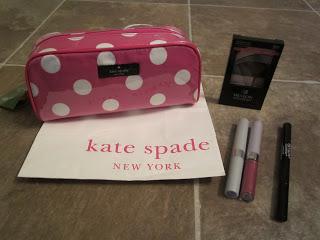 While it may seem like I went a little crazy on this shopping expedition, I actually got incredible deals and really didn't spend all that much.
On a more serious note, it was really nice to spend "Family Day" weekend with my entire immediate family. The cousins especially loved being together...two on iPads and two on DS's! (I'm kidding - though there were moments like that!) I actually felt relaxed, and not stressed about teaching, writing, blogging or housework while I was away, which is an incredible accomplishment for me.
In closing, my apologies for the title of this post. I have a habit of turning titles into paragraphs and this was my attempt to streamline, but I realize now that I can't get away with "Deets". I can barely get away with short forms when texting.