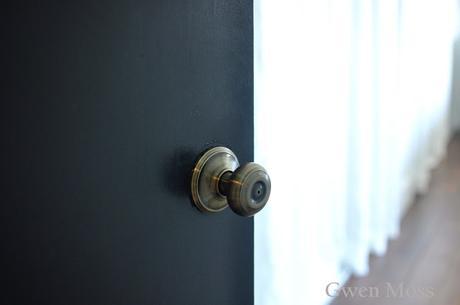 Hello friends.
Today I decided it was finally time to share some updated pictures with you, so I bought some fresh flowers for this bedroom.... and here we go.
It feels like it's been forever since
I started working on our master bedroom.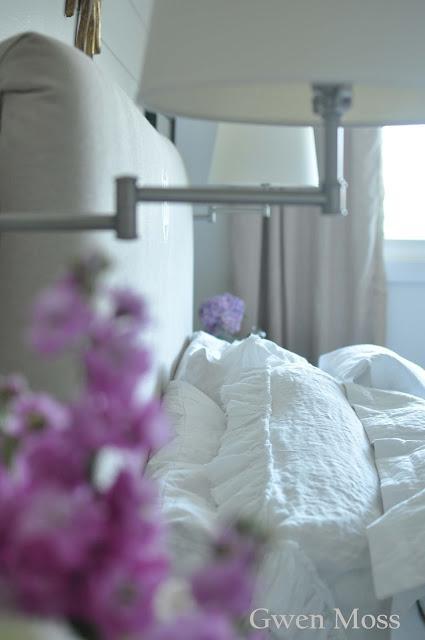 May has been an interesting month, lots of overcast days here by the beach, in addition to some stressful 'life' stuff I've been distracted by--- all of which adds up to a feeling of needing to go slower. Be easier with myself. Somehow (thankfully) I've managed to finish this bedroom despite my roving attention and it feels good to check this room off. 
Even though I expect a few more changes to come, at least for now the basics are done.
First let me give you an update on a few of my decisions.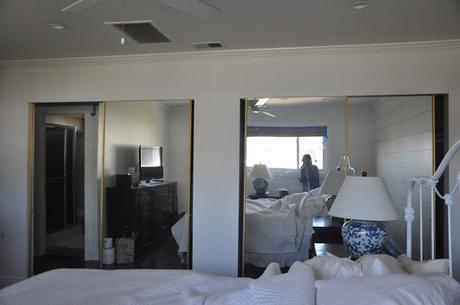 Remember these two sets of mirrored doors that almost ran the entire length of our 18 foot wall?
The mirrors were the first thing you saw when you entered the room.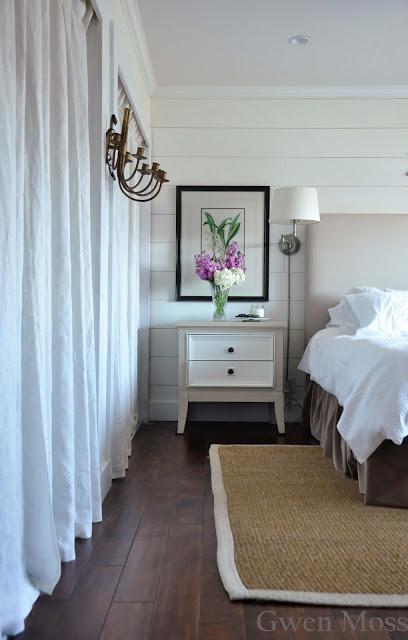 And now..... this is what you see when you step in the room.
Ok. So what happened with those sliding mirrored doors?
Well, after a lot of agonizing and googling ideas on updating mirrored doors with wood trim and paint,  I decided to go with my heart.  Once they were removed I just didn't have the energy to update them because the truth is, I just didn't want mirrored closet doors in this room.
And since we plan on consolidating these two little closets for one large walk-in at a later date... why not get rid of the doors now?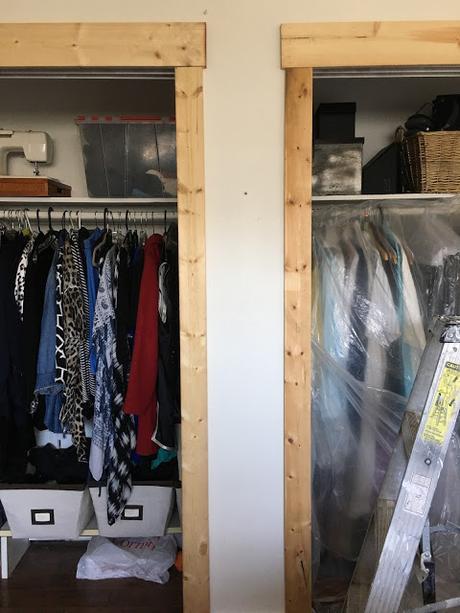 So once I framed out the closet openings I headed to Ikea where I bought two sets of white wood rods and white linen curtains.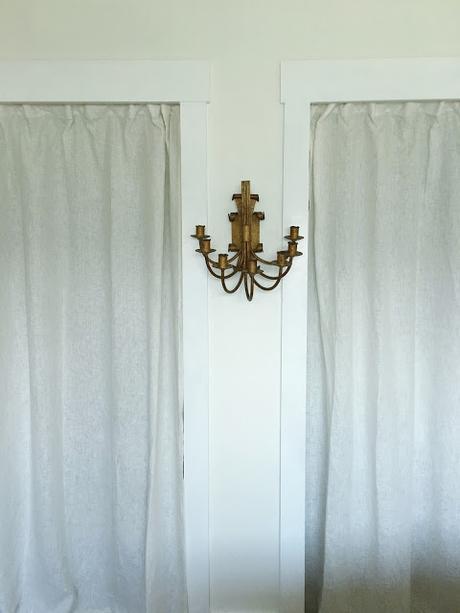 And I have to say, once I cut the rods to size and put up the curtains it completely changed the entire vibe inside this room.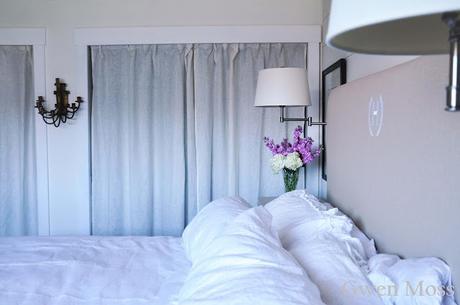 All this hanging white linen adds a ethereal lightness to the room now.
Or has the hubby says, "it feels more beachy now."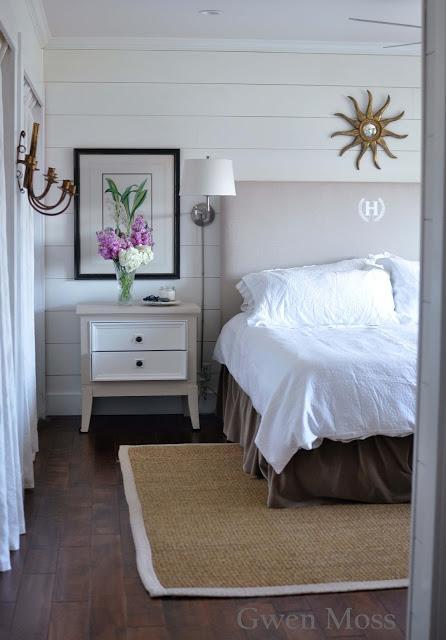 Tackling this room on a budget meant lots of painting. This included repainting both nightstands in SW Downing Sand and SW Dover White.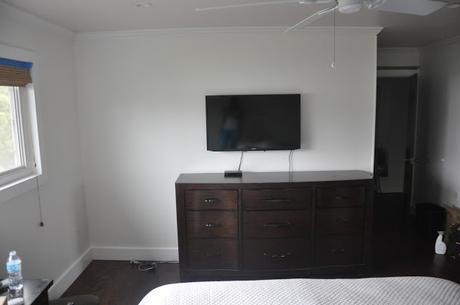 Before: TV Wall
Here's our TV wall right after it was painted in Farrell and Ball's Wimborne White.
Notice that dark wood dresser.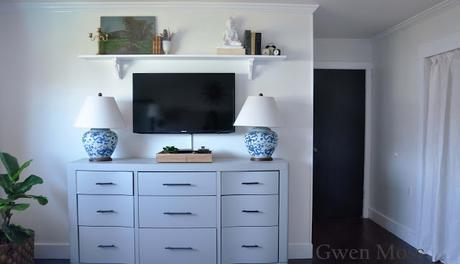 After: TV Wall
I painted this dresser in SW's Dorian Gray and replaced the hardware for an updated look.
These matching lamps were previously on our bedside tables but I replaced them with new lighting fixtures when I
made the monogrammed headboard.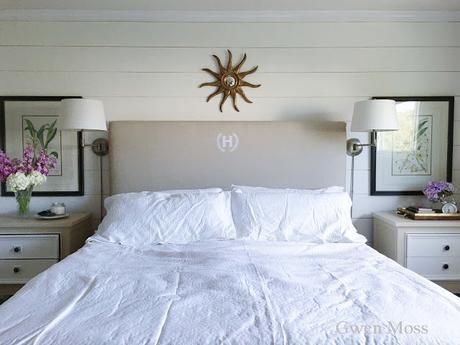 So far these
Pottery Barn wall sconces
- are perfect for reading in bed.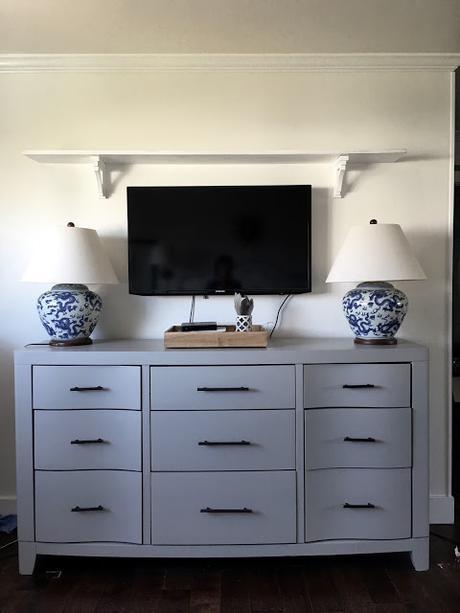 I made this new shelf using simple wood brackets and a ten inch wide plank from Home Depot that I painted in bright white. I think it adds interest and symmetry to an otherwise blah wall.
Notice those TV wires? They're (mostly) gone now.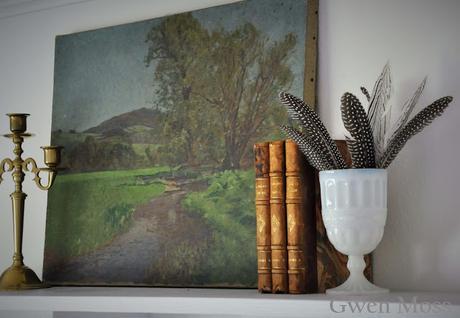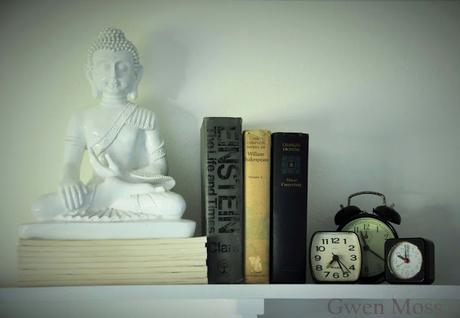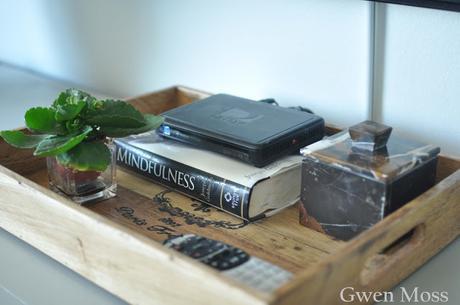 Underneath the TV is a wood tray that hides the remote and TV receiver.
My original wish for this wall was No Wires Showing. I wanted all the TV wires to run behind the wall and even bought a kit from Lowe's that made cutting the holes easy
( we actually didn't need it)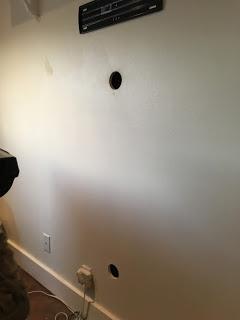 and
once we ran the main wire behind the wall I realized I still had this one receiver wire that would be visible! 
I was bummed, but I put it inside one of those plastic wire covers and pretty much accepted it.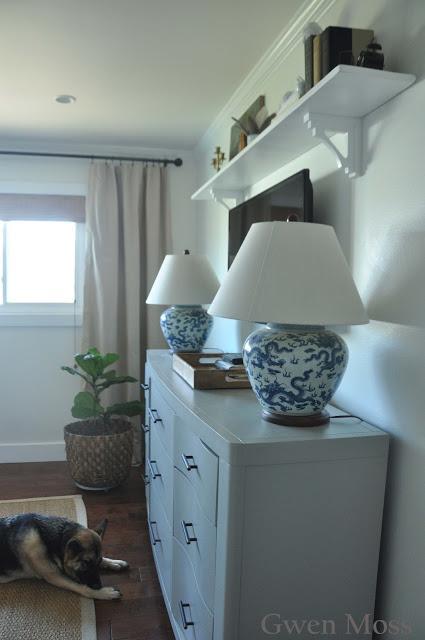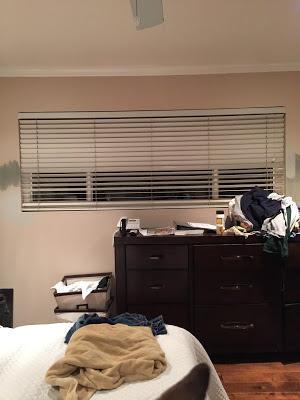 One of the first things I did when we moved into this house was replace all the  flimsy, old blinds with bamboo shades...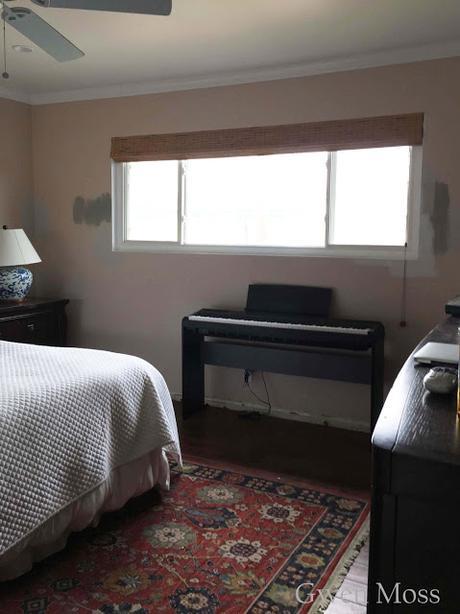 Before-Window Wall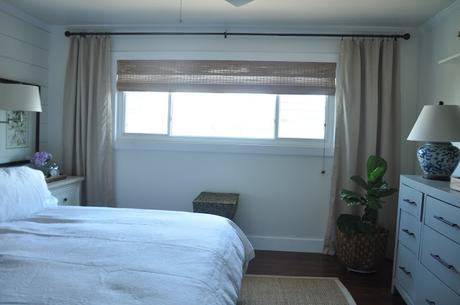 After-Window Wall
---with new baseboards, window casing and curtains.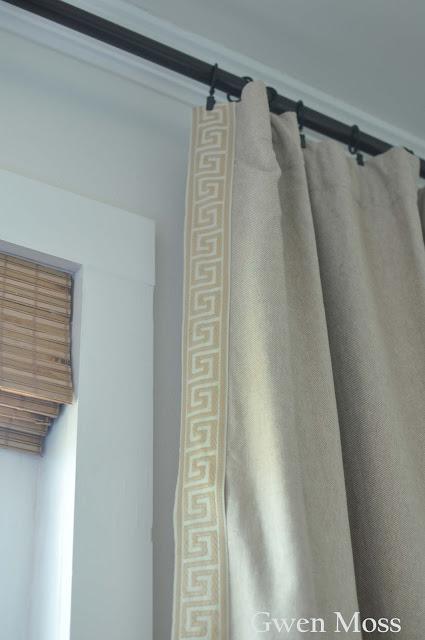 I added this trim to the pair of lined linen curtains I had stored away from my previous house. Thanks to Marty who let me know that Hobby Lobby has a good selection of affortable fabrics and trim there.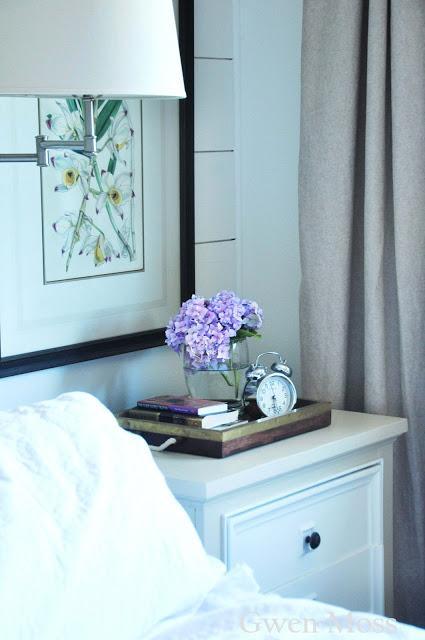 What I like most about our new lighting is that it allows us to have more space on top the night stands, although right now we're trying to keep them clutter free.
It feels much more restful and calming in here.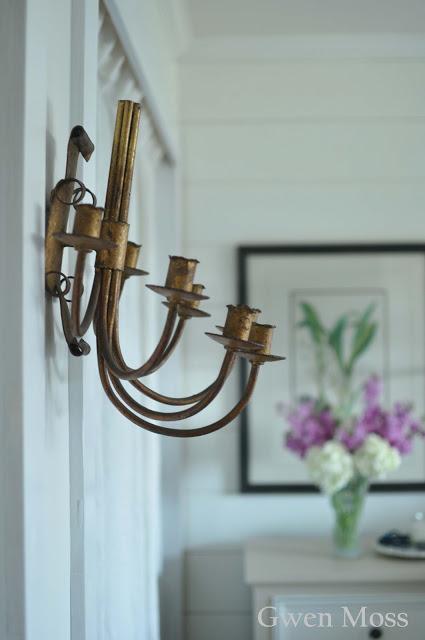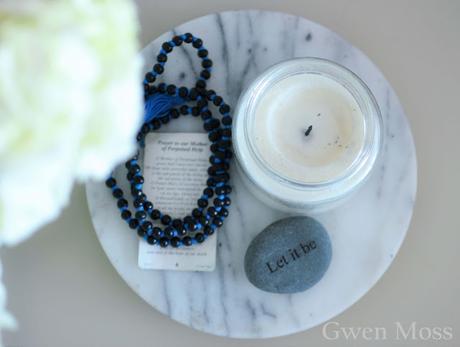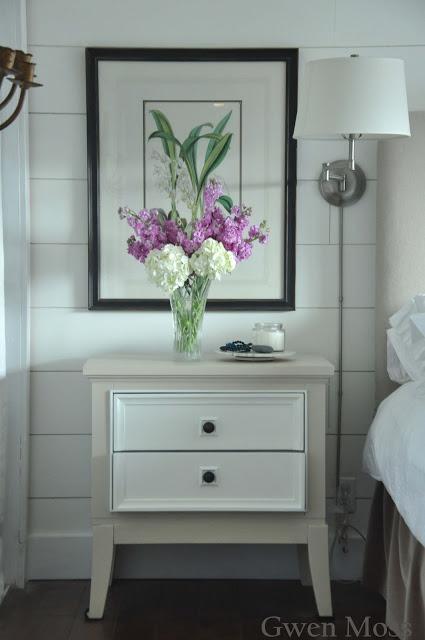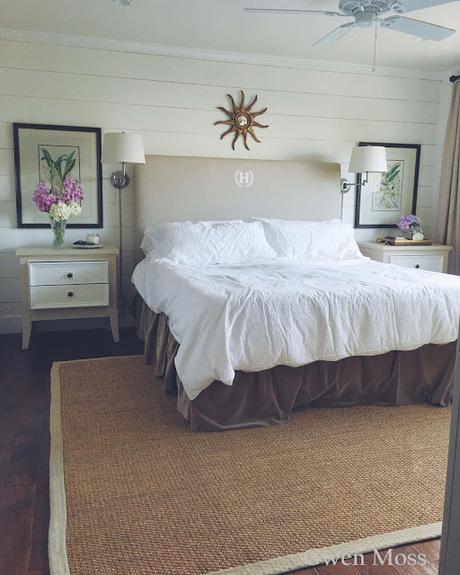 Well that's it. In case you're interested, here's how I put this room together.
Master Bedroom Budget Friendly Makeover
DIY monogrammed headboard : $155
breakdown:
plywood- $25;
foam, batting, and adhesive
$52
fabric-3 yards @ $12 each=$36
monogram stitching
$42
legs on headboard; one 2x4  (already had)
sisal rug: consignment store
vintage mirror over headboard: own
Botanical Prints behind night stands: consignment store
nightstands and dresser: own
bedding: own
bedskirt: fabric remnant cut into long strips & held with Velcro: $19
2 Pottery Barn Chelsea Swing Arm
wall sconces
: $276
shelf and wood brackets: under $25
misc books and art on shelf: own
2 wood trays- from HomeGoods $14.99 and $16.99
plant basket: thrift store $10
Whew, I think that's it. Let me know if you have any questions.
And thank you so much for following along on my little makeover.  I always appreciate hearing your ideas and opinions.
xo
Leslie