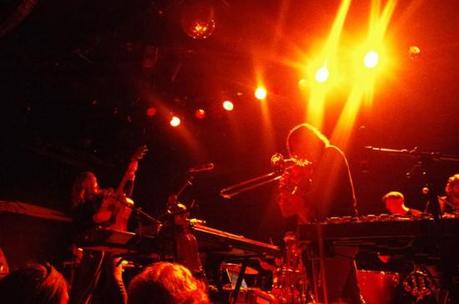 After a freakish water main break that turned most of the Bowery area into a large body of water the night before, Bowery Ballroom cleaned itself up in time to welcome Other Lives and supporting bands WIM and Lucius on Friday night.
Indie folk band Lucius was a pleasant start to the evening. Dressed in dapper retro attire, singers Jess Wolfe and Holly Laessig performed a set of catchy and upbeat tunes showcasing their beautiful, crystal-clear vocal harmonies that make each song shimmer. They even paid homage to the late singer Whitney Houston by performing a sample of the well-known Houston single "I Wanna Dance with Somebody". Celebrating the release of the self-titled EP, Lucius' energy was wonderfully infectious and made some in the audience crack a smile in appreciation. The Brooklyn band had the hometown advantage, fed off the love they received from the crowd and began the night with a bang.
Australian band WIM followed Lucius and brought a more calmed and subdued stage presence. With holey and disheveled attire, singer Martin Solomon led the psychedelic band with his crooning and unexpectedly soothing vocals. WIM's sound is reminiscent of British rock bands of the past and present but with added restraint and refinement. The band provided solid harmonies and vocals that gave their overall sound a sense of weightlessness and ethereal quality. Their set grew with intensity from one song to the next, eventually letting loose at the end with a passionate and energetic tribal-like drumming section that resulted in a flying drumstick hitting a surprised audience member on the head and landing in the hands of another. WIM's performance was a perfect musical segue to the night's headliner, Other Lives.
By the time it was Other Lives' turn to take the stage, the sold out ballroom was already bursting at the seams with people eager to experience what the quintet had to offer.  Before they even arrived, they began their set with a wave of synths and dim lighting as a mental and aural palate cleanser to ready the crowd. When the band finally went on stage, all were in awe of them. Performing songs from their latest album Tamer Animals, Other Lives' songs were filled with lush orchestrations and heartfelt singing that enveloped the audience and resulted in closed eyes, huge smiles and swaying bodies. Other Lives' show has a transcending quality that is just as captivating as their music videos.
Looking at their stage set up, they should really be called the Other Lives Orchestra. The stage looked like a complicated maze of wires and instruments, each member playing at least two different pieces, some playing two (or maybe even three) at a time. This made it sound like there were at least twenty people performing onstage. Watching drummer Colby Owens playing clarinet and drums simultaneously was both amazing and extremely entertaining. The band ended their epic set by humbly thanking everyone, and the crowd gave even more in return.
Other Lives exceeded the already high expectations many had for them, giving a memorable show that has fans already asking them when their next NYC event will be. The next time they comes back here, though, they'll definitely need a bigger venue.