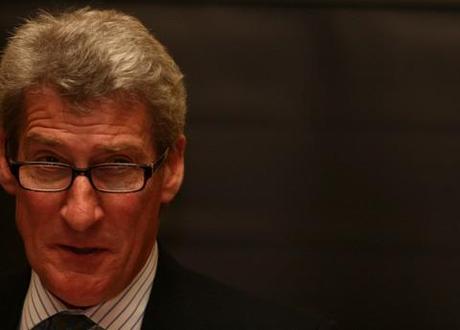 BBC Newsnight's Jeremy Paxman. Photo credit: englishpen http://flic.kr/p/ar6FLF
The background
The government has again U-turned on a budgetary measure. In the latest reverse, Chancellor of the Exchequer George Osborne has announced the postponement of the 3p fuel increase planned for August until the end of the year. "We will now stop any rise in fuel duty this August, and freeze it for the rest of the year" because the government is "on the side of working families," Osborne commented.
While the latest U-turn is politically embarrassing for Osborne it is likely to be welcomed by hard-up families. Treasury sources told PoliticsHome that the freeze will save the average family £160 over 2 years.
The government's decision to put up 30-year-old Treasury junior minister Chloe Smith for interview on BBC Newsnight, rather than Osborne, to defend the U-turn has been heavily criticised. During a robust interview with Jeremy Paxman, Smith struggled to explain how the freeze would be funded. Paxman's final question to her was: "Do you ever think you are incompetent?" Smith replied: "I think it is valuable to help real people in this way and I do think that is valued by people who drive."
Smith left to carry the can
Smith's appearance "was widely judged to have been disaster, leading to accusations on social media of cowardice being levelled at the chancellor for not taking a greater public role in defending the government's latest budget policy reversal," reported The Guardian. Labour MP Huw Irranca-Davies also joined in the criticism on Twitter: "Can it be true that Chloe Smith was sacrificed on Newsnight because Osborne was wineing and dining Tory MPs in No 11? If true, despicable."
Smith is a bit incompetent
Smith "doesn't have an easy job … she is usually wheeled out when the Government has done something indefensible," sympathised Daniel Knowles at his Telegraph blog. "It cannot be fun to go on a TV programme expected to stick to a script that appears not to have even been written. But when she couldn't answer a single question, from 'when were you told' to 'how are you paying for this', her inexperience really did show," said Knowles, who likened her hapless Newsnight ordeal to fictitious character Ben Swaine's Paxman grilling in political spoof TV show The Thick of It.
Fear on unpopularity forced latest government U-turn
This isn't the first time fuel duty has proved to be a "political flashpoint," said The Staggers, The New Statesman's rolling politics blog, which reminded that in last year's autumn statement, Osborne scrapped a planned rise in January, but pledged that the August rise would go ahead. "But since then, a concerted campaign by road users' pressure groups and MPs has been eating away slowly but surely at the government's enthusiasm for this … Coupled with the potential public outrage hinted at by the fuel shortage earlier this year, it's plain old fear of greater unpopularity we can chalk this one up to." The U-turn "shows that the government is more afraid of Conservative backbenchers than almost anything else," concluded the blog.
A defensive move by Tories aimed to re-connect with voters
Writing at the Coffee House, The Spectator blog, James Forsyth said that the move is designed to reverse the perception that the Tory leadership is "out of touch" and doing nothing to reduce the cost of living. "Indeed, I suspect that this move is more defensive than anything else, an attempt to prevent any Olympic feel-good factor being wiped out by an August tax hike," wrote Forsyth, who said that the Tories "will hope that the political hit from this latest Budget change will be more than compensated for by making it easier for Cameron to show that he gets it and is on the voter's side as they try to make ends meet."
Osborne should be congratulated for a sensible decision
Osborne "should be applauded for listening to hard-pressed families and postponing the fuel duty increase," insisted a Telegraph leader, which described the decision as "one item of good economic news amid the gloom yesterday." The Telegraph concluded that "it made no sense to load extra charges on to hard-pressed households and businesses," and that Osborne "should be congratulated for listening, rather than castigated for another Budget U-turn."