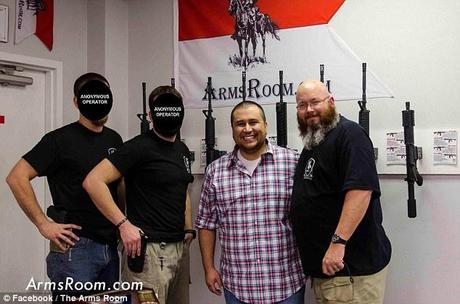 The guest of honor: George Zimmerman, pictured with Mike Piwowarski and two other individuals, caused a gun show to be cancelled after he was named the 'featured guest'
The Daily Mail
A Florida gun show was cancelled after organizers publicly announced Trayvon Martin killer George Zimmerman would be a guest at the event - but Zimmerman will still make a public appearance.
'The New Orlando Gun Show,' scheduled for this weekend at Orlando's Majestic Events Center, was cancelled Thursday despite more than 100 vendors threatening to take the owners to court if the show did not go on.
Organizer Mike Piwowarski, who also owns a local gun store, told ClickOrlando that the show was cancelled because of the announced Zimmerman appearance, and Zimmerman posted emails to his Twitter account backing up that claim.
'We've had discussions with The Majestic and they decided to cancel the event because George Zimmerman was making an appearance,' said Piwowarski.
When contacted by MailOnline, Piwowarski clarified that Zimmerman was to be a paying vendor who wanted to attend for a meet and greet - he would not have charged for any autographs.
Zimmerman's intent was to be able to attend an event where he would be more free to be himself, where there would be less negativity than he has encountered in other settings, according to Piwowarski.
When asked if organizers had considered possible backlash to Zimmerman's attendance, Piwowarski replied 'I'm not sure that we were gauging reaction at all.. it was someone who was legally able to have a table.'