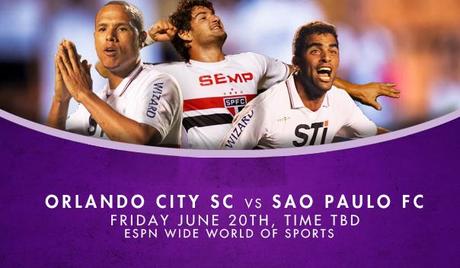 Orlando City SC announced today it will host another high-profile international friendly this year, with the Lions set to face Brazilian super-club Sao Paulo F.C. on Friday, June 20 at ESPN Wide World of Sports. Tickets are currently available for purchase via Ticketmaster. The kick-off time will be announced at a later date.
"These types of matches are fantastic opportunities for both our players and fans to gauge our Club against some of the top competition in the world," said Orlando City President Phil Rawlins. "As a Club, we have always embraced playing top international teams – and I expect the match versus Sao Paulo to be another great moment in our Club's short history."
Founded in 1935, Sao Paulo F.C. is one of the most successful teams in South America, having won numerous championships — including 21 state titles, six Brasileirao titles, and three Libertadores Cups- the most prestigious international club football competition in South America.
Along with its success domestically, Sao Paulo has also done incredibly well on the international stage, winning three Club World Cups: two Intercontinental Cups, after defeating FC Barcelona and AC Milan, and one FIFA Club World Cup title after a 1-0 win over Liverpool in 2005.
Playing in the highest league in Brazil, Sao Paulo is one of five clubs to have never been relegated from the Brasileirao. Known as 'Ttricolor' for the prominent three stripes on its jersey, Sao Paulo has also produced numerous Brazilian National Team players over the years, including Kaka and Rai and Leonardo, who both played for in clubs in Europe and were champions of on the FIFA World Cup 1994.
Barring injury, star players Luis Fabiano, Maicon and Pato are anticipated to be available for selection when SPFC travels to Orlando in June.
For Orlando City, the friendly will prove to be another viable test to gage how well the Lions can match up against some of the premier players in the game as the club continues to prepare for Major League Soccer (MLS) entry in 2015. In the past three years, Orlando has gone toe-to-toe with some of the biggest sides in the world, such as Bolton Wanderers, Newcastle United, Stoke City, Fluminense and AS Roma.
For more information, visit www.OrlandoCitySC.com
About Orlando City Soccer Club:
Orlando City Soccer Club (OCSC) is Major League Soccer's newest expansion team. The club will begin play in MLS in 2015, becoming the league's 21st club. The Lions' first team has won two USL PRO regular season titles and two postseason championships and will continue play in USL PRO in 2014 at the ESPN Wide World of Sports Complex. Outside of the first squad, OCSC also has a youth club, Orlando City Youth Soccer (OCYS) and a U-23 team that participates in the PDL. For more information on the pro and youth clubs, visit www.OrlandoCitySC.com and www.OrlandoCityYouth.org.