Via NBC Sports:  "Orioles 'actively pursuing' Mike Morse and Oliver Perez"
And this tweet:
Orioles are actively pursuing both Mike Morse and Oliver Perez of the #Mariners today, accdg to a source. Would like a combo deal.

— Dan Connolly (@danconnollysun) July 31, 2013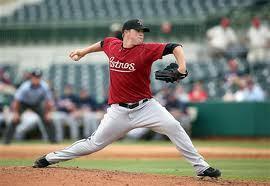 Is Norris the answer for the Orioles?
I've been openly aggressive with my thoughts about the Orioles and what they should have done/ be doing to make it back to the playoffs.  I'm in the, "go all in," boat when it comes to professional sports.  When you've tasted success, there's a need to get back there every year.  Last year the O's surprised everyone when flew into the playoffs for the first time since the 90s.  Now, they sit behind the Rays and Red Sox with the Yankees in the rear view mirror.  It's 1:17 as I type this, a little under three hours until the deadline.  I've heard the O's connected with Bud Norris, Justin Morneau, and now Oliver Perez and Mike Morse.  While it seems Morneau isn't coming to Baltimore and Norris' price may be too high, the Oliver/ Morse combo from Seattle may make sense. Does it help the team?  Well, it'll add a bat.  Morse can hit when healthy, he's just not been very healthy.  He'd give them some flexibility if he can stay on the field.  Perez would help the bullpen but I don't think they need help in the bullpen.  They need a starter and they need one bad.  They're running out of time and it looks like they may finish up at 4pm with a starting rotation that doesn't scare anyone going forward.
Jason Hammel has been pretty bad and I just don't think this rotation is going to hold up through September.  If they could add a piece (Peavy would have been really nice) that could be a leader and a horse for them I think they need to do it.  Problem is there aren't a lot of arms out there right now.  Norris could be it, but I haven't been able to get a read on the type of package the Astros are asking form.  My guess is the O's don't have enough unless they include guys name Bundy, Schoop and Gausman (not all at once of course.)