What is scrubbing?
- Rubbing gently on the skin to get it clean from dirt and dead cells. A scrub is an exfoliation product used specifically for the face and body.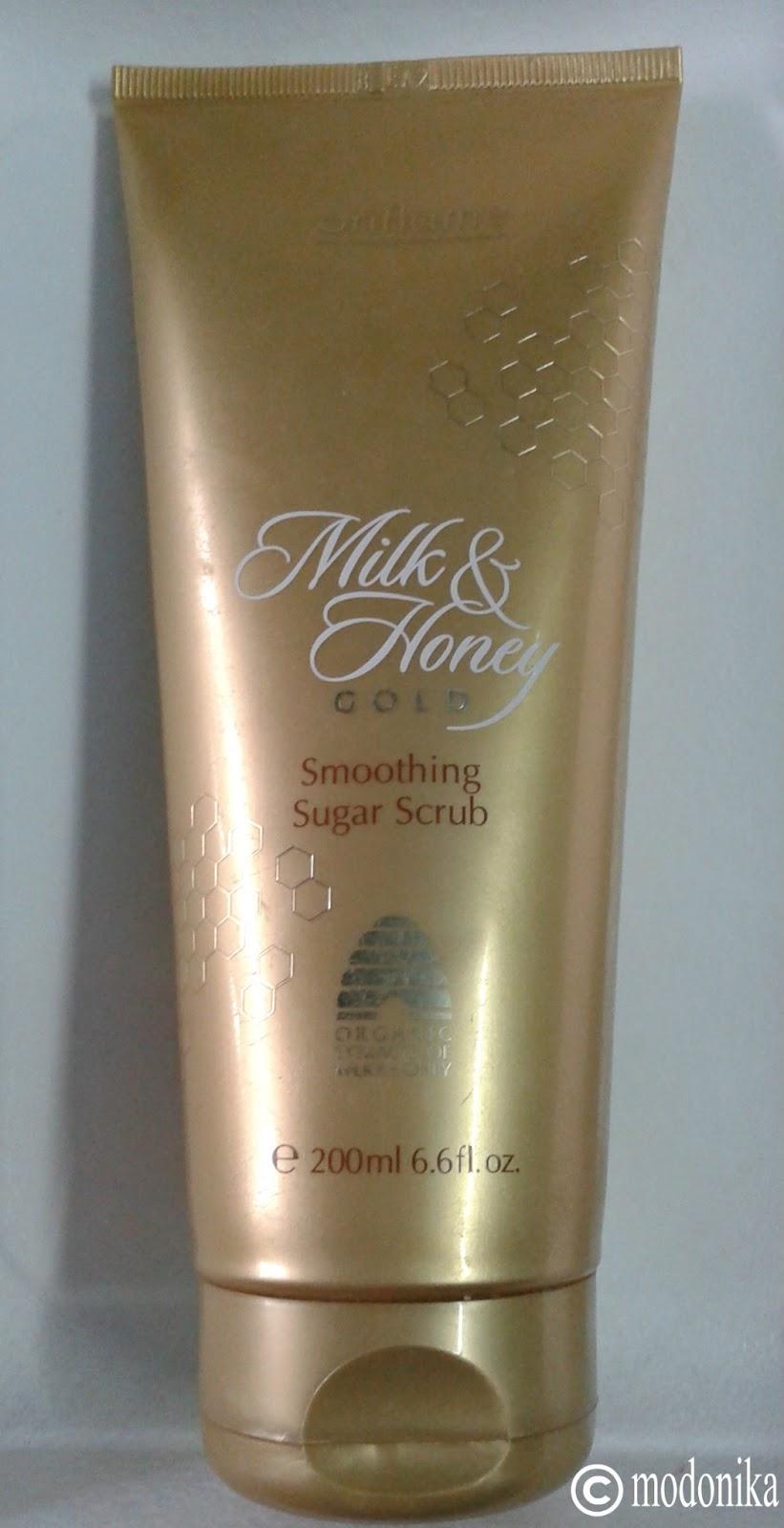 Every skin need scrubbing a little less or little more. Woman and man both look at saloons to have clean up their skins. On daily basis, we need a product that can be used easily to get clean skin from dirt, dead skin with out any hassle and not taking our much time. If you are seeking for a skin scrub, then this article will help you to get the best one.
Today, You will read about Oriflame Milk & Honey Gold Smoothing Sugar scrub Review. You can use this sugar scrub product on daily basis without any double mindedness. 
Oriflame Milk & Honey Gold Smoothing Sugar Scrub Review: Here are pros and cons of  Oriflame Milk & Honey Sugar Scrub to get quick snapshot views. It is a thick honey like gel with good consistency. Color is golden honey with perfume artificial lovely smell. You will fall in love with Oriflame scrub, bet it. One can use it as face scrub as well as body scrub. It will become one of your favorite beauty product and will get a permanent place in your bath room shelf.
Pros:
- Best body scrub for all skin types.
- Luxurious feel
- Scent and honey like smell
- Effective from first use making skin soft and supple
- Velvety soft touch and clear skin
- Clear and radiant skin after use
- Best quality and high class product
- Thick and easy flow from bottle
- Mind blowing fragrance
- Removes dead skin completely
- Removes dirt effectively
- Do not leave skin rough and dry.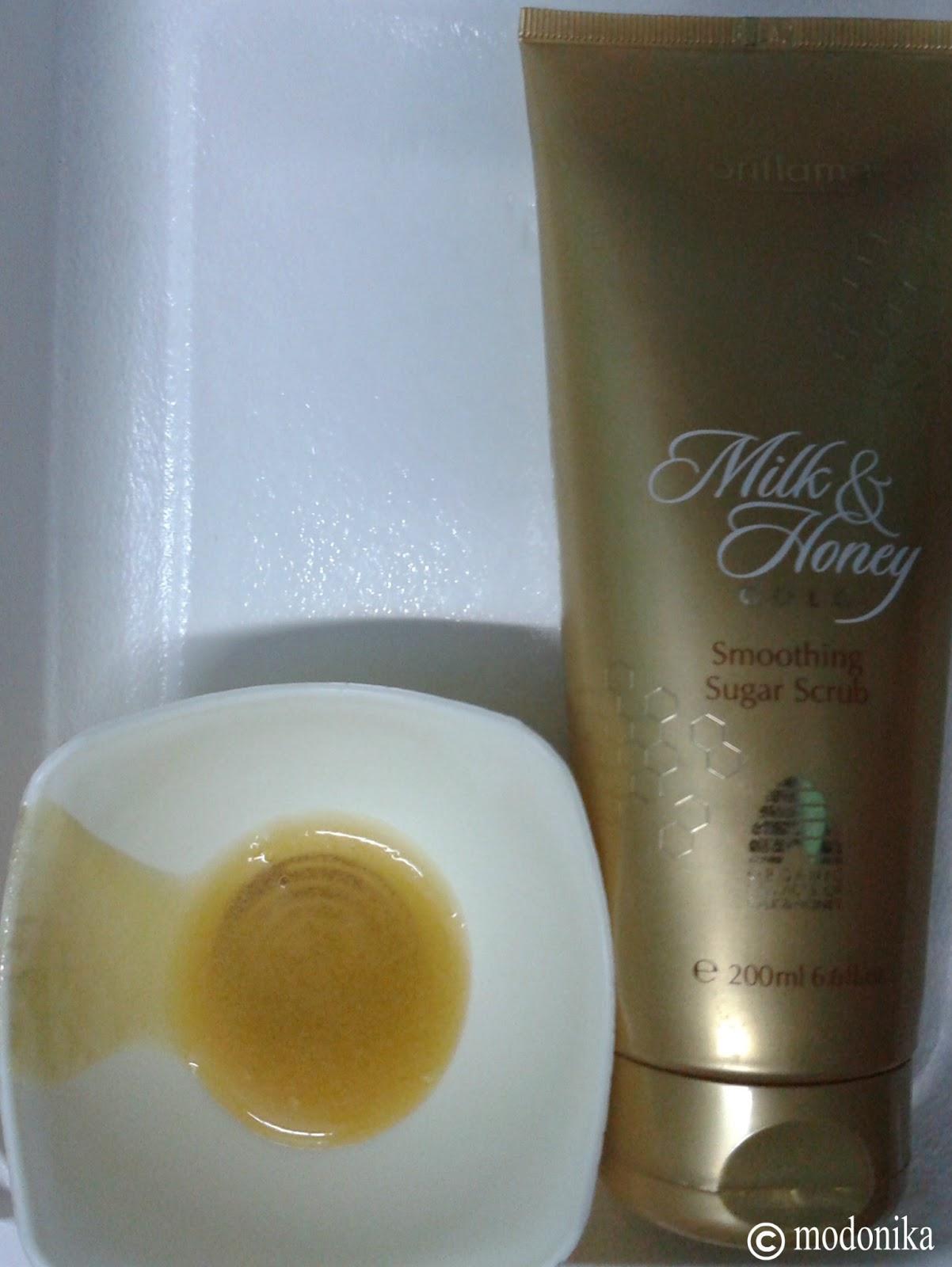 Cons:
- Unavailability of the product
- High price
- No small packs available
- Available only from consultants, not available on stores and markets.
- Bottle is soft plastic without any transparent look that makes difficult to know how much quantity left inside.

Suggestions: Oriflame should make small packs available with reasonable price in transparent bottles, so make it to affordable to every one who want to use it if the person do not want to spend much at once, increase stock, make products available on market stores if possible. This will surely help customers and brand too.
Original Price: Rs.429
Quantity: 200 ml
 Modonika Rating: 9

♥

♥

♥

♥

♥

♥

♥

♥

♥/

10

♥


Deducted 1 mark for its unavailability from suppliers and consultants.
Personal Views:
Will I buy?
- Ofcourse, marked for foever until get some more pampering scrubbing product than this.
Final thought:
- "I would strongly recommend it for all kind of  skins even sensitive skin which I have. You will get fan of the Oriflame Scrub after using it. There are many beauty stores and brands which are claiming their scrubs as best quality and results. But I would say Oriflame Milk & Honey scrub is the best scrub. It do it's job well and leaving your skin soft, fresh, smooth with good smell. Overall it' s a very good product."
Looking out for more Oriflame products review..will let you know about them. Till then stay connected with Modonika.
It is not a sponsored post!


Join 

Modonika

 via 

G+

, GFC (Up Right Side of this blog),

Twitter

and

check out giveaways on

FB


M

♥