There are so many sports drinks out there,I wouldn't even know where to start if I wanted to discuss them. There are only a very limited few that I care to drink (without naming names), but whenever I'm running at home, I find my favorite drink before a run is a good old fashioned cup of coffee.  That's right, I drink coffee. I know coffee is not the first thing that comes to mind when someone says "sports drink," but it has always been my favorite.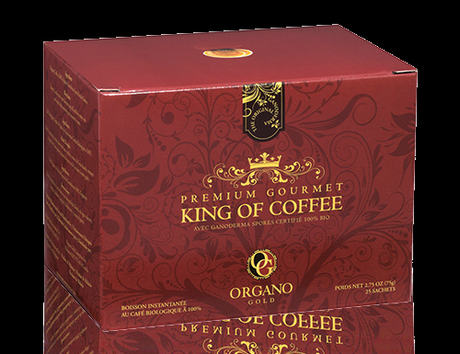 Now, flash forward and we find a famous boxer by the name of Manny Pacquiao telling the world that Organo Gold Coffee is his sports drink of choice. That fact in itself makes me feel a little more at ease in my choices and it helps me realize I'm not the only one with this preference. I wanted to know more about Organo Gold Coffee, and this is what I learned:
Organo Gold Coffee is infused with Ganoderma, a mushroom extract used for thousands of years in traditional Asian medicine for its possible antioxidant, immune support and other beneficial attributes. Paired with the known beneficial effects of coffee itself (improved circulation, memory and muscle preservation), the addition of Ganoderma to Organo Gold gourmet coffee produces a coffee that is an amazing sports drink! Not to mention, it tastes amazing.
Pacquiao doesn't just drink Organo Gold: he has now signed an endorsement contract because it's the only coffee he cares to drink. Paired with the known beneficial effects of coffee itself (improved circulation, memory and muscle preservation), the addition of Ganoderma to Organo Gold gourmet coffee produces a knock-out punch.
Premium Gourmet King of Coffee – Only the finest organic beans are selected for this bold, flavorful coffee that is the perfect way to enhance your day. Think of it as a necessary luxury, and a joy to drink any time. I've now had the opportunity to try it and I can confirm Manny Pacquiao's opinion: it tastes great, and it's rich and smooth.
Organo comes in many varieties. The original Organo Gold comes in individual fresh packs, so you can make one cup at a time. The powder dissolves instantly in hot or cold water, making it great for iced or hot coffee.
Organo also makes a fantastic Green Tea too! This tea is very flavorful and combines the best organic green tea leaves packed with flavonoids, along with their organic Ganoderma lucidum mushroom, which results in a truly invigorating cup of green tea too!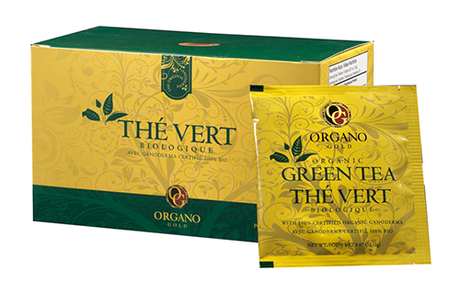 As I looked into the benefits of having a cup of coffee before my workout or run, I learned that in addition to providing me added energy, it can also accelerate fat loss. Coffee – consumed before exercise – can cause fat cells to be used as an energy source as opposed to glycogen. The high amounts of caffeine in black coffee will increase metabolism, which then helps you burn more calories throughout the day!
Coffee also helps increase performance.  There are published reports showing how caffeine is a "powerful ergogenic aid".  That same study mentions that athletes can "train at a greater power output and/or train longer" after consuming caffeine. Another study published in the British Journal of Sports Science found that subjects who consumed coffee before running 1500 meters on the treadmill completed their run 4.2 seconds faster than the control group, on average.
Black coffee provides an increase in mental focus along with increased energy to push through tough workouts or runs. What improved focus means is that it will help keep workouts productive. Researchers at the University of Illinois found that subjects who consumed coffee prior to exercise experienced less muscle pain during their workout than their non-caffeinated counterparts too! Another plus!
Another advantage of drinking coffee is that it helps protect your body from diseases. Coffee contains high amounts of antioxidants, which protect against damage from free radicals. According to a 2011 study published in Critical Reviews in Food Science and Nutrition, coffee consumption has an inverse correlation with diabetes, Parkinson's disease, Alzheimer's disease, and certain forms of cancer.
So now that I've explained it a little more, does anyone else agree with me? Is there anyone else out there who drinks coffee before they work out? If you are interested in trying Manny Pacquaio's favorite, Organo Gold, you should head over to their website =====>HERE. You can also connect with them on Facebook, Twitter, YouTube, Instagram, Pinterest and Google+!! 
~ ~ ~ ~ ~ ~ ~ ~ ~ ~ ~ ~ ~ ~ ~ ~ ~ ~

It would be great if you would stay connected with me!! You can follow me on Twitter @DebiL1611, like me on Facebook at 2014 and Beyond, circle me on Google+, follow me on Tumblr, Instagram and Bloglovin', subscribe on YouTube, or connect with me on LinkedIn and Pinterest.

Please make sure to visit my homepage and subscribe to my blog for more great posts on running, fitness and lifestyle topics as well as food, product, music and book reviews, and more!