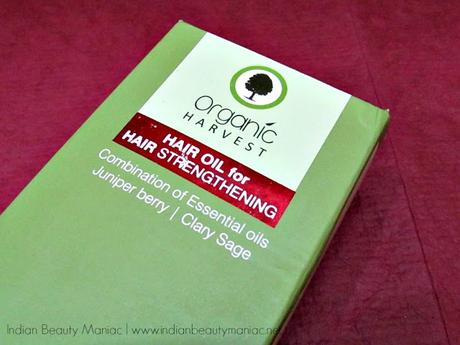 Organic Harvest Hair oil for hair strengthening - Review
I am here after a really long time. My blog feels alien to me. I got a chance to try the new Organic Harvest Hair Oil for hair strengthening and I am using it for almost a month now. Change of place, frequent traveling and the stress associated with running my own home has taken toll on my hair. With hardly time for my threading and waxing sessions, I find it very difficult to follow any complex hair care regime. When I was told about the newly launched hair oil, I decided to try it.
The hair oil comes in a plastic bottle with a pump dispenser. Even though I find the dispenser comfortable during travel, I don't find it comfortable for frequent use.
The hair oil has a combination of Juniper berry, eucalyptus, clary sage and lemon extracts. I personally love the way the essential oils smell. This oil predominantly smells like eucalyptus but not too intense. The smell is soothing and on application I felt a mild tingling and cooling sensation in my scalp.
In my home, during my weekly hot oil baths, i am used to applying coconut/gingelly oil to the point where the oil practically drips from the head. But seeing the quantity provided, I understood that this is not fit for such usage and considering the fact that this has essential oil in it, using too much quantity may result in scalp irritation. For my use, I preferred taking small quantity of the oil and massaging it gently into my scalp. I did not apply it on the mid-section or ends of my hair and I used it every time I washed my hair for about a month.
For the first two weeks, I did not notice any change at all. My hair did not feel any stronger and my hair fall/breakage was same as before. It did not do anything in improving the texture of my hair or imparting glossiness etc. But as I liked the short massaging sessions I gave myself. The hair oil was so soothing and calming on my nerves and more than hair fall, I felt it reduce my stress levels. So I continued the usage. It slowly became part of my hair wash routine and after about a month of usage, I found my hair to be fuller (may be because of the humid weather?) but more than a treatment oil for my hair fall, I started using it as a stress-buster. The fragrance of the oil combined with the warm water bought a spa like feel to my otherwise boring hair wash routine. The product is devoid of mineral oil and has no artificial fragrance added to it.
The 60 ml bottle came for about a month for my medium length hair and is priced at Rs. 645/-. I used the product twice a week and I used very less quantity for my use as I have sensitive scalp.
I don't want to comment on the price because I really enjoyed using this product.If you are someone who needs a quick fix for your stress, this oil is definitely worth a try. But I am not very impressed with its hair strengthening properties.  
I understand that these oil come in three variants i.e., for Dandruff Free Hair, for Hair Strengthening and for hair fall control. I am yet to see these at the stores and I am curious to try their hair fall control variant.
You can check out their latest product launches and buy their products here at http://www.organicharvest.in/ 
More Images: