Last December, Ammon Bundy and armed militia members gathered in Burns, Oregon (about 280 miles southeast of Portland), to protest the jailing of local ranchers Dwight and Steven Hammond. (Ammon is the son of Nevada rancher Clive Bundy who had an armed standoff with federal authorities in 2014 over grazing rights. That matter was settled peacefully, after the Bureau of Land Management backed off and left the scene.)
Dwight Hammond, 73, and his son, Steven, 46, are due to go to jail for 5 years for lighting fires on federal properties in 2001 and 2006 in order to scale back invasive plants and to protect their private lands from wildfires.
After a peaceful rally in Burns, Ammon Bundy and the militia took over a facility at the Mahleur National Wildlife Refuge near Burns.
Yesterday, matters between the militia and the feds took an ugly turn.
As reported by Vicky Davis for TVOI (The Voice of Idaho) News, Jan. 27, 2016, five militia men were arrested at a traffic stop, on their way from Burns, Oregon, to a community meeting with ranchers in John Day, Oregon. The five are Ammon Bundy, Ryan Bundy, Brian Cavalier, Shawna Cox and Ryan Waylen Payne. Additionally, two others were arrested in Burns: Joseph Donald O'Shaughnessy (Captain O.) and Peter Santilli. Another man, Jon Ritzheimer, reportedly turned himself into police in Peoria, Arizona.
But a militia man named Robert "LaVoy" Finicum was "murdered in cold blood," shot multiple times at close range. A source told TVOI that "LaVoy was not resisting but was dragged out of a vehicle."
Here's a video of Finicum:
To add to the confusion in Oregon, a fascinating exchange was captured by the live video feed from the standoff.
Beginning at the 1:20 mark of the video below, you'll hear the following exchange:
Man #1: "Hey guys. Can I get you guys to sign talent releases?"

Man #2 (member of militia): "Say what?"

Man #1: "Talent releases. I must get you guys to sign off."

Man #2: "What is that?"
At which point, a man rushed up to the camera to turn off the live feed.
Talent release forms are an essential tool for movie and music makers.
Caleb Ward of PremiumBeat, "a curated royalty free music website," explains:
"a talent release form gives you the right to distribute a film with an actor's likeness. Without a talent release form your production could be at a legal risk and you could potentially get sued!"
As explained by maggie of Still Motion, a website of and for filmmakers, talent release forms are contractual agreements with actors — "pieces of paper that serve to legally cover your butt" because "If you don't have them sign a release, you have no right to use the footage should they want to have it removed for whatever reason."
By signing a talent release form, the signer:
"Waives their right to approve or disapprove of the finished product.
Acknowledges that the production/company is conducted professionally.
Acknowledges that they're over 18.
Confirms that they're not breaching another contract by participating in your film."
Here's an example of a standard talent release form: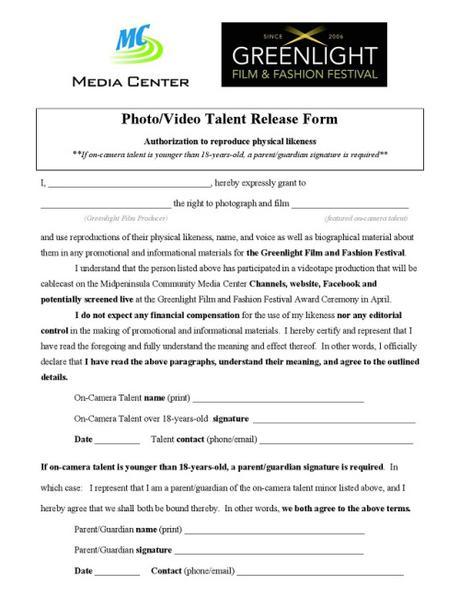 The militia in Oregon are not professional actors, so why are they asked to sign talent releases?
Is there an innocent explanation for this?
H/t MHB commenter Michael K.
~Eowyn