Opinion Battles Results
Favourite Performance in a Harry Potter Movie
This round we have had an excellent selection of Selection of Harry Potter Performances, but just which one was the most popular?
3rd
Choice – Gary Oldman and Evanna Lynch
Players –  Table 9 Mutant and Myself
Points – 3
2nd
Choice – Daniel Radcliff
Players – Emma
Points – 6
1st
Choice – Alan Rickman
Players – Everyone else.
Points – 12
If you want to take part in the next round, we are looking at Worst Animated Sequel.
send you choices to [email protected].
Closing Date – Friday 7th December 2018
Here is the table,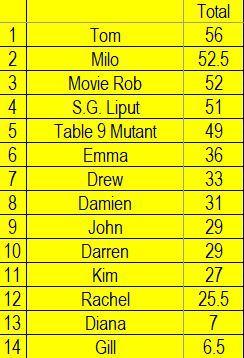 (Drew – Drew's Movie Reviews, Kim – Tranquil Dreams, Cinema Parrot Disco, Rob – Movie Rob, Damien Riley – Riley Film Reviews, Emma – Emma Explains It All, S.G. Liput – Rhyme and Reason, Rachel – 54 Disney Reviews, Tom – Plain Simple Tom Reviews, John – Johnrieber.com, Diana – DB Movie Blog, Milo – Stuff and That) can anyone take this league by storm like last year?

Advertisements