Juilliard Opera lifts off with Jonathan Dove's Flight.
by
Paul J. Pelkonen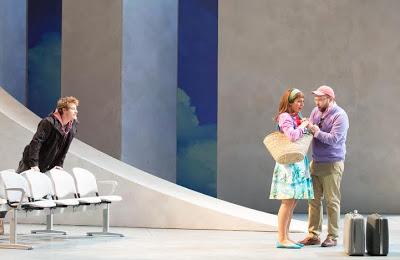 Stuck in the aurport with you: the Refugee (Jakub Józef Orliński, left) and anunhappy couple in a scene from Flight. Photo by Rosalie O'Connor for The Juilliard School. 
It is rare to encounter a contemporary opera that is, at once musically rich, dramatically moving and funny as hell. Such an opera is Jonathan Davis' 1998 opus
Flight
, which landed on the stage of Juilliard's Peter Jay Sharp Theater on Wednesday night. This is the second New York production of this contemporary masterpiece, with a witty libretto owing something to Lorenzo Da Ponte.
Flight
is a comedy for our modern age, chronicling the travails of anonymous travelers trapped in an airport terminal overnight, their trips delayed by an electrical storm.
The idea for
Flight
has its roots in the story of Mehran Karimi Nasseri, an Iranian refugee who spent eighteen years in diplomatic limbo, forced to live in Terminal One at Charles De Gaulle airport. Here, the central figure is simply called the Refugee, who has arrived without papers, identity or passport and is being hunted through the concourse by a uniformed Immigration Officer. His temporary home is soon occupied by a gaggle of international travelers and a pair of amorous flight attendants. All are watched over by the Controller, an allegorical figure who represents the spirit of the airport itself. The action took place on a marvelously impractical airport lounge set, with digital backdrops and a large orchestra providing the heavy weather outside.
The plight of these transient souls recalls the spirit of another comic opera: Rossini's
Il Viaggio a Riems
, and the score of
Flight
makes similar demands on the voices of its ten singers. The orchestration supports these high-flying feats of vocal acrobatics, as arias evolve into dialogues and ensembles, the multiple lines twining and twisting around each other in a formidable display of individual and group virtuosity. No character dominates the action (although the Refugee is the central figure) and the cast sparkles and sparks each other to new heights even as their characters are trapped on the ground.
Countertenor Jakub Józef Orliński stunned as the Refugee, displaying a high, sweet tone that was never nasal or pinched. His character has a
Parsifal
-like innocence, which backfires badly in the second act as his attempts to earn the friendship of his fellow travelers nearly results in his death at their hands. In Act III, the horror of his situation came out in a moving monolog that haunts the rest of the score. Matching him in excursions to the upper stratosphere was soprano Rebecca Farley as the Controller. Her scene raging against the storm in the second act was one of this show's most powerful moments. At the opera's close the Refugee is confronted by the Immigration Officer (Cody Quattlebaum) and consigned to his fate as a dweller of the airport. Mr. Orliński and Ms. Farley ended sitting together downstage, with the true nature of their relationship hangs in the air like a tantalizing question mark.
The travelers produce much of the comic relief. There is the twice-divorced, fiftyish Older Woman (Amanda Lynn Bottoms) seeking her lost love and socially ill-at-ease with all the business going on in this very busy lounge. Bill (tenor Matthew Swensen) and Tina (Nicolette Mavreon) are sort of like Figaro and Susanna for the aluminum age without that couple's gift of brains. They are a longtime couple trying to restart their marriage with an ill-advised vacation. Mr. Swensen showed superb comic timing, building to a slow boil at the nagging of Ms. Mavreon They cross paths with another troubled couple, a Steward (baritone Dmitri Katotakis) and Stewardess (Kelsey Lauritano) who are seeking to make whoopee in a darkened utility closet before deadheading off to their respective destinations. These two pairs become a quartet thanks to a delicious plot twist and taut ensemble writing.
The aristocratic couple is the "Minsks", a government official (baritone Xiaomeng Zhang) and his very pregnant wife (Natalia Kutateladze) en route to the frigid Belorussian capital. He has accepted a diplomatic post of some sort, and the baby's arrival is imminent. In Act I, she ditches her husband, letting him fly off as she seeks the sterile safety of the departure lounge. Ms. Kutateladze bit into a grand
scena
in the second act as she reflected on the baby clothes in her suitcase and how it used to be hers. Finally she sings to the little stranger coming to life in her womb in the score's most profound and human moment.
This production of
Flight
is mounted on a handsome if impractical set, itself a throwback to those weird concrete curves that architects of all decades loved to use when building airport terminals. The video backdrops (a new wrinkle for the Juilliard opera) combined with smart use of lighting to create the necessary heavy weather and a glorious dawn sequence in Act III. However, even the fanciest high-tech clouds can't compete with this top-quality cast and the exceptional playing of the Juilliard Orchestra, led
con gusto
by conductor Steven Osgood.