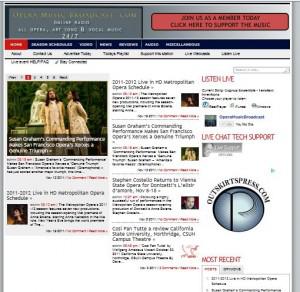 Opera Music Broadcast.com
Have you tuned into Opera Music Broadcast yet? If you haven't, you don't know what you are missing.
Opera Music Broadcast offers all opera, art song, and vocal music via an online format, 24 hours a day, seven days a week. Plus they have news, reviews, live webcasts, audio. They stream opera online and offer Internet radio online. You name it. Opera Music Broadcast has it goin' on.
At this time last week, I was listening live from my computer and headset.  The music was so beautiful–MISSA O REX GLORIAE (for four voices)- I. Kyrie – Westminster Cathedral Choir, James O'Donnell– I had to stop what I was doing and let it wash over me before I could continue my work.
As I write this I am listening to Ruggero Raimondi, Kiri Te Kanawa, etc.; Lorin Maazel: Paris Opera Orchestra & Chorus singing Don Giovanni highlights. Does it get any better than that?
Their tagline is "Music does not have to be understood. It has to be listened to." — Hermann Scherchen
Kelly Rinne, music director, has kindly agreed to a little Q&A to help Operatoonity readers learn more about what they do. Hello, Kelly. Welcome to Operatoonity.com!
It appears you've been broadcasting since 2009. How much time did it require to develop your station prior to that?
Well, our "parent" station is Classical Music Broadcast.com, which debuted in Nov. of 2005 only playing for about 3 hours/day as we tweaked the technology and loaded a LOT of music in. Once that station was solidly up and running 24/7 in 2006, then it became MUCH easier to develop the opera station. One big thing I discovered early on is that the opera listeners are much more passionate and much more actively involved in the music. If they like something, they let me know, and if they don't like something, I never hear the end of it….(grins).
Even though I say I'm the Music Director, I do take some direction from the listeners. Mostly suggestions – the big thing that helped  was to do a poll before we even launched. There had been another all-vocal Internet station called Viva La Voce, which was entirely subscription based.  I went on forums and newsgroups (this was before Twitter and Facebook were household names) and I asked people. They were bemoaning the loss of VLV, so I decided that a non-subscription based model was the way to go. Offer it to everyone.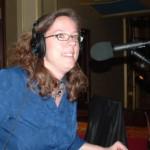 Kelly Rinne, music director
So the original poll asked people what types of vocal music did they like? opera, concert song, choral, modern, lieder (fill in the blank). And we developed the original mission statement based on that, plus a dash of my personality.
Even though I'm a lot younger than many of my listeners, I really like historical recordings. I also like modern compositions, which drives everyone nuts. Until I get that one email that says – "Tabula Rasa – holy crap, I'm in love. I…* forgets what she was typing, reverting back to slack-jawed music trance*" and yes, I'm quoting directly.
So the station took about 2 years to develop before we went online.
What's the best source of referrals and are most people finding you on Twitter?
Google keyword search, hands down. Some Twitter and Facebook, some direct referrals "Hey, I saw your post on XYZ and I've been listening".  Mostly its folks typing in "opera streaming."
What I notice compared to the CMB listeners is that they listen at very specific times of day. The folks listening to instrumental tend to put it on as "background" and leave it on all day.
Opera fans tend to listen in 2-3 hour blocks, and often send tweets asking for this or that request. I get a LOT of retweets of the playlist — folks who are listening who spread the word to their friends online. Twitter is tough because "opera" as a hashtag has to compete with the browser. (sigh)
One of the Twitterati that I love the most is david_m_wagner — he is a Rutgers law professor who is amazingly erudite about opera, and has a snarky sense of humor. I plan to start running his retweets on the site and in the stream because his commentary is priceless. Funny and educational all at the same time.
How many users do you have, would you like to have?
Not enough, and as many as the server can handle. The majority of listeners are from: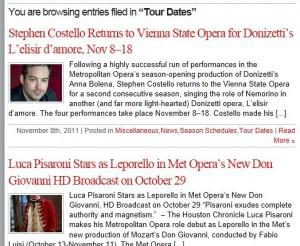 Have a favorite opera star? Look for their tour dates on OMB.
United States
United Kingdom
Canada
Germany
Australia
Italy
France
Argentina
Spain
Belgium
How are you able to keep up with an ever-changing landscape of performing arts/music events?
Wow, its tough. The record labels help a LOT — they send me press releases and promo copies. It has been much harder to get opera   companies to do the same. I would love to throw them as much promotion as possible, but with my small number of volunteers it is difficult. HINT to all you opera companies: SEND ME PRESS RELEASES. Opera companies are not nearly as responsive on Twitter as I think they should be – they use it to promote "sort of", but they do not reach out to the media directly. Yes, you can consider that a hand slap, but a kind one.
Another hint to opera companies – learn how to use a Twitter list, and broadcast to it.
Artist management and artists also contact me directly — this happens MUCH more on the instrumental station than on the opera station. I have a lot of performers on my OMB Twitter and Facebook pages, but they rarely tell anyone that they are performing anywhere. They talk about rehearsing more than performance. Performers should be part of their PR campaign…hint hint hint.
The scope of your project is seems enormous and growing. How many people work behind the scenes to bring this station to its listeners?
Not enough. I wish I could clone myself, or hire a few people, but the station is a long way off from having paid staff. I have less than 10 dedicated volunteers/board members who put in a few hours here and there, updating playlists, the database, (which is CONSTANTLY changing) logging music, writing reviews, sending music, suggestions etc.
What are your greatest needs right now, in terms of the site and or its management?
From a content perspective I would love an opera reviewer or two who could submit regular live performance reviews. and someone to review DVDs. Oh, and time. I don't do this full time and wish I could. It seems like there is never enough time to implement what I want. Um a grant writer would be phenomenal — The parent station is a 501 3(c) non-profit, and OMB is a dba under that corporation filing. We are eligible for non-profit grants, and I have no one to spearhead that   type of project. (big sigh)
When will you feel as though the site has "arrived," or are you already there?
I feel that way with the instrumental site, but not quite with Opera Music Broadcast — I definitely have a website facelift in mind. The section that is the daily playlist does not get nearly enough traffic, considering how many questions I get about what we are playing.
What are you most proud of about Opera Music Broadcast?
Last year we started live video webstreaming of opera — every performance we have broadcast has averaged about 60-80,000 viewers, from over 20 countries. In 2012 we will be broadcasting a Werther from the Minnesota Opera with James Valenti and Roxana Constantinescu as the star-crossed lovers Werther and Charlotte. We are in talks with some other US-based opera companies. My goal is to do for the regional companies what the HD broadcasts did for the Met — our station already has the built-in audience through our use of social media. We just need the opera companies to step   up and look to build their audience beyond the physical confines of the opera house. I want Opera Music Broadcast to pick up where PBS is failing the arts community. Less and less fine arts performance programming is played on PBS (and I like PBS, this is not a bash-fest) and that is a disservice to a loyal and growing audience.
Anything else you'd like to tell me?
If I can babble on a little more about the live webstreaming — when we broadcast an Ariadne from the Toledo Opera, the many emails I received all said something very similar which I will paraphrase:  "I/we had NO idea that Toledo had this level of singing. I/we bought tickets for the XYZ performance after seeing the webcast." And to me, that justified all the hard work that OMB has done over the past 2 years — we made tens of thousands of people aware of a very small opera company that performs with high quality singers and musicianship, and helped them sell tickets. Yea to us.