Hola!
This season, Shu Uemura wants you to be captivated, mesmerized and spellbound – open your eyes to the most beautiful things in life!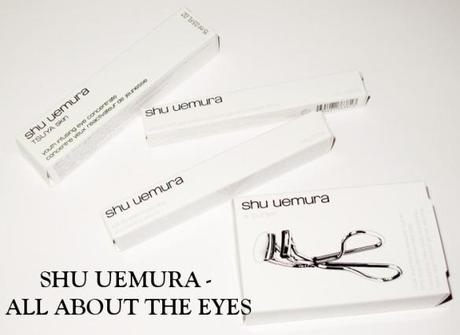 While the brand is famous for its iconic cleansing oils and superb range of base makeup, Shu Uemura has often placed great emphasis on the eyes – the Tokyo Lash Bar with its amazing variety of high-fashion and wearable false eyelashes and the ever-expanding line of eyeshadow singles in the Colour Atelier collection are prime examples of the significance Shu Uemura gives to dressing up the eyes.
This season, Shu Uemura introduces 4 new products – an eye care serum,a new eyelash curler, a gel eye pencil and a black lacquer mascara – all designed to lift and open up the eyes for that full-lashed, bright-eyed look that wears well on everyone.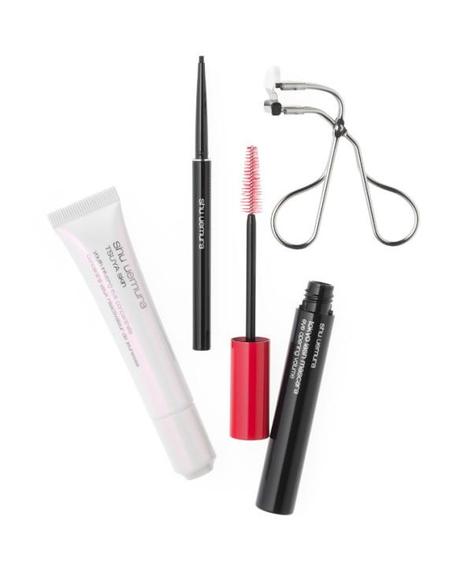 Let's take a look at each of the 4 products, starting off with the Tsuya Skin Youth Infusing Eye Concentrate (SGD$70 / 15ml)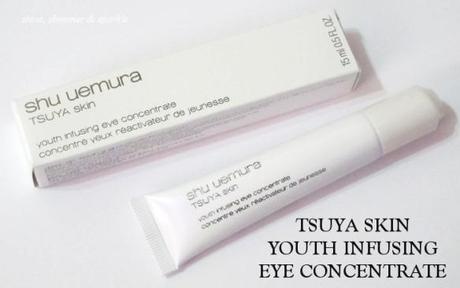 The new eye concentrate is designed as an all-round eye care product – it targets the traditional signs of aging such as wrinkles, dark eye circles and drooping eyelids. Clinical trials showed signs of lifted, more defined eyes and a slightly lifted eyelash angle. The product can also be used before eyeshadow as a primer.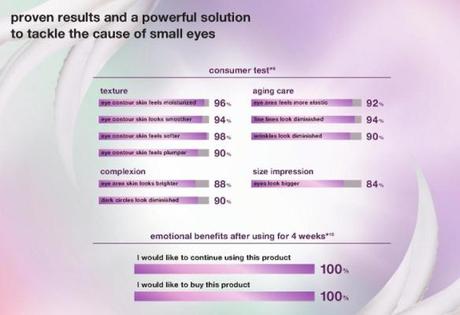 The Tsuya Skin Youth Infusing Eye Concentrate relies on 3 star ingredients.
RHAMNOSE increases epidermal thickness and boosts collagen production that combats thinning skin and boosts the angle of the eyelashes as well as reduces the effect of fine lines and wrinkles.
UMAGURI SUPONIN (horse chestnut) optimises micro-circulation (a factor that contributes to dark circles)
TRIPEARL COMPLEX is a combination of 3 micro-sized high-tech particles that instantly smooth skin, increase luminosity and hydrate the delicate eye area.
Here is the ingredients list of the Tsuya Skin Youth Infusing Eye Concentrate: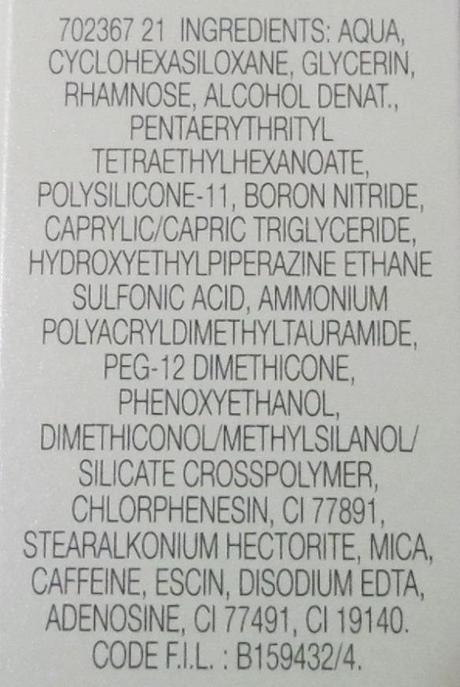 The eye concentrate is packaged in a slim pearlescent tube with a slim nozzle – I prefer eye serums and creams in suck packaging (versus those in jars); this is hygienic and I can control the flow of the product easily.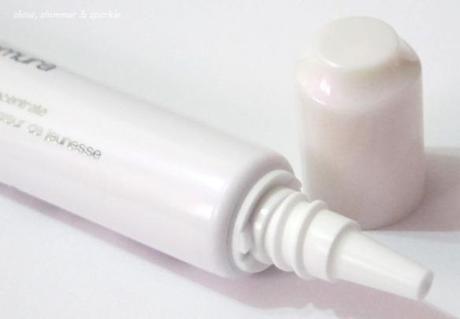 The texture is light and very easily absorbed into skin with no residue. It is tinted a light pearlescent beige but the colour does not show up once applied.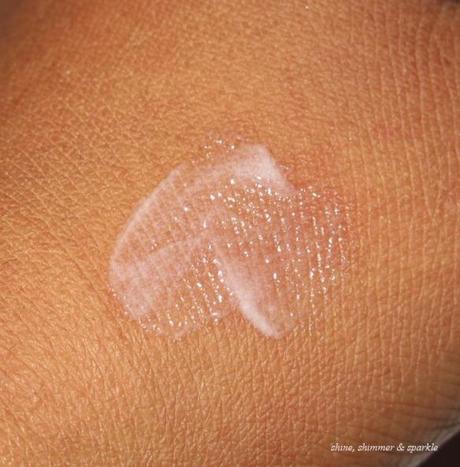 Here is Shu Uemura's tips for efficient application of Tsuya Skin Youth Infusing Eye Concentrate: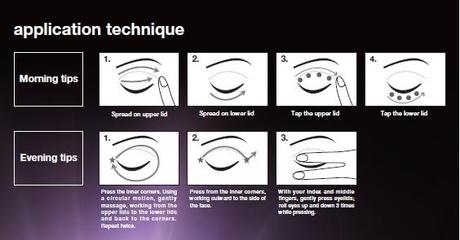 The Tsuya Skin Youth Infusing Eye Concentrate joins its predecessor – the Tsuya Skin Youthful Radiance Skin Generator (SGD$108 / 30ml) for a complete eye and face care ritual.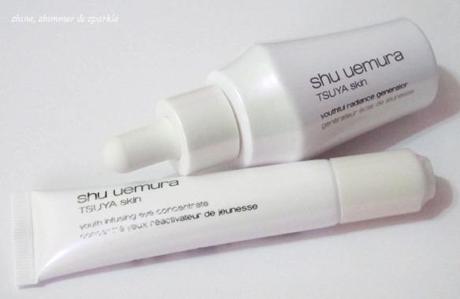 ~~~~~~~~~~~~~~~~~~~~~~~~~~~~~~~~~~~~~~~~~~~~
Shu Uemura's eyelash curlers are one of the most popular in the beauty circle – I've been using the Shu Uemura Eyelash curler for at least 8 years (in between I tried the Tweezerman version whose design seemed so so similar to the Shu Uemura version) but I've since gone back to using the Shu Uemura ones – the fit is great for my eye and they are very long-lasting.
Shu Uemura has upped the ante with a brand new design – the S Curler (SGD$30).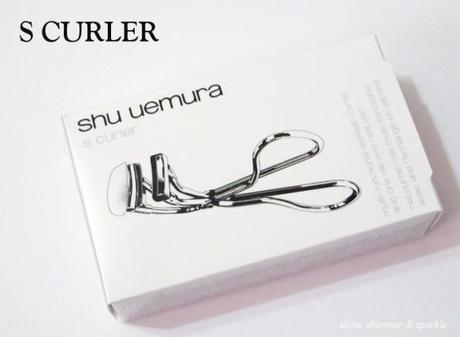 My first reaction – so cute! It's small and compact but the curve of the handles are designed such that they fit comfortably in the hand –  rest assured, you won't have to hold it with 2 fingers. An interesting fact – the S Curler is named after 8 key words that defines the curler: Small, Spot, Special, Safe, Simple, Side-bar free, Sophisticate and Shu Uemura.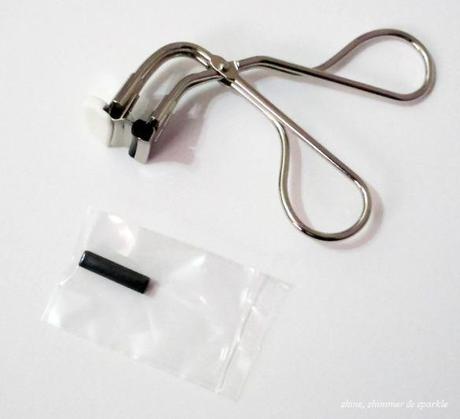 As with all other Shu Uemura eyelash curlers, it comes with a replacement pad. Let's take a closer look at the technicalities.

It has no side-bar which means that you can curl your lashes in a couple of steps across the eyelid – this means you can technically also curl the centre part of your lashes more, for a higher, more lifted wide-eyed look. It also uses an inner-blade system that prevents the pinching of eyelids.
The only 1 thing that I would have liked to see different is a coloured pad that rests against the upper lashline – the white is bound to get messy-looking with my copious eyeliner and eyeshadow!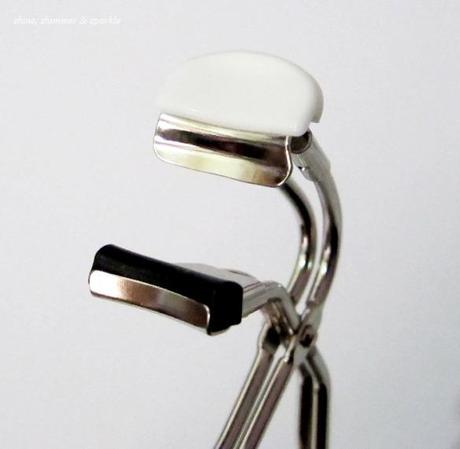 Here are some comparison shots of the S Curler with the original Shu Uemura Eyelash Curler. Perhaps the soft pads and the ergonomic handles are similarities between the 2, but other than that, they are very distinct.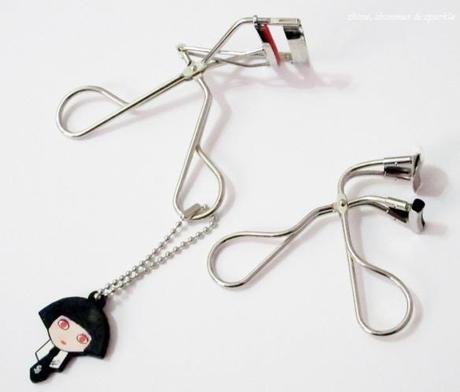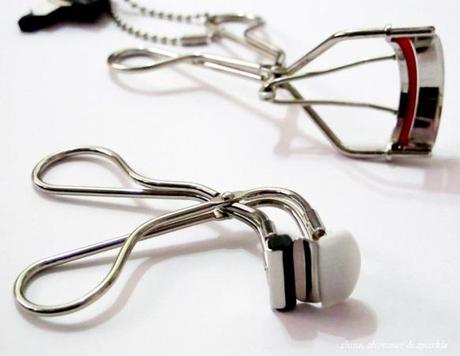 Not to worry about how to use it – the box comes printed with instructions on how to safely and effectively curl your lashes with the S Curler.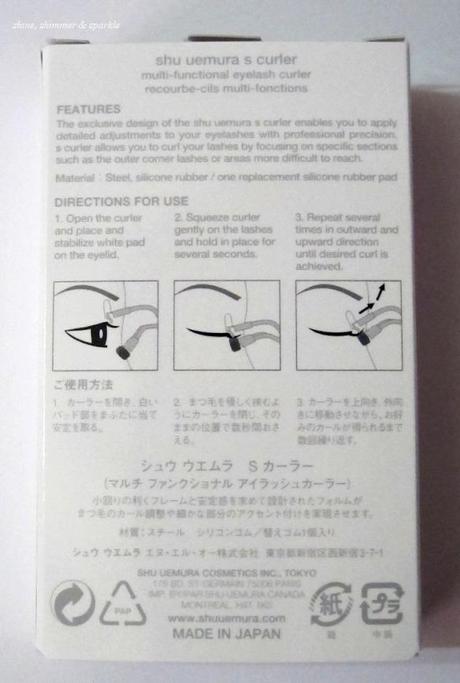 ~~~~~~~~~~~~~~~~~~~~~~~~~~~~~~~~~~~~~~~~~~~~~~~~~~~~~~~
The new Lasting Soft Gel Pencil (SGD$36) combines the long-lasting wear of a gel liner in a convenient, twist-up packaging.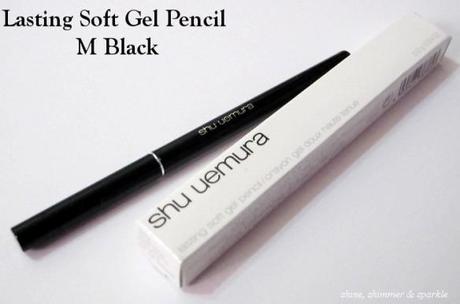 It is available in 2 shades – M Black and M Brown. M Black is a deep neutral black (no brown, grey or green tones).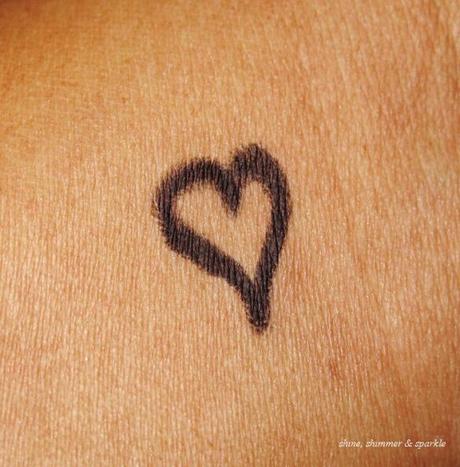 It was very easy to use – I used it on my lower lashline recently and it literally glided across – no tugging or skipping. It lasted well over 6 hours in a non-airconditioned environment with very minimal smudging at the corners of my eyes.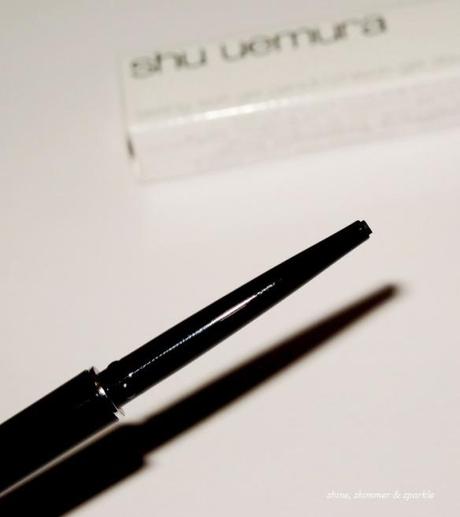 Just a word of caution – it has a twist-up mechanism but it didn't appear to be retractable so be careful about how much you twist up to use. At any rate, it is well pigmented and opaque in one pass so I doubt you need to use too much at one go.
~~~~~~~~~~~~~~~~~~~~~~~~~~~~~~~~~~~~~~~~~~~~~~
And finally, we have the new Tokyo Lash Mascara ($SGD50). I love love love the red and black glossy tube – there is just something so artisan about it.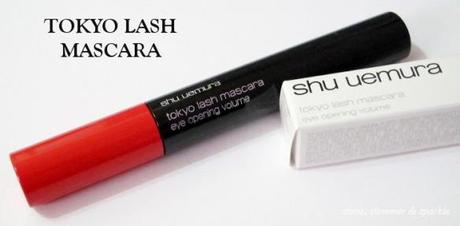 It features a new criss-cross, v-shape Kirenaga brush that is designed to catch even short lashes for an elaborate, polished finish.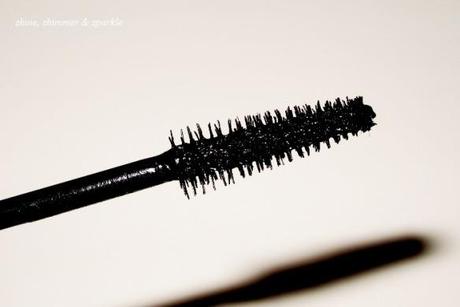 I love mascara brushes like these – a good medium size with criss-crossing bristles really allow you to get down to the lashline and right to the roots of the lashes that coats the full lash generously. And the mascara itself is on the moist creamy side which is another plus – it glides on effortlessly. I love the glossy, lacquer finish it has.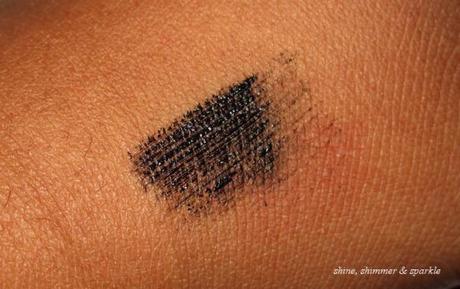 I will be featuring the Lasting Soft Gel Pencil and the Tokyo Lash Mascara in an eye look in the next post that features the new eyeshadows and lipsticks from Shu Uemura's Eyeconic Collection.
Here is Shu Uemura's take on how you can incorporate all 4 of its latest products for a beautiful, wide-eyed look – Prep, Colour, Curl, Define and Enhance!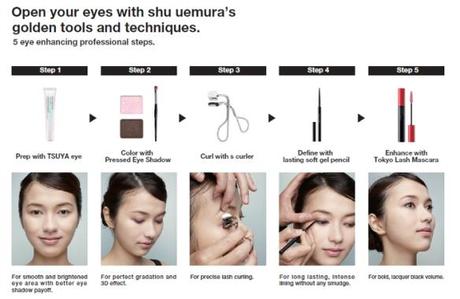 Looks easy – it really isn't that difficult with good quality products that are designed to help you create a professional makeup look in a minimal number of steps. Pop by the Shu Uemura counter and take a look at these new offerings – if anything at all, just give the S Curler a go and you might like it!
Thanks for stopping by and have a great day!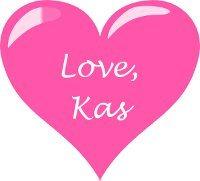 Disclaimer: This entry features information and products extracted from a press kit furnished by the brand. All opinions are my own and unbiased.